A creamy, filling low carb recipe without all the added saturated fat and bloated feeling. This healthy vegan cauliflower casserole is a must make!
This recipe was originally published on 11/21/2016
This is a sponsored conversation written by me on behalf of WhiteWave Foods. The opinions and text are all mine.
There is nothing I like more than creating creamy satisfying meals that have no dairy. It's one of my top favorite ways to surprise people! This layered cauliflower au gratin scalloped like casserole dish is high on the list of dishes I make over the holidays that people go nuts over!
Vegan Cauliflower Casserole
This gratin like recipe makes an amazing side dish, just in time for the holidays. This tastes just as good even better than its dairy loaded counterpart. But it has no dairy and can be made gluten-free as well!
I swapped the typical potatoes for slices of cauliflower to get in some extra veggies and give a low carb option. Whipped up a creamy sauce made of amazing whole foods. Then covered it all in a crispy flavorful breadcrumb topping.
What are the benefits of eating cauliflower?
Cauliflower is an amazing veggie! It's in the cruciferous family and naturally high in fiber and b vitamins. So a great addition to your diet.
It doesn't have much flavor on it's own, and easily takes on any flavor you cook it with. Which makes it perfect for so many things! It has a little creaminess to it and makes a good sub for potatoes when you need something a little lower in carbs.
It also has a great texture when riced and sautéed so makes a good low carb rice option. We love subbing half of the rice for riced cauliflower in our recipes, like in this vegan tikka masala or these veggie sheet pan fajitas.
How do you know when cauliflower is cooked?
When cooking cauliflower, you want to watch it carefully because it goes from al dente to super soft quickly. Depending on what you are making, the texture you need will change.
In this recipe, you want something a little on the al dente side so it holds up when serving. Much like potatoes, if you overcook it, then it will get super soft and although still delicious, won't remain a layered type dish.
As the cooking time comes to an end begin checking it with a fork. Once the fork can go through fairly easily then it's ready!
Can I use frozen cauliflower?
Since you need to slice the cauliflower into strips versus pieces, and because you want this more on the al dente side texture wise, it's best to use fresh. But if you don't have another option you can definitely use frozen.
I'd get the pieces and perhaps use a touch less liquid in the sauce. The frozen cauliflower will cook with a little more liquid released and you don't want it too watery.
Tips for making ahead
If you want to make this cauliflower casserole ahead of time, you definitely can. Here is what I would do for the best result:
Make the cream sauce
Prep the cauliflower
Make the breadcrumb topping
When you are ready to serve, then put it together and bake.
If you want to bake this ahead of time as well, you certainly can. Bake, then let it cool down all the way before putting in the fridge, you can simply store in the baking dish and cover with tin foil or plastic wrap.
When ready to serve, take it out of the fridge and allow to return to room temperature . Then warm it up in the oven but watch carefully so it doesn't burn or dry out. You may need to add a touch of broth to help.
How to store leftovers
If you have any of this cauliflower casserole left over, I'd be shocked. But if it happens, store in an air tight container in the fridge.
You can also freeze leftovers for future use. When you reheat them the texture may be a little watery but if you warm it in the oven it will help thicken it again.
This will stay good for about a week in the fridge, and for about 2-3 months in the freezer. The longer you keep it frozen the less the dish will keep it's flavor and texture.
What do you serve with gratin?
Any dishes that would normally compliment a potato au gratin would go great with this dish. Here are some of our faves:
This cauliflower casserole is especially awesome for the holidays. I made it for the WhiteWave Thanksgiving event in Denver, Colorado that I was honored to attend. I was chosen as one of five bloggers attending, I was the Silk representative.
Our job was to create a side dish using a product, then make the dish at the event. My cauliflower recipe was a hit! No one could believe it had zero dairy thanks to the magic that the almond and cashew milk from Silk made.
After cooking we joined in the fun, ate our hearts out and had a blast meeting load of new friends. Making connections with four other incredible bloggers (for real they rock: Kat, Heather, Kelly, and Lisa are legit talented people) was rad.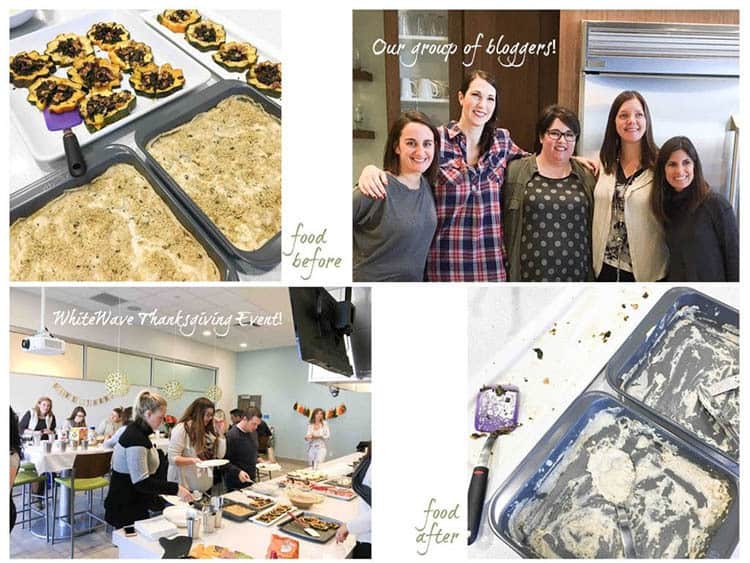 How to Make Cauliflower Casserole
Make creamy sauce.
Layer cauliflower with breadcrumb topping.
Bake and serve!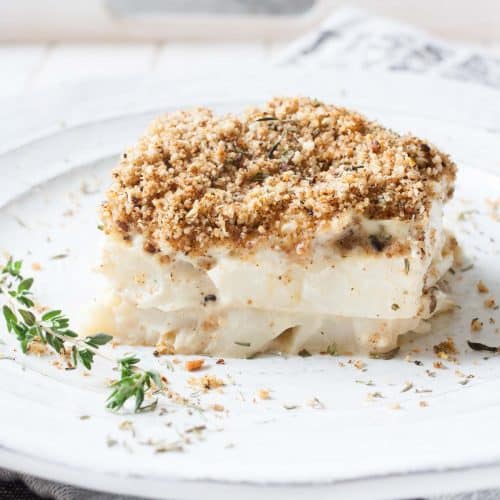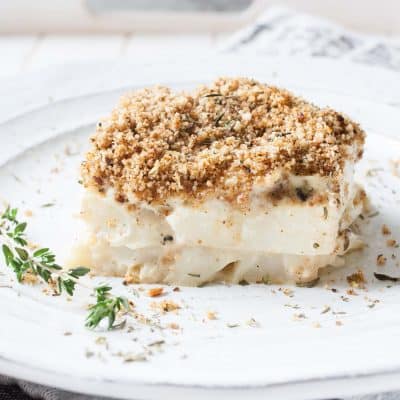 Healthy Vegan Cauliflower Casserole
Healthy vegan cauliflower casserole is ultra rich and creamy without the dairy. Potato always gets the spotlight, so it's time for change!
Ingredients
1

head cauliflower

1

tablespoon

fresh thyme

6

tablespoons

breadcrumbs

, gluten-free if needed (see note)

3

tablespoons

pine nuts

3

tablespoons

hemp seeds

½

teaspoon

sea salt
Sauce:
1

cup

cooked potato

, peel before cooking (about 1 medium potato)

¼

onion

, medium (cook with potato)

2

cloves

garlic

¾

cup

raw cashews

, see note

½

cup

unsweetened cashew milk

, almond works too (I use the Silk Brand)

1

cup

veggie broth

, low sodium if needed

1

tablespoon

lemon juice

1

teaspoon

apple cider vinegar

1

teaspoon

sea salt
Instructions
Preheat oven to 350°F/180°C.

Make sauce. Cook potato and onion by boiling until soft. Place all sauce ingredients into a high speed blender and blend until smooth.

Make breadcrumb parmesan topping by placing breadcrumbs, pine nuts, hemp seeds, and salt into a food processor and pulse until crumbly. Take half of the breadcrumb parmesan mixture and set aside for the topping.

Wash the head of cauliflower and slice it into thick slices, about ½ inch thick. Make sure to get out most of the thick stem.

Line the cauliflower pieces up on a tray and sprinkle with the other half of the breadcrumb parmesan mix, making sure to coat both sides of each piece. It doesn't have to be fully coated, just looking for some added texture to the cauliflower. If your cauliflower is dry then you can always brush with veggie broth or oil to help get the mixture to stick.

Layer the slices into a square baking dish (I used 9 x 9 inches).

Pour the sauce over the top until it fully covers the cauliflower. You will use all but about ½ - ¾ cup of the sauce. You can save the extra for another time, it's great with pasta!

Sprinkle the other half of the breadcrumb parmesan mix over the top. Then sprinkle with fresh thyme leaves.

Bake at 350°F/180°C for 35-40 minutes. Check at 35 minutes by piercing it with a fork to see how cooked the cauliflower is. I like it more on the al dente side, but you can continue to cook until your preferred texture is reached. Keep in mind it will cook a little more as it is cooling.

Make sure to allow the dish to cool before serving to allow it to set a bit. Enjoy!
Notes
You can make your own breadcrumbs by toasting your own bread, toast about 3 slices.
The best method to cook the potato is by boiling it with the onion. See instructions.
I prefer to use a veggie broth without tomato in the base.
If you are not using a high speed blender you can either soak the cashews overnight or grind them into a fine powder using a coffee grinder.
Tips to prep ahead:
Make sauce.
Make breadcrumb parmesan topping.
Soak or grind cashews if not using a high speed blender.
Baby/toddler food idea:
Make sure you bake it until cauliflower is soft.
Recipe by Veggies Don't Bite, visit our site for more great plant-based recipes.
Nutrition
Calories:
182
kcal
Carbohydrates:
16
g
Protein:
6
g
Fat:
10
g
Saturated Fat:
1
g
Sodium:
471
mg
Potassium:
195
mg
Fiber:
1
g
Sugar:
1
g
Vitamin A:
70
IU
Vitamin C:
9.9
mg
Calcium:
20
mg
Iron:
2.1
mg
Nutrition and metric information should be considered an estimate.