Vegan Sukiyaki is a vegan version of a traditional Japanese dish. Loaded with veggies, taste and easy to make. A meal the whole family will love!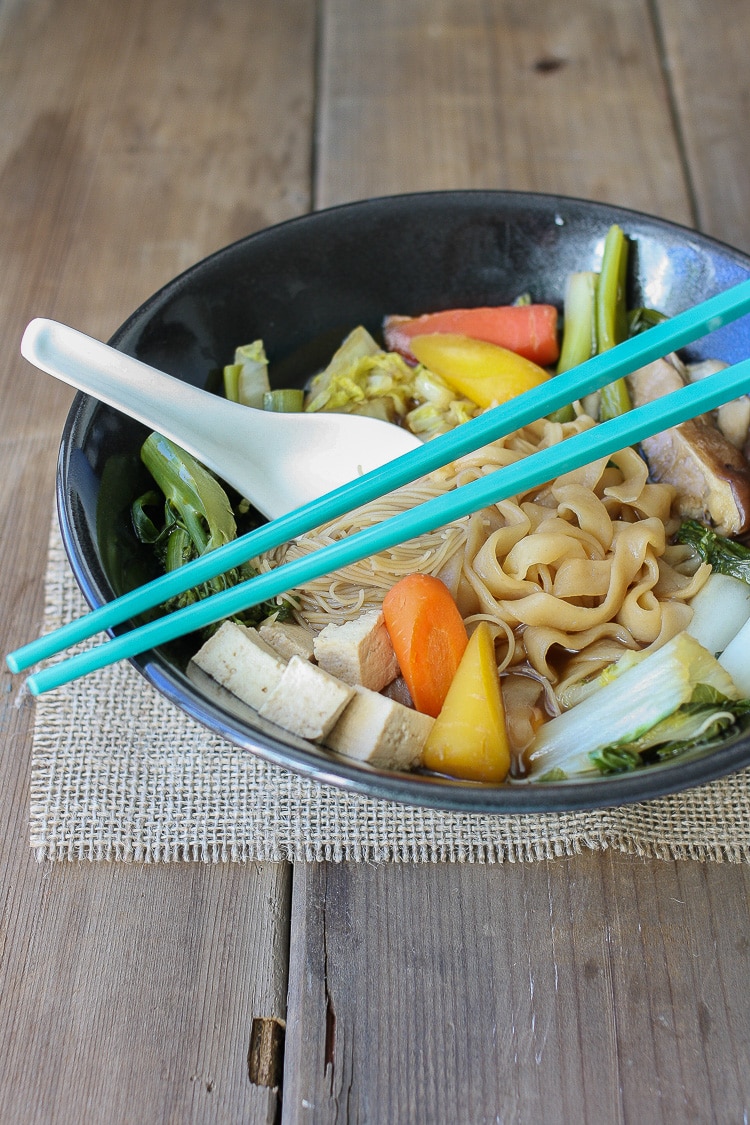 I'm finally in the home stretch, the third trimester of my last pregnancy! Unfortunately with the excitement of being so close to meeting this little man, comes the downside.
My nausea returns full force, I get very uncomfortable since I'm a pretty small person, and the random cravings run my life. This time, my body decided that it wanted...no NEEDED...Sukiyaki, a Japanese hot pot type dish.
So random, but that pretty much defines me, just ask my husband! I searched high and low, but came up short. Every single place near me uses beef broth as a base, and since I don't eat meat, or it's broth, it wouldn't work. This pregnant girl was dying and needed a solution!
So of course, out came the computer and a recipe was born. The main part of Sukiyaki that gives it its taste is the broth that these veggies and noodles marinate in.
I researched online and came up with the main ingredients in all traditional versions: soy sauce, mirin (a sweet cooking wine), sake, and sugar. So off I went to create the perfect ratios for a hot pot meal that would satisfy my craving! To make it gluten free, I used Tamari, but you can always use Coconut Aminos if you want to avoid soy.
We All Stuffed Our Faces
I also used coconut sugar instead of regular sugar to keep it unrefined. I didn't find any compromise of flavor with my healthier alternatives, in fact my combination turned out amazing! The kids and I couldn't get enough. We packed it with loads of veggies, noodles and a little tofu and just stuffed our face.
The greatest thing is the loads of veggies you can eat here without realizing how many you are eating. I loved the Chinese cabbage and bok choy and when I make it again I may even try some sweet potato for added flavor.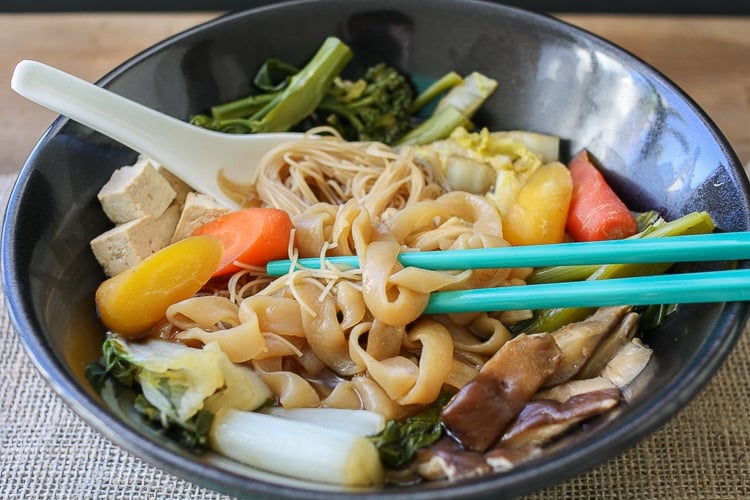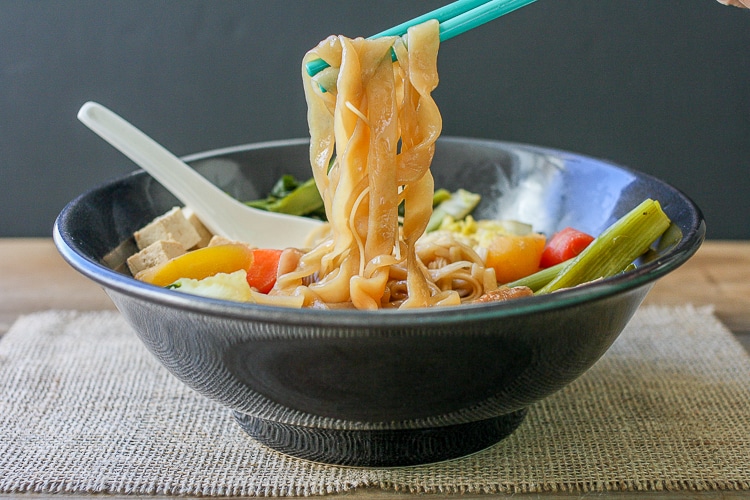 The best part about this dish is that it is so easy to make! You can even prep your veggies the night before, then the night of throw it together in no time. What's better than a quick, healthy and delicious meal? Not much! You can use my combination of veggies, or change it up and add some of your favorites. Either way, you need to give it a try!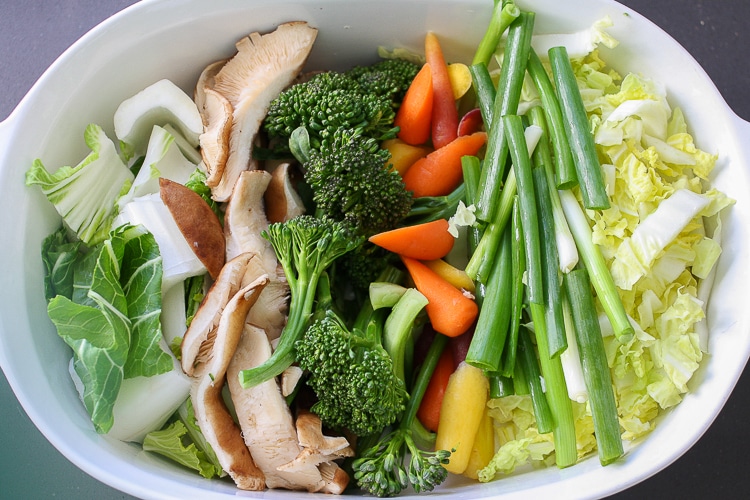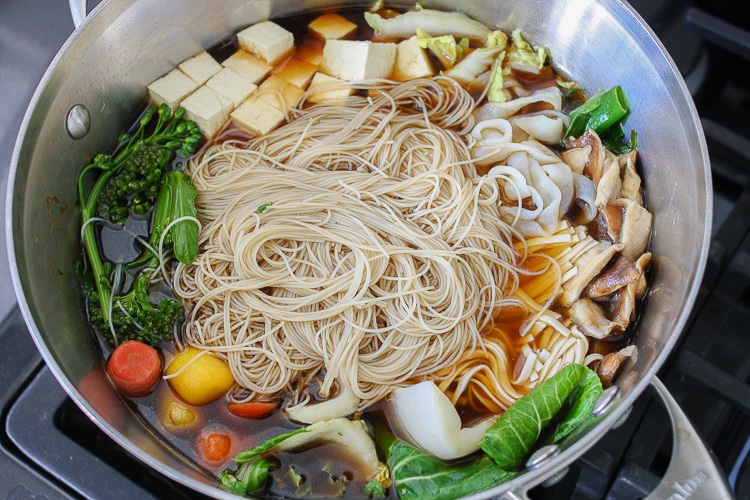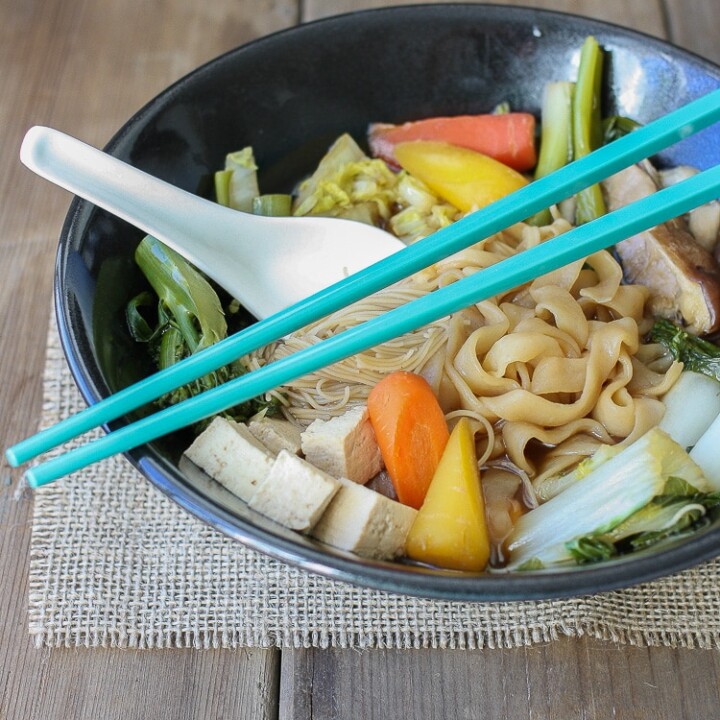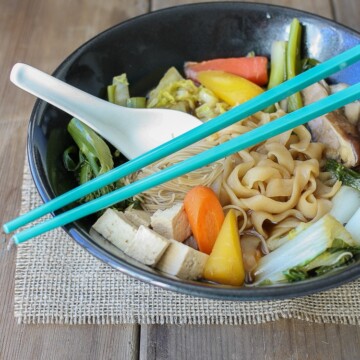 Vegan Sukiyaki, A Japanese Hot Pot
A vegan version of a traditional Japanese dish. Loaded with veggies, taste and easy to make. A meal the whole family will love!
Ingredients
4 cups water
¾ cup  Tamari  ,or soy sauce for non gluten free option, or coconut aminos for a soy free option
¾ cup  mirin  rice cooking wine
½ cup sake
3 tablespoons sugar I used coconut palm sugar 
8 ounces shirataki udon, cellophane or other noodles of choice (I did a mix)
2 cups chopped bok choy
2 cups chopped napa cabbage
2 cups stemmed and sliced shitake mushrooms
1 cup Chinese broccoli or broccolini
1 cup sliced carrots
1 cup green onions cut into 4 inch pieces
1- 14 ounce package extra firm tofu
a little veggie broth or neutral tasting oil to sautée veggies , low sodium if needed
Instructions
Rinse and soak noodles in hot water to soften, if necessary depending on the kind of noodles you chose. Shiratake simply need to be rinsed, but some cellophane and udon may need to be soaked in hot water to soften before adding. Drain when done.

Wash and chop all veggies and tofu.

In a large soup pot or dutch oven, sauté the green onions and mushrooms with a little veggie broth (or neutral tasting oil) until slightly browned. Remove and set aside to add later.

Add water, Tamari (or other), mirin, sake and sugar to the pot and simmer until the sugar is dissolved. Add broccoli and carrots to the pot. Simmer for a few minutes. Then add bok choy and cabbage.

Simmer a few more minutes. Then turn heat to low and add mushrooms, green onions, tofu and noodles. Allow to warm for a few more minutes until everything is just cooked. Turn off heat and serve.
Notes
You can arrange the veggies and tofu into group around the outside of the pot, then add the noodles in the center for presentation, but it isn't necessary.
Recipe by Veggies Don't Bite, visit our site for more great plant-based recipes.
Nutrition
Calories: 281kcalCarbohydrates: 36gProtein: 20gFat: 3gSaturated Fat: 0gPolyunsaturated Fat: 0gMonounsaturated Fat: 0gTrans Fat: 0gCholesterol: 0mgSodium: 2981mgPotassium: 1090mgFiber: 6gSugar: 18gVitamin A: 8285IUVitamin C: 93.3mgCalcium: 228mgIron: 3mg
Nutrition and metric information should be considered an estimate.
Never miss a recipe!
Sign up here and get a FREE quick and easy meal guide!