An easy recipe for vegan french toast! Using 8 simple ingredients you'll have perfectly crisp on the outside soft in the center french toast without using eggs all in under 30 minutes.
This vegan breakfast is hands down incredible. It's healthy, easy to make, goes well with many toppings and will be devoured by the entire family!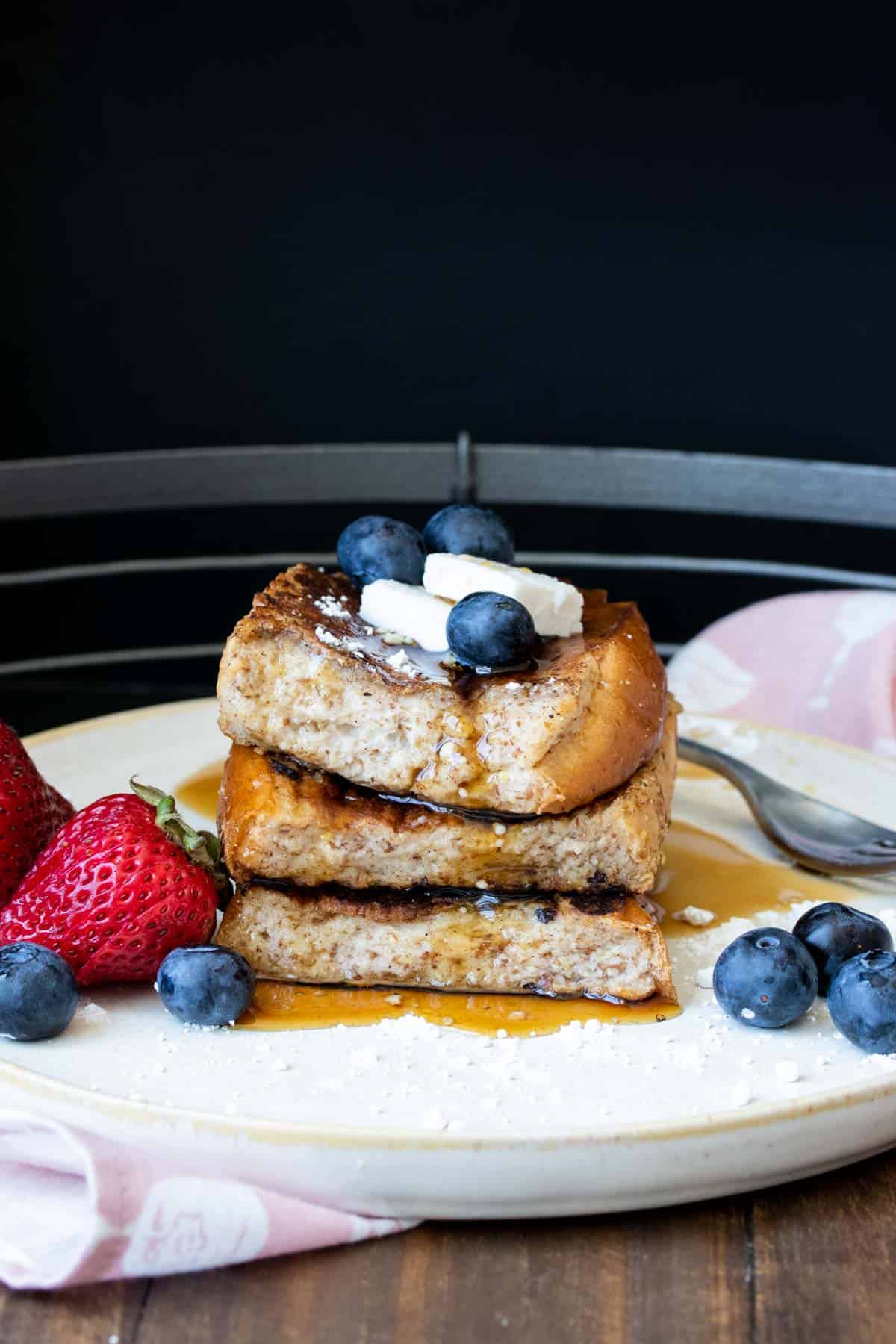 This post was originally published on August 20, 2020.
I think I saw my husbands eyes roll back in his head when he first tried this vegan french toast recipe. Next to my vegan buttermilk pancake recipe, this is his favorite breakfast!
Ingredients
The big challenge of making any French toast recipe without eggs is getting a batter to give you the same result as one with eggs. You want it on the thicker side and be able to coat the bread for that crisp outside and softer middle.
Not only is this recipe for French toast eggless, but it's also made without milk, well, the dairy kind anyway! Using only plant based ingredients means completely vegan French toast.
To get that, here is what I used for the mix that I dipped the bread in:
Dairy free milk
Ground flax seed
Almond flour
Maple syrup
Vanilla
Cinnamon
Sea salt
This makes the perfect bread dip and cooks up amazing!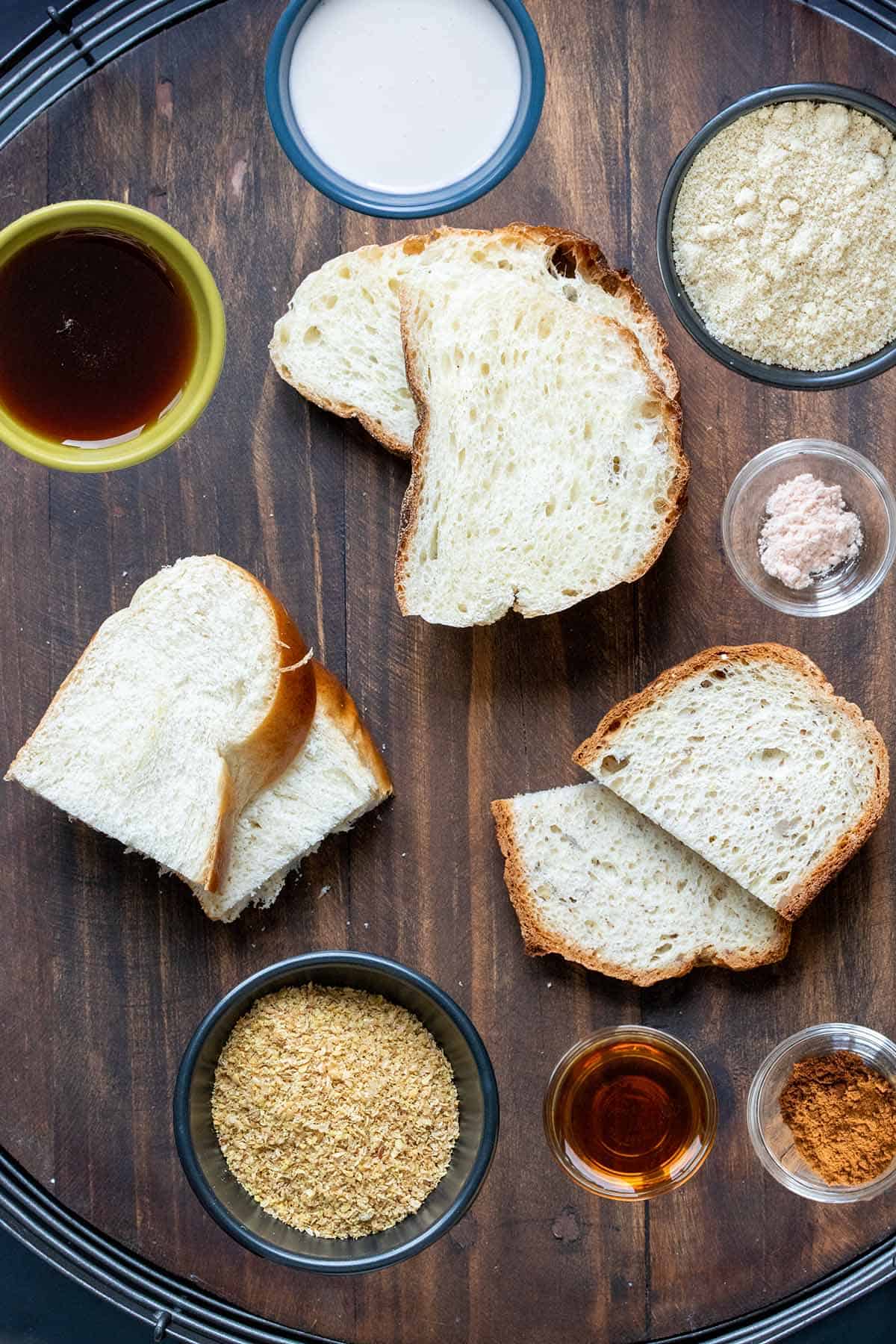 The Best Bread for French Toast
The other part of the vegan french toast puzzle, is the bread.
If possible, buy an entire loaf of bread instead of sliced. This way you control the thickness of the slices, the thicker the better! Aim for about ¾ inch thick.
Older bread is ideal. Fresh bread will not soak up as much of the batter, not to mention stale bread is more sturdy. And bonus, you can reduce your food waste!
To avoid soggy French toast you will want to select a hearty bread such as:

Ciabatta 
Sourdough
French bread
Baguette
Sandwich bread - this works as well as long as you don't soak too long!

If you need to be gluten-free, choose a softer gluten-free bread to get the same result.
How to Make Vegan French Toast
Making French toast without egg is very similar to a traditional recipe, just with different ingredients. Here is what you do:
Mix the batter by whisking all of the ingredients together.
Cut the bread into thicker pieces and dip in the mixture, leave it in for 5-10 seconds. You don't want it too long or it will absorb too much and get soggy.
Cook in a pan.
Serve with topping options!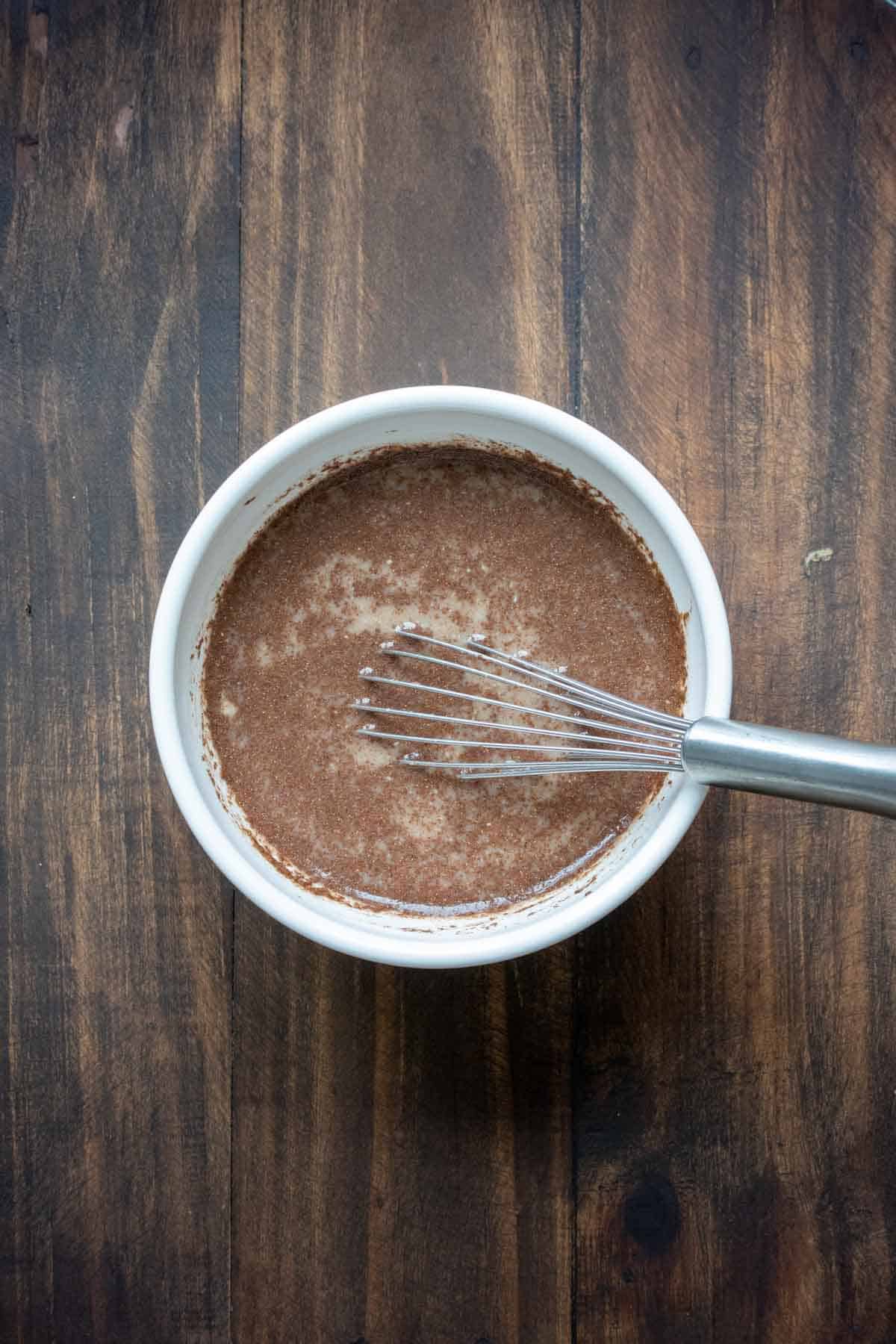 Topping Ideas
The best thing about French toast is all the things you can put on it! Here are some of our favorites for dressing up this vegan French toast recipe: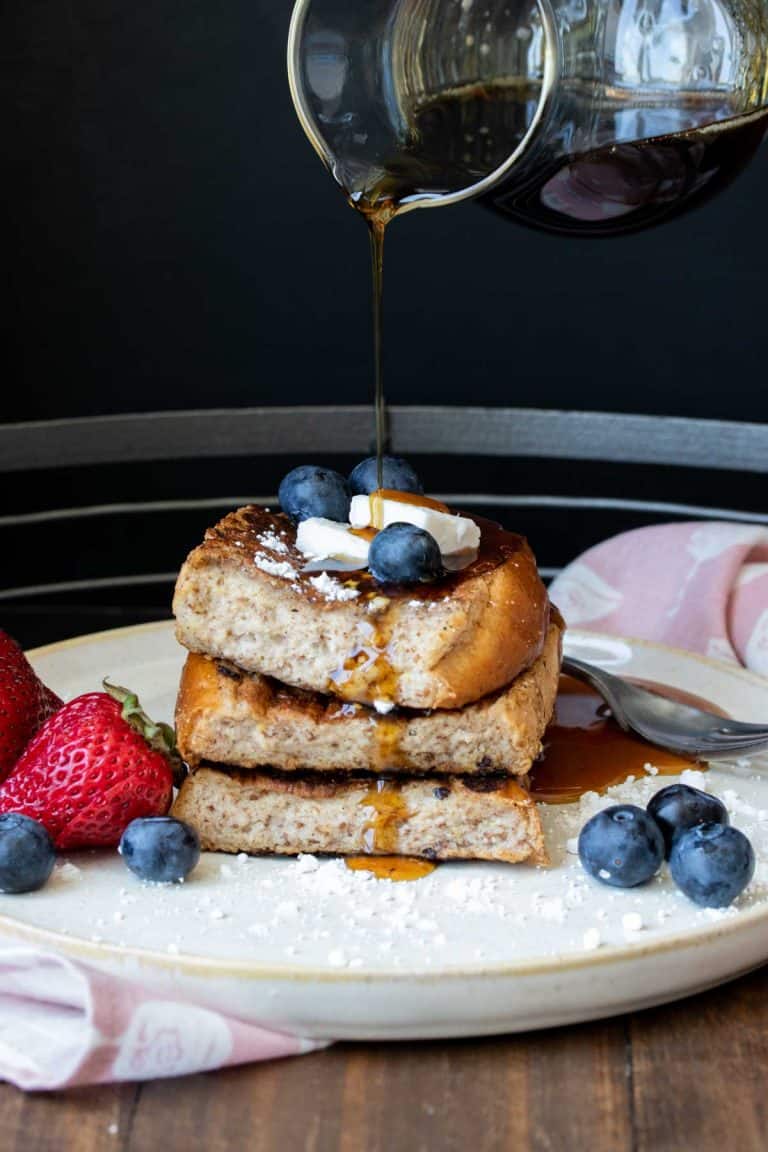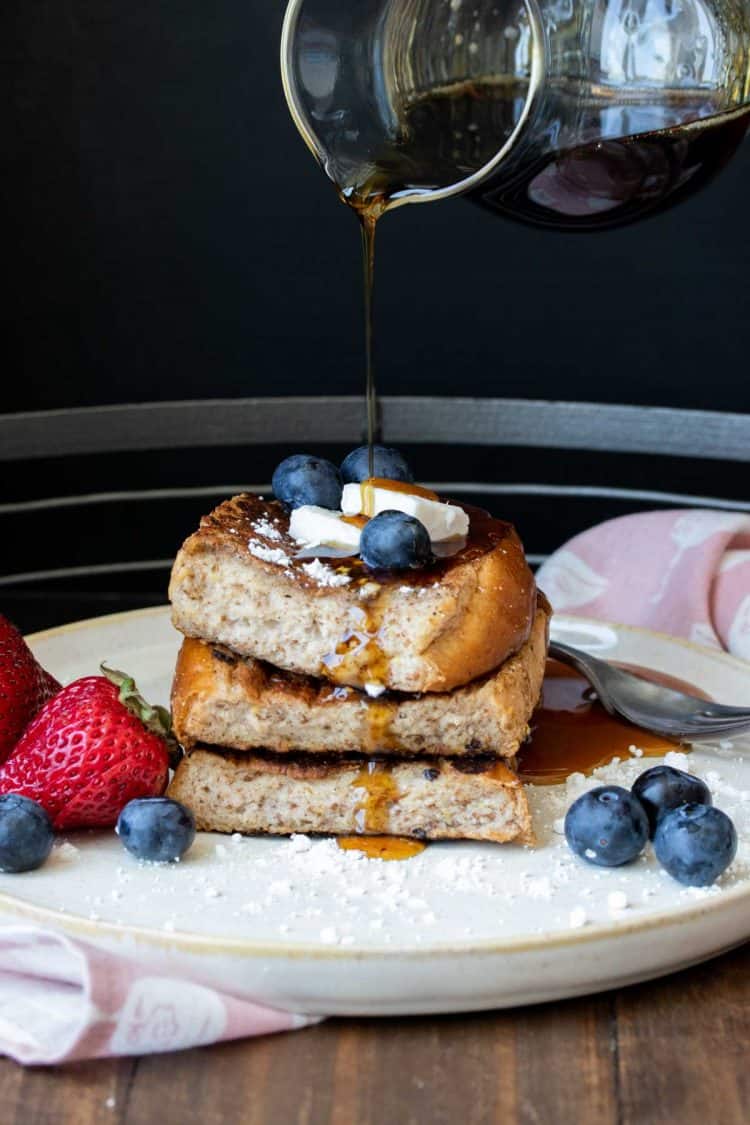 What to Serve With French Toast
Here are some more breakfast ideas that go with French toast to make a big feast:
Common Questions
Can you make French toast without eggs?
Yes! There are a number of methods to do so, including using ground flax, cornstarch, or chia seeds. Learn more about how to make french toast without eggs in the recipe below!
What is vegan french toast
It's simply French toast that uses an alternative to the eggs and milk to make it. Making French toast vegan is easy to do with simple plant based ingredients.
How long should you soak French toast?
Because vegan French toast doesn't use eggs, it won't cook up like regular French toast does. So you want to soak it just enough to absorb the liquid, but not so long it gets soggy. If your bread is soft, about 5 seconds, if it's on the drier side then closer to 10.
What is the best temperature to cook French toast?
I cook it at a medium heat so the outside doesn't burn before the inside cooks.
How do you make French toast not soggy?
You want to make sure you aren't soaking it too long. Also, you want to cook it on medium heat to allow the inside to cook as well. If the heat is too high then the outside will get burned before the inside cooks.
Vegan Breakfast and Brunch Recipes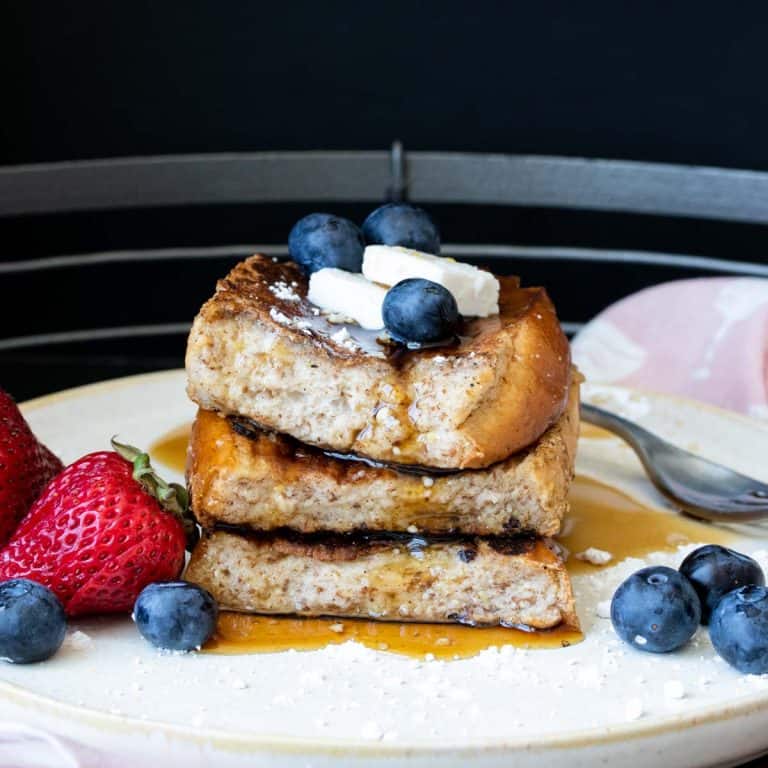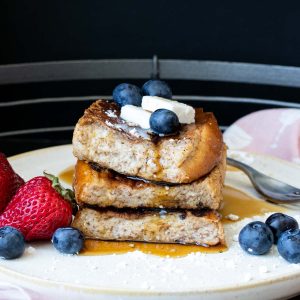 Easy Vegan French Toast
An easy recipe for vegan french toast! Using 8 simple ingredients you'll have perfectly crisp on the outside soft in the center french toast without using eggs all in under 30 minutes.
Ingredients
9 thick slices of your favorite bread , gluten-free if needed (see note)
Topping suggestions:
Instructions
Whisk all the mix ingredients in a shallow bowl until combined well.

Make sure your pan is nice and hot. Once hot, turn down to medium heat.

Dip each piece of bread into the mix and allow to soak for about 5-10 seconds. You want them soaked but not too soft and falling apart. If you prefer less soft French toast, then only dip for a second or two.

Put on a hot pan, and cook for 3-4 minutes on each side, until browning and crisp.

Serve with toppings of choice!
Notes
For the best French toast you want a thick softer fluffy bread. Loaves you can cut work best.
This makes 9 pieces, serving size is for one piece.
Recipe by Veggies Don't Bite, visit our site for more great plant-based recipes.
Nutrition
Calories: 114kcalCarbohydrates: 18gProtein: 4gFat: 3gSaturated Fat: 1gSodium: 334mgPotassium: 74mgFiber: 2gSugar: 5gCalcium: 120mgIron: 1mg
Nutrition and metric information should be considered an estimate.
Never miss a recipe!
Sign up here and get a FREE quick and easy meal guide!