Start your day off right with this vegan omelette! Packed with fresh veggies, it's a delicious and healthy twist on the classic breakfast dish.
This recipe has more than one option for the egg replacement, but it's super easy and full of healthy ingredients!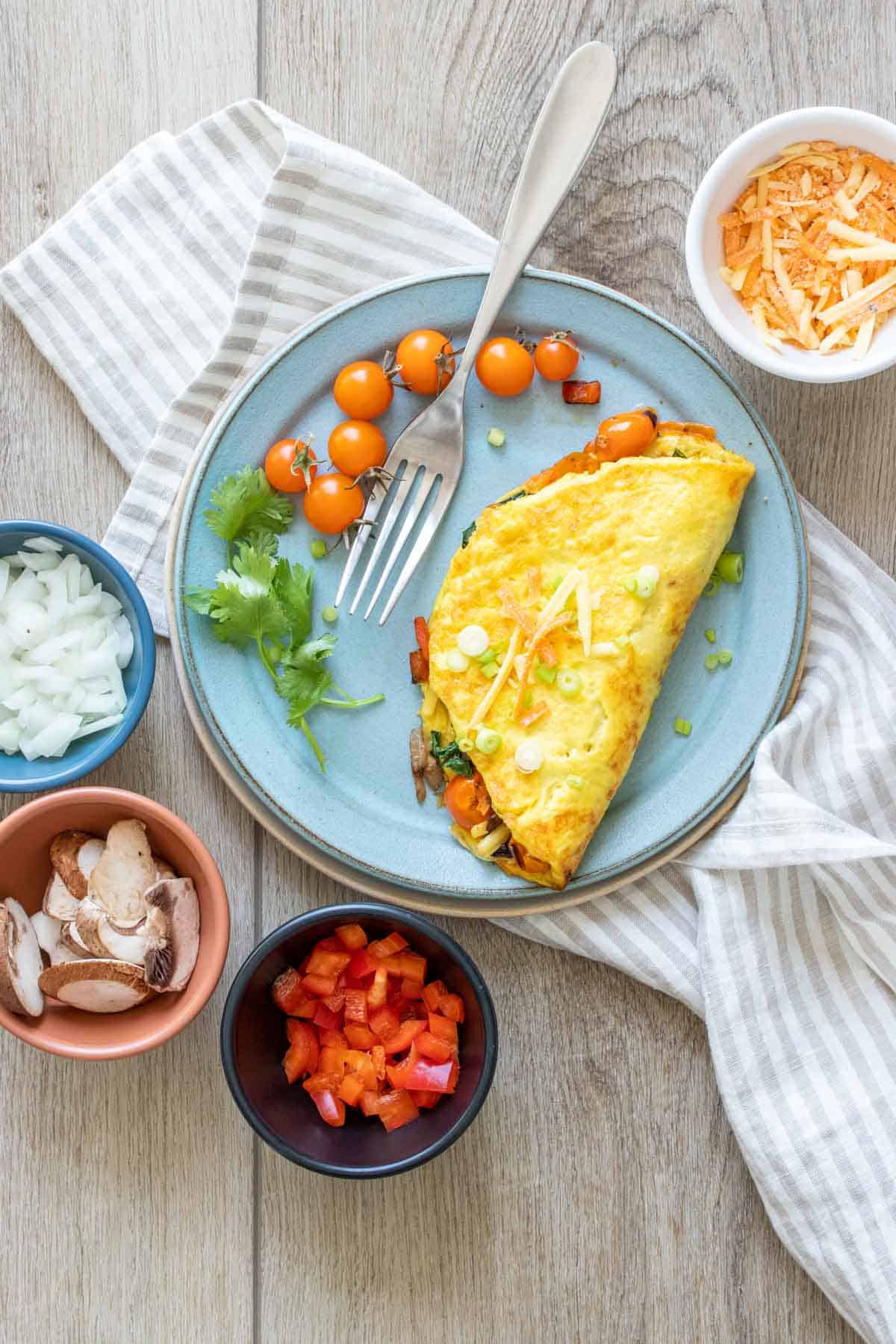 This post was originally published on December 4, 2021.
I love my mornings with creamy oatmeal, protein packed smoothies and smoothie bowls, but sometimes I want something rich and savory and this vegan omelette recipe is just the thing to hit the spot!
Ingredients
When I created my vegan egg recipes, I easily turned them into a veggie scrambled egg recipe. So the next natural step was making them into an omelette! (And if you don't feel like perfecting an omelette, try making a vegan scramble instead!)
In order to make this vegan omelette you will need to gather the following items:
Vegan egg - this link has recipes for chickpea flour eggs, tofu eggs, and store bought vegan egg that you can use for the omelette
Veggies
Dairy free cheese
Sliced green onions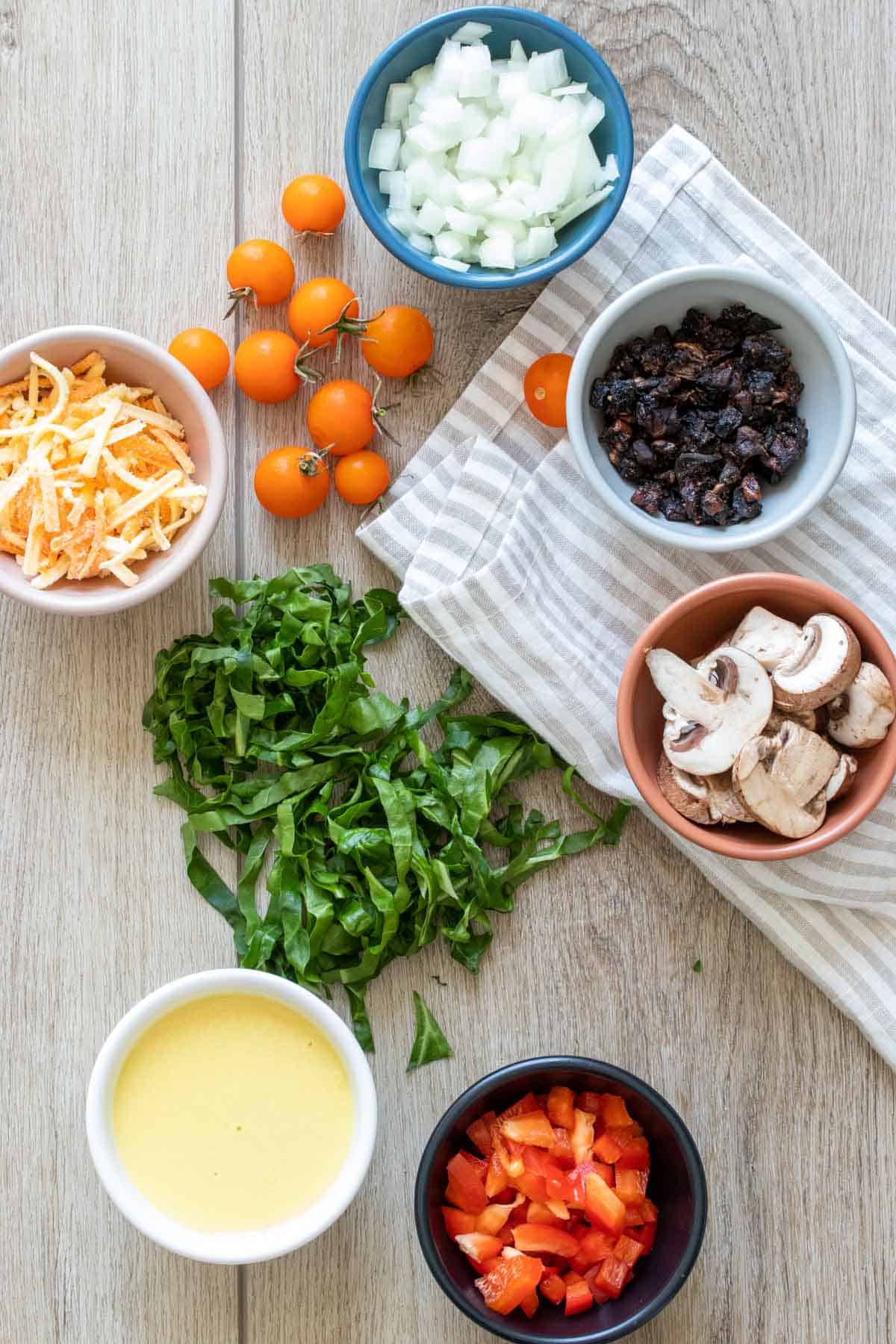 How to Make an Omelette With Veggies
The simple steps to take to create the perfect eggless omelette are:
Sauté veggies.
Pour in the vegan egg, allow it to firm up then flip. Add the veggies, cheese, and protein.
Slide onto a plate, fold it over, and serve!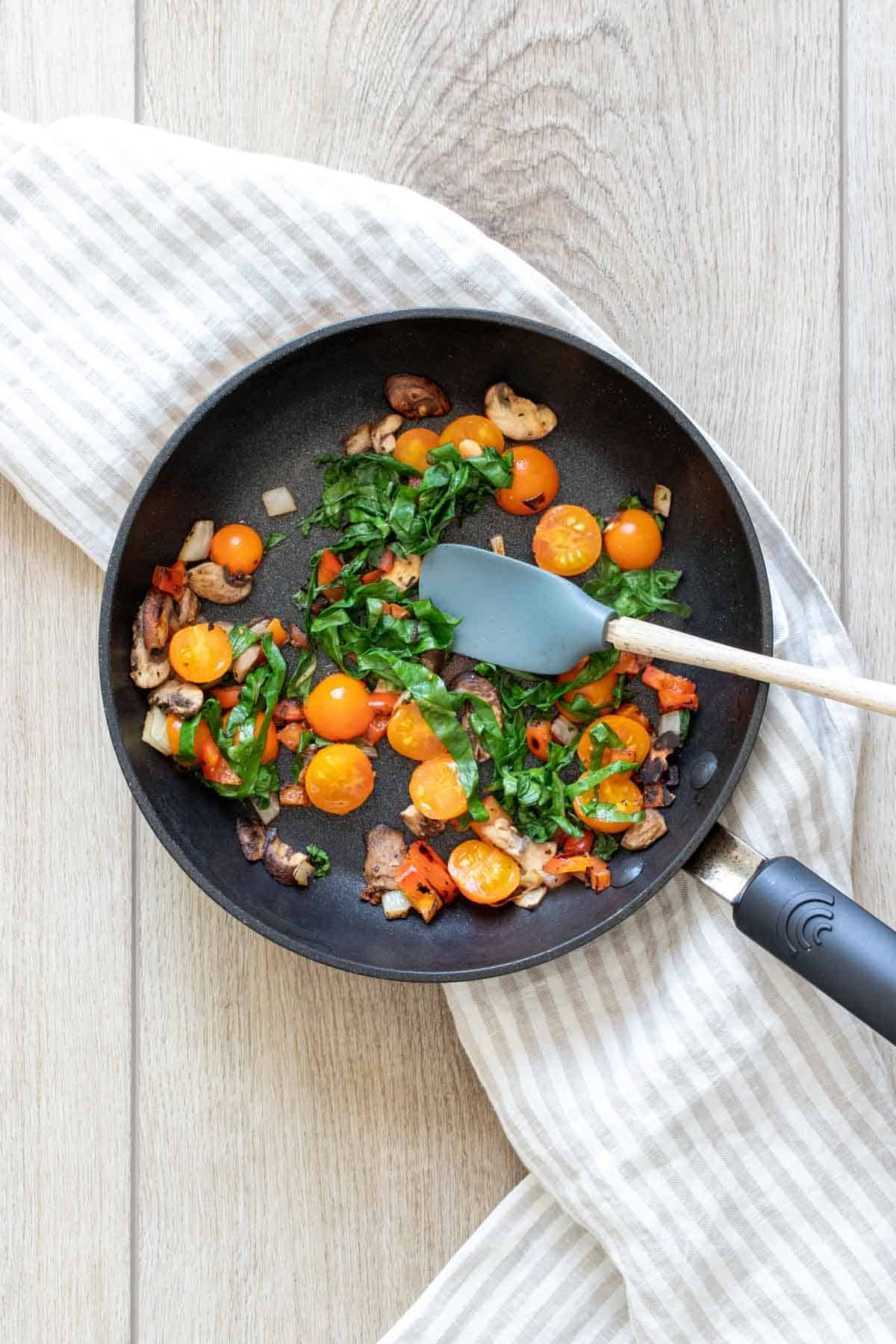 Omelette Filling Suggestions
Any veggie omelette recipe wouldn't be complete without tons of vegetables! Mix things up each time and try a variety of flavors! Any veggies that you love are great to add, as well as a variety of plant based cheeses and proteins. Here are some ideas to get you started:
Mushrooms
Onions
Cherry tomatoes
Peppers
Spinach
Broccoli
Zucchini
Artichoke hearts
Sun dried tomatoes
Fresh herbs
Avocado (add when serving)
Feta - to keep the omelette vegan use homemade Vegan Feta Cheese
Ricotta cheese - use store bought or homemade Dairy Free Ricotta
Make this omelette recipe vegetarian by using standard eggs, and use any of the above add ins.
What to Serve with Omelettes
This vegan omelette is filling enough all on its own. However you can serve it with a few other items to make a big breakfast or brunch spread. The following dishes would go well:
Preparation Tips
Here are a few ways you can achieve the perfect vegan omelette:
Depending on the egg you are using you may not need any additional salt and pepper.
When sautéing add the greens last since they don't take as long to cook.
Some vegetables release moisture when they are cooked. Make sure to sauté them until the moisture is gone, or simply drain it from the pan.
Dairy free cheese takes longer to melt, so once the veggies are cooked mix in the cheese to allow it to start to melt while you are making the eggs.
If you haven't mastered flipping the egg yet, you can slide it onto a plate then return it to the pan upside down.
Prep ahead by cooking up your veggies. Store them in an airtight container in the refrigerator. When you're ready to make the omelet just reheat them in the pan real quick then follow the rest of the directions.
Common Questions
What is a vegan omelette?
A vegan omelette is a dish made with a plant based egg substitute cooked into a disc, loaded with fillings, then folded over into a half circle then served.
What can I use instead of an egg in an omelette?
You can make a chickpea flour omelette, a tofu omelette, or use a store bought vegan egg such as Just Egg.
Do all omelettes have eggs?
All standard omelettes consist of eggs. However, there are many egg alternatives available to make vegan omelettes.
Omelette or omelet?
Omelette is the French spelling of the word, which is also used in British English. Omelet is the American spelling, but many in the United States also spell it the French way.
Vegan Breakfast and Brunch Recipes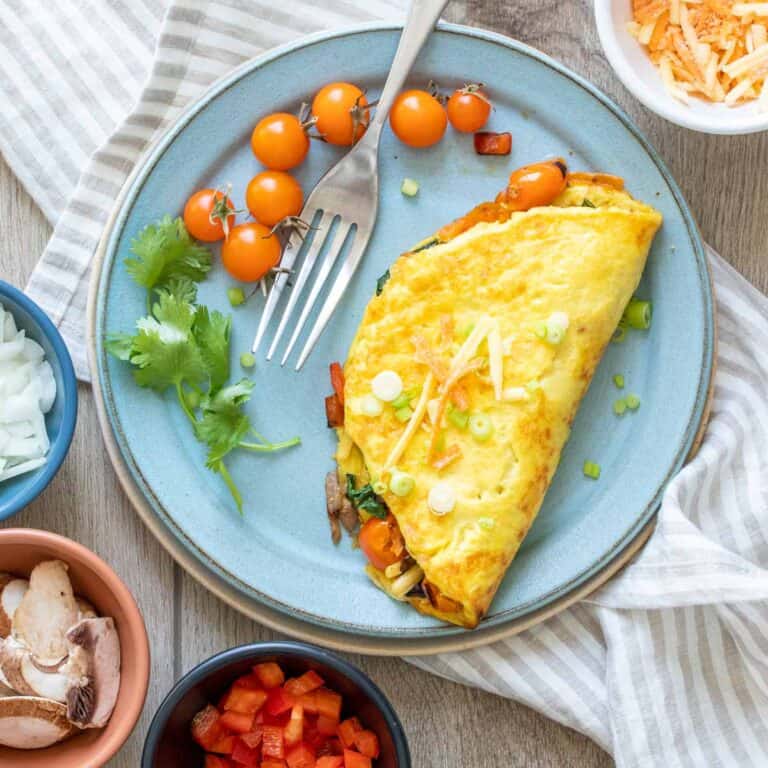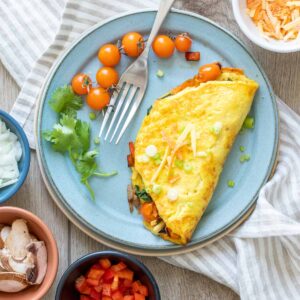 Easy Vegan Omelette Recipe
Start your day off right with this vegan omelette! Packed with fresh veggies, it's a delicious and healthy twist on the classic breakfast dish.
Ingredients
½ cup vegan egg , either chickpea flour recipe or store bought vegan egg
½ cup veggies of choice , I used mushrooms, onions, cherry tomatoes, peppers, and spinach.
¼ cup dairy free cheese of choice
¼ cup protein of choice , I used my vegan bacon (optional)
¼ teaspoon sea salt , may not need if egg choice has plenty of flavor
⅛ teaspoon pepper , may not need if egg choice has plenty of flavor
Sliced green onions , optional for garnish
Instructions
In a small omelet pan (6 or 8 inches), saute veggies with drizzle of oil, or broth, and salt and pepper if using. I add the greens last. Add the protein here if it needs to be cooked. Set aside. A trick I use is to add the cheese here. Dairy free cheese tends to take longer to melt so if you warm it with the cooked veggies it will melt better.

Using the same pan, pour the vegan egg in (put oil in first if using) and cook over medium low heat.

Allow it to firm up a bit then flip carefully. See note for a trick I use.

Once you see them firm up, add the cooked veggies, cheese and protein to one half of the egg.

Cook until you see the cheese melting and you look under the egg and see it brown.

Slide onto a plate and fold the empty side over to serve!
Notes
Use any veggies you love, just be mindful of the ones that will give a watery result, and saute those well.
A tip to flip the egg over if you are having trouble, you can slide it onto a plate and then slide it back into the pan on the other side.
This makes one omelet enough for two people as it is pretty stuffed!
Nutrition facts do not include protein.
Recipe by Veggies Don't Bite, visit our site for more great plant-based recipes.
Nutrition
Calories: 99kcalCarbohydrates: 5gProtein: 6gFat: 6gSaturated Fat: 1gPolyunsaturated Fat: 2gMonounsaturated Fat: 1gSodium: 408mgPotassium: 44mgFiber: 1gSugar: 1gVitamin A: 704IUVitamin C: 2mgCalcium: 95mgIron: 1mg
Nutrition and metric information should be considered an estimate.
Never miss a recipe!
Sign up here and get a FREE quick and easy meal guide!