A vegan creamy pesto and sausage lasagna with tomatoes and parmesan, packed with whole foods. Plus you also get a bonus 4 dinners from the ingredients!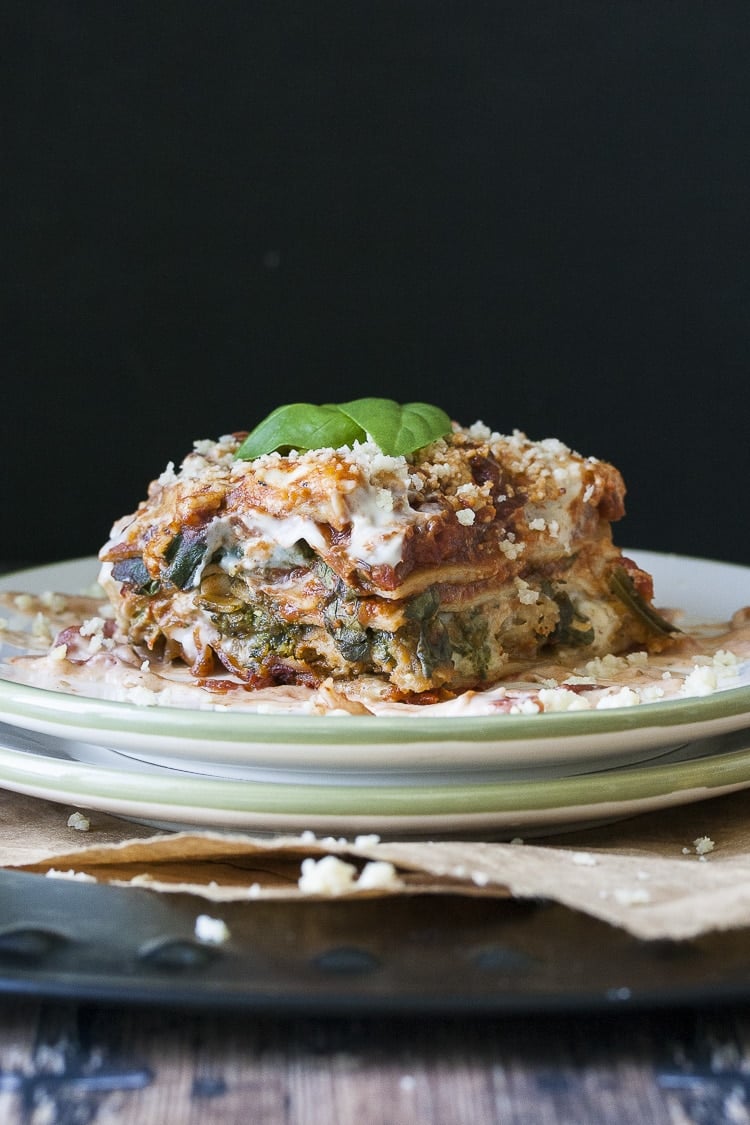 I Give You Vegan Creamy Pesto And Sausage Lasagna
After over 1,000 likes in record time when I posted a photo on Instagram of a lasagna I made up for dinner one night, followed by loads of requests for the recipe, I knew I couldn't keep this from you guys...so it is here.
My advice, make this when everyone in your house is gone, so you can eat the entire pan yourself. And when you're done, if you want to try another kind, this amazing lasagna recipe would be my next vote!
A healthy but gluttonous lasagna full of veggies, layers upon layers of amazing whole foods based sauces and even a non processed option for vegan "sausage". Topped with Grateable Vegan Parmesan like you've never seen and baked until bubbly.
Plus use some of the parts to make 4 extra meals! You will not find a better way to healthily fill that comfort food void. This creamy vegan pesto and sausage lasagna is mouthwatering food in all it's glory.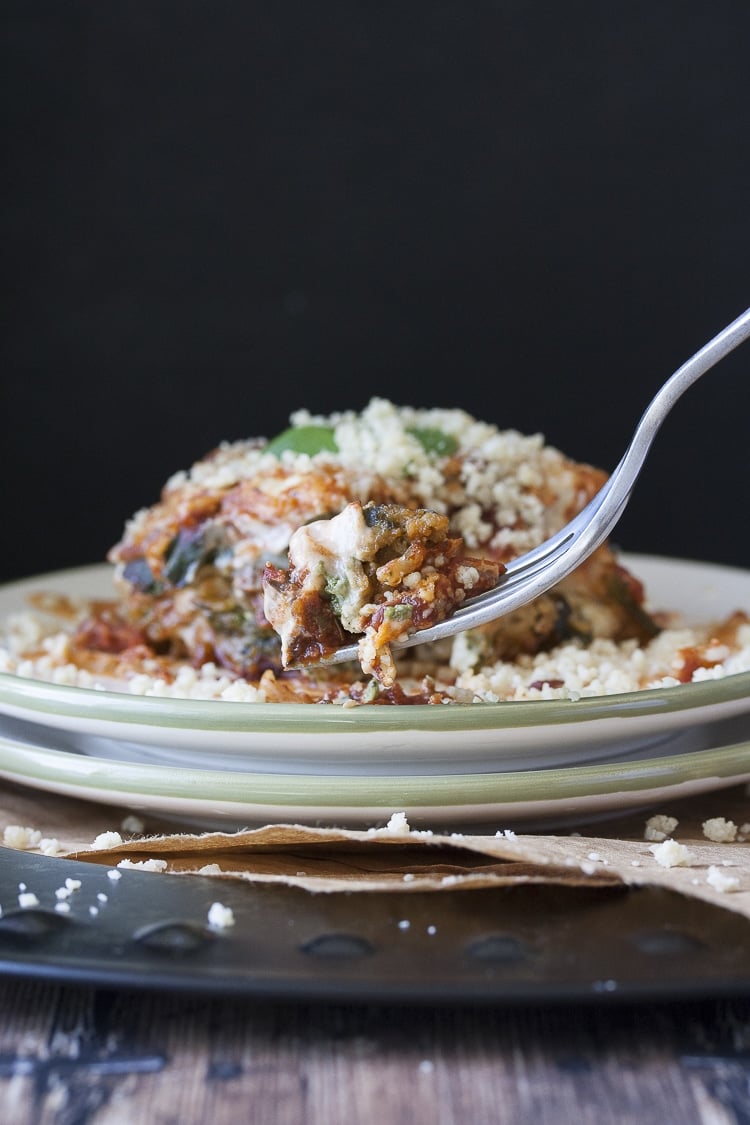 Veggies up the wazoo!
The amount of veggies I packed into this thing is unreal. From the broccoli and spinach in the pesto, to the cauliflower in the ricotta, it's like a farmers market in a pan. I even hid a few veggies in the red sauce! You could skip the actual spinach layer and still be loaded with so many veggies you'll be regular for weeks. Seriously.
I love all in one meals like this that you can serve and not worry about how to make dinner a well rounded meal. The only downside is that if you're expecting leftovers, you may want to prepare yourself, because my family devoured this in one night.
They just couldn't resist a vegan creamy pesto and sausage lasagna with tomatoes and loaded parmesan topping. They were animals.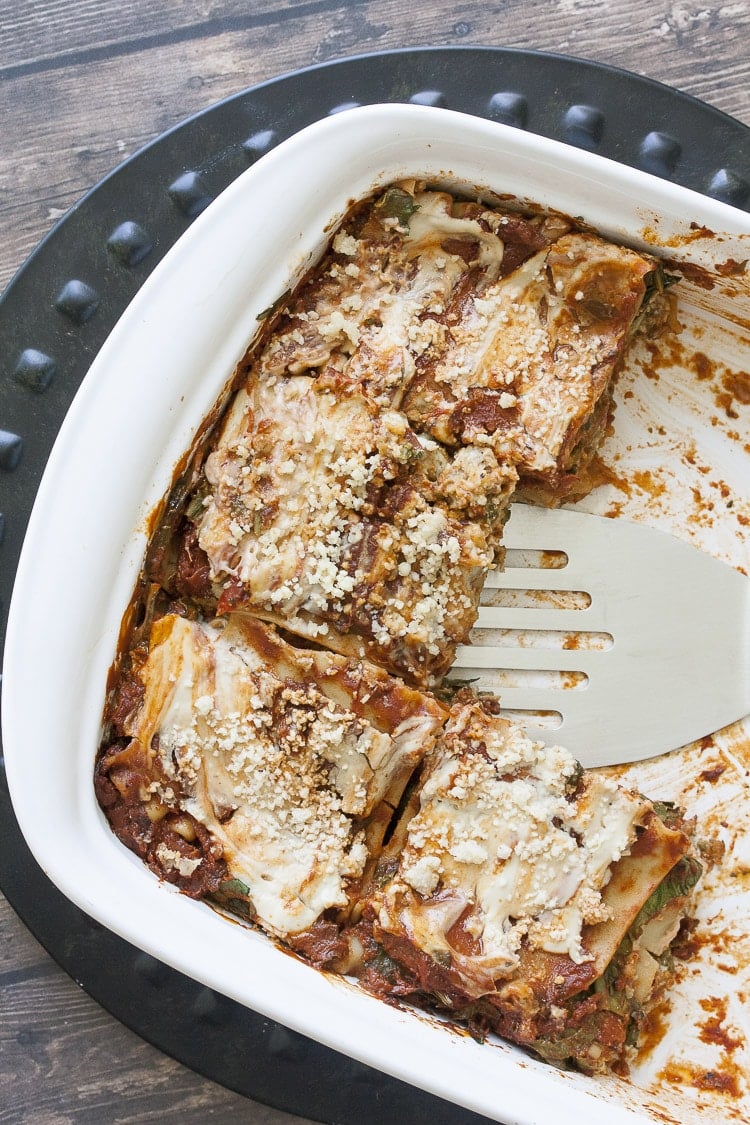 Lasagna is a pain in the butt. Especially when it's vegan and layered with multiple ingredients.
Yep. But it's so good that I find myself putting it on our weekly menu more often than not. With 3 kids, a husband who travels for work, and a million other things to get done in my daily life, I need to make lasagna manageable.
So what do I do? I go back to my teaching roots and apply a strategy I used countless times when teaching kids with learning disabilities. Break up big tasks/words into small parts you can handle. Here's a breakdown of the days leading up to lasagna day. Let's call it lasagna management:
Day 1: make red sauce (or you can also use this marinara recipe) and grateable parmesan. Double the red sauce (or if you're making the fresh marinara you'll need to triple it) and parmesan recipes and serve each with pasta with broccoli for dinner. Boom. Dinner. Done.
Day 2: make pesto (you can also use this pesto or for a spicy kick use this one). Use some of it to make pesto pizzas using pita bread as the crust (you only need about 1 ½ cups for the lasagna). Easy and super kid friendly. Bam. There's your dinner.
Day 3: make ricotta. Buy a bigger head of cauliflower and use half for these amazing burgers. See what I'm doing here?
Day 4: make cream sauce. Also, if you are going the whole foods route, and not buying ready made vegan sausage, make the chickpea sausage crumbles as well. Make double the sauce and  sausage crumbles. Then use some of each to make these pizza burritos right here. I promise you will thank me, they are insanity in a wrap. Plus, you should have spinach already for the lasagna (just get a little extra). Win win.
On lasagna day: simply cook the noodles and put it all together! You can always use some of those no cook lasagna sheets too if you're being really lazy. No judgements here, been there done that.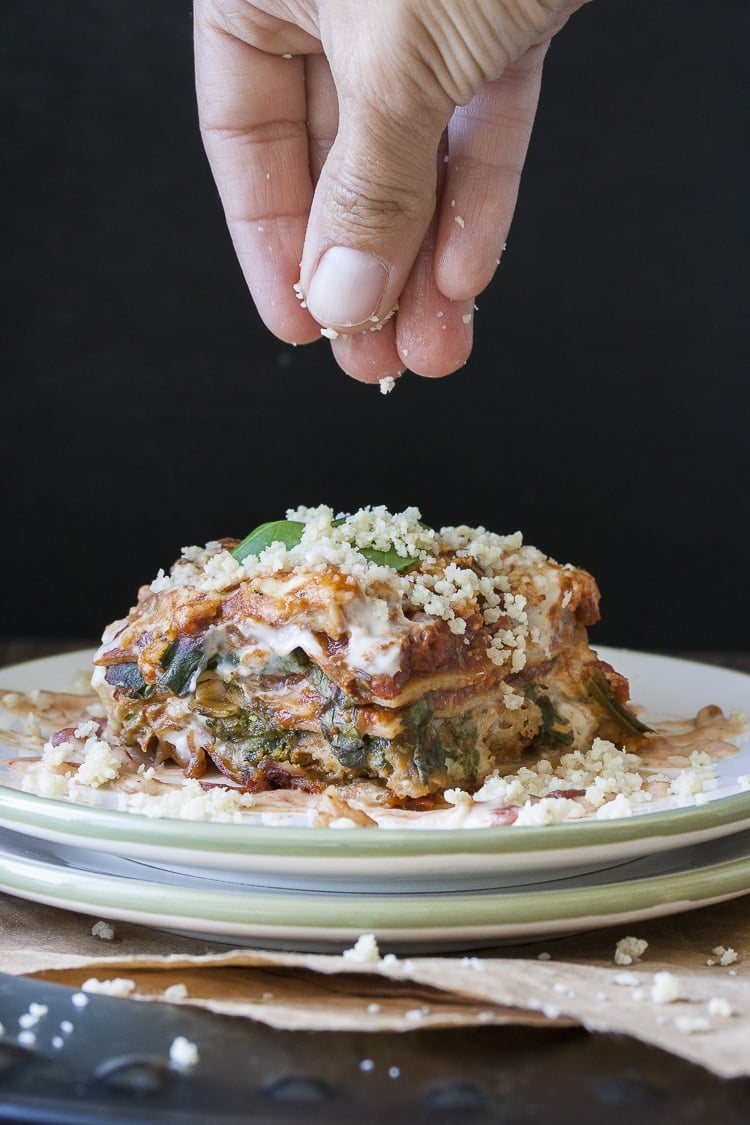 Now that I have not only broken down this vegan creamy pesto and sausage lasagna in manageable steps, but also taken care of dinners using some of the parts, there are no excuses. I'm drooling again just thinking about it. Perhaps I should make this one more time for quality control...
Other vegan Lasagna Recipes You Might Like;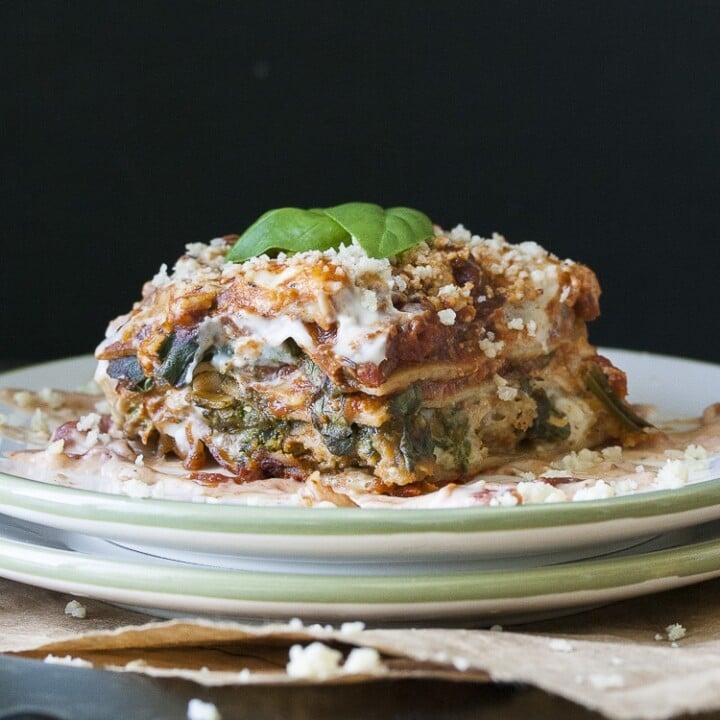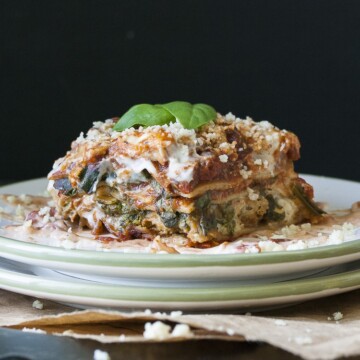 Vegan Creamy Pesto, Tomato and Sausage Lasagna (and a Bonus 4 Day Meal Plan!)
A vegan creamy pesto and sausage lasagna with tomatoes and parmesan, packed with whole foods. Plus you also get a bonus 4 dinners from the ingredients!
Instructions
Make the red sauce, pesto, ricotta, cream sauce, sausage if not buying, and parmesan. Crumble the store bought sausage links with your hands if using them and not making the sausage crumbles.

Cook the noodles for only 3 minutes (this will be baking and you don't want the noodles to be overcooked).

Preheat oven to 375°F/190°C.
Layer the lasagna as follows in a 9 x 12 baking dish:
Crumbled store bought sausage or 3 cups chickpea sausage crumbles
cauliflower ricotta (use it all)
¾ - 1 cup cream sauce (swirl with the red sauce)
1 ½ cups parmesan (sprinkle over the top)
Bake covered for 15 minutes. Uncover and bake an additional 15 minutes or until bubbly.

Hide in closet and devour alone. Or share, but be prepared with a fork so you can dig in fast.
Notes
Be sure to make extra of each part if you are following my guide for the extra 4 dinners.
You can use no boil lasagna noodles if preferred, but check to make sure they are cooked through when the 30 minutes is up, they may need additional time.
Feel free to increase amounts of each ingredient, just make sure you have made enough.
Recipe by Veggies Don't Bite, visit our site for more great plant-based recipes.
Nutrition
Calories: 130kcalCarbohydrates: 25gProtein: 4gSodium: 22mgPotassium: 130mgFiber: 1gVitamin A: 845IUVitamin C: 2.8mgCalcium: 17mgIron: 0.7mg
Nutrition and metric information should be considered an estimate.
Never miss a recipe!
Sign up here and get a FREE quick and easy meal guide!