This vegan dinner menu is going to make your week easy and stress free! A week of meals all planned out for you, plus a grocery list to go with them.
Dinner time can be crazy and if you're looking to add more vegan dinners into your week it adds to the stress. So following a menu makes it simple and approachable!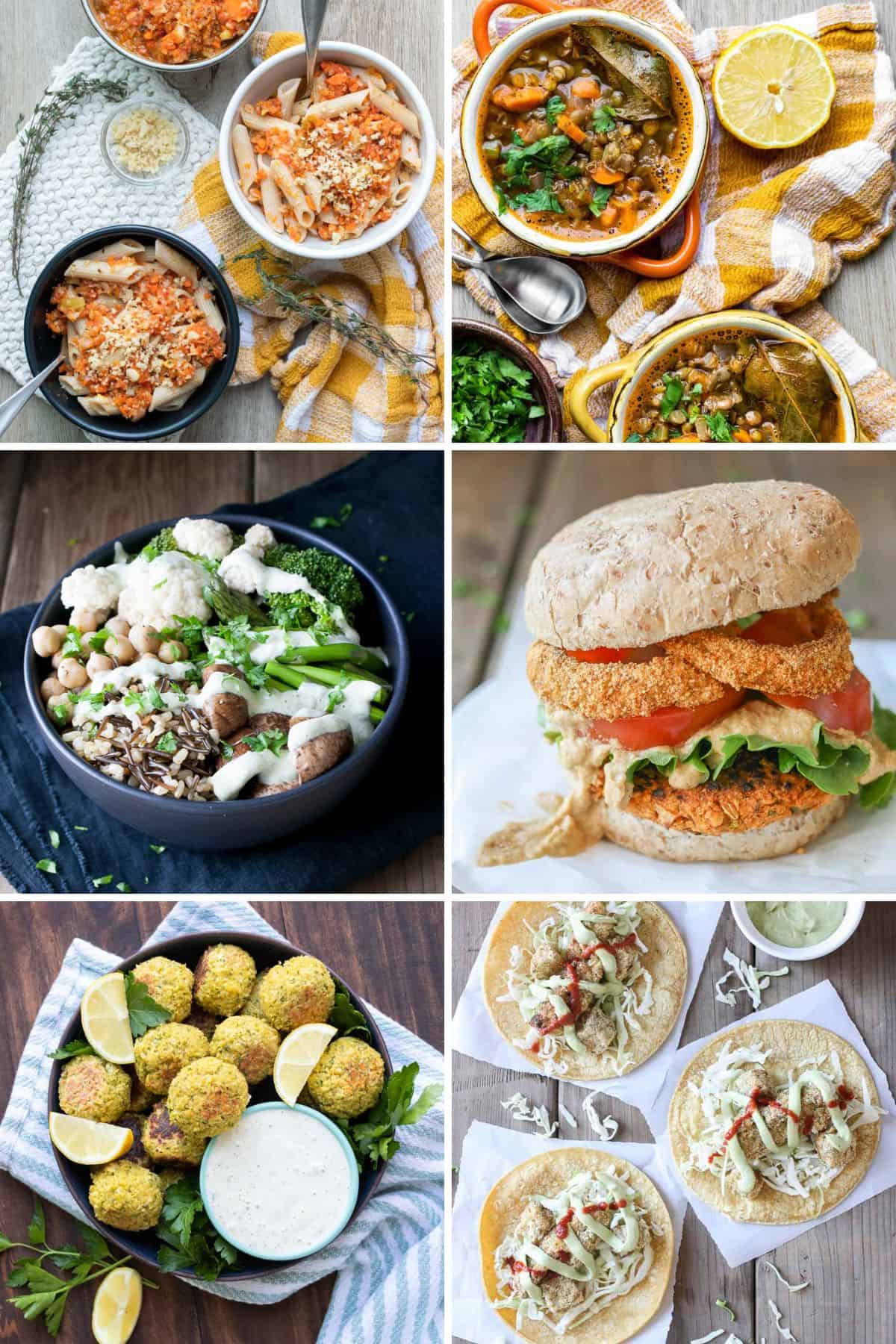 This is a sponsored conversation written by me on behalf of Silk. The opinions and text are all mine.
This post was originally published on September 26, 2016.
I have many vegan meal plans to follow, but this dinner menu is one of my simplest and easiest! It's made for the whole family and planned out for you at every step.
Tips for Planning Easy Vegan Dinners
Plant-based eating can be overwhelming at first, but if you keep yourself organized, it is easy! It's great to have a guide like this one especially if you are just getting into adding more plants into your diet.
I created this weekly vegan dinner menu from day one to day seven in the order that I think is easiest, feel free to switch it up but read each day carefully as I include ways to keep prep easier. Here are some tips to keep in mind:
The recipes for each day are adapted for 4 servings, but in some cases I have you freeze leftovers for another time.

The lentil soup is doubled so you can eat it over two nights.

Many of these recipes ask for a number of cups of chopped veggies, I estimated how many whole ones you will need to get the amount of chopped.

I rounded up so you may have more than necessary, but save for another time or for extra with the dinner on day #5 which incorporates leftover veggies.

For ease of shopping I also focused on using unsweetened cashew milk when non dairy milk is required. However, you are welcome to use any other plant milk you prefer.
When I chose my plant-based milk, I always turn to Silk brand. I not only love the quality of their products, but I love the flavor!
Vegan Dinner Menu Recipes
Day #1
Buffalo Chickpea Burgers
The ultimate indulging plant based burger. Buffalo sauce flavored, filled with veggies, and paired with amazing toppings, this burger will erase all others from memory. Meat who?
see recipe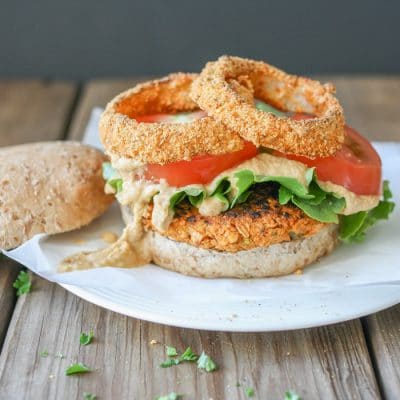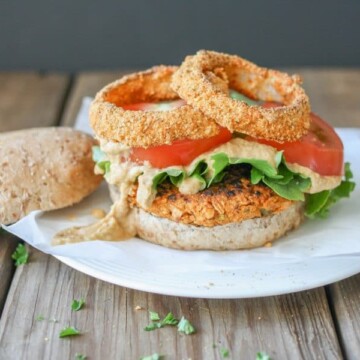 This recipe as written makes about 15 burgers. I cut it in half when writing the shopping list. If you do not halve the recipe make sure to adjust the shopping list.

Eat a few patties one night and freeze the rest of another time (perhaps a night you need to defrost a quick dinner).

When you prep for these you can also prep ahead for Veggie "Meat" Sauce that you are making tomorrow, day #2, by chopping the carrots, celery and cauliflower. You can also chop an extra ¼ cup green onions to use on day #5.

Store the prepped veggies in an airtight container in the refrigerator.

The optional toppings are Pistachio Buffalo Cream, lettuce, tomato and red onion. Feel free to add them, or even top with anything else you like.
An extra side for this dinner is my Baked Cornmeal and Pepita Crusted Onion Rings. I did NOT include this in the shopping list as it ads an extra level of prep to this dinner menu and I wanted to make it as easy as possible, but feel free to add on your own if you're feeling extra feisty!
Day #2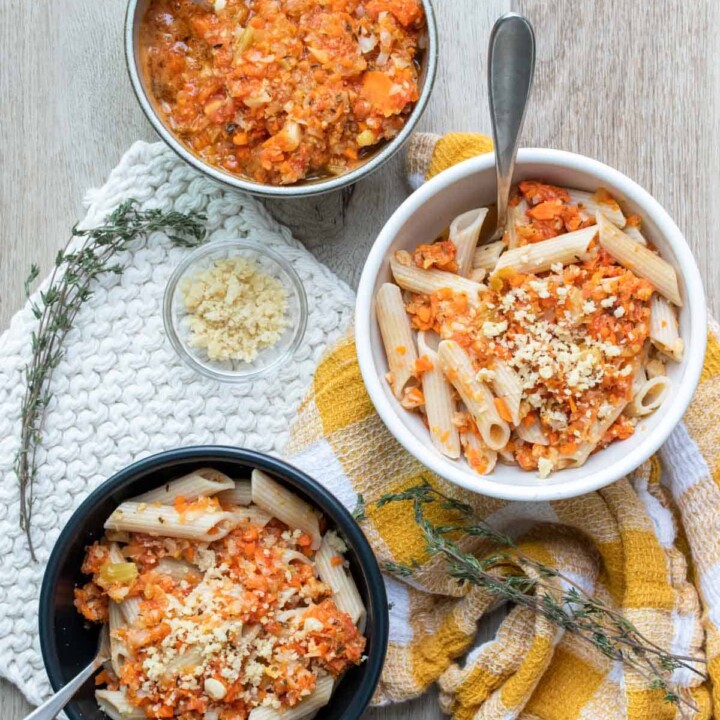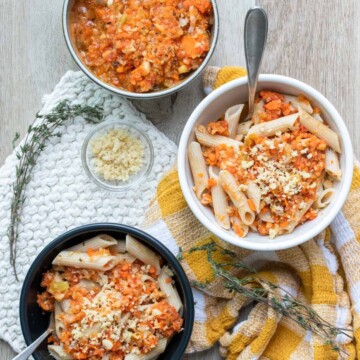 This recipe makes more sauce than you will use tonight, freeze the leftovers for another night when you need a quick dinner.
The carrots, celery and cauliflower were prepped with last nights meal.
I included the jarred chopped/crushed tomato option in the shopping list, but feel free to use the fresh tomato option from the recipe, just make sure to adjust accordingly when you shop.
You can use the fresh herbs from the recipe if you prefer, but for ease of prep I have included the dried version in the shopping list. Make sure to adjust accordingly when you shop.
Salt and pepper in this meal is to taste, depending on the broth you use and how salty you prefer it.
I include the optional Hemp Almond Parmesan to sprinkle on the top, but feel free to leave it out.
Day #3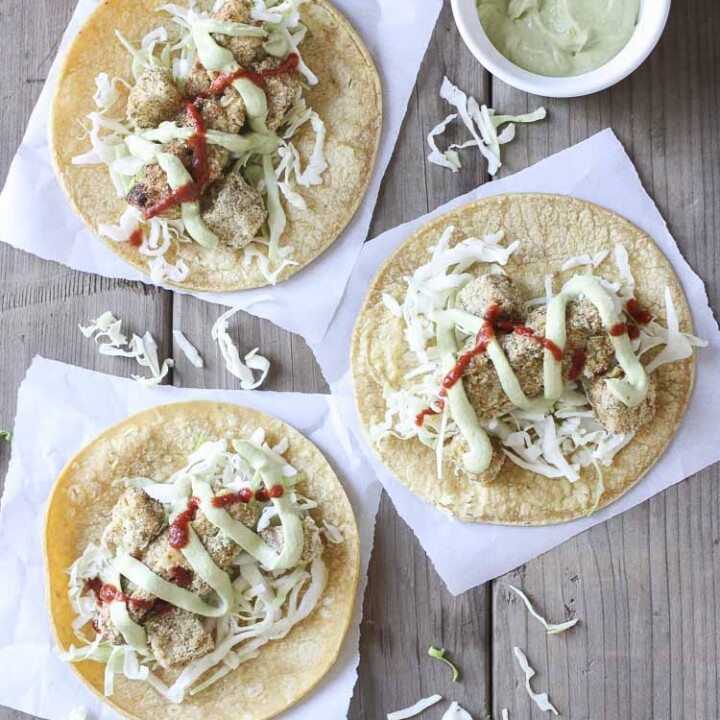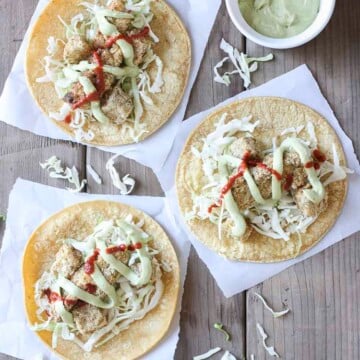 Cut half of one head of cauliflower into thick strips for these tacos, and the other half into big pieces for the dinner on day #5.
Cut all 3 of the potatoes into pieces, both for this meal and for the dinner on day #5.

Give the cut potatoes a soak in water, then drain and store in an airtight container in the refrigerator. This will help prevent browning.

For ease of shopping, use cashew milk to make the sauce instead of almond.
Day #4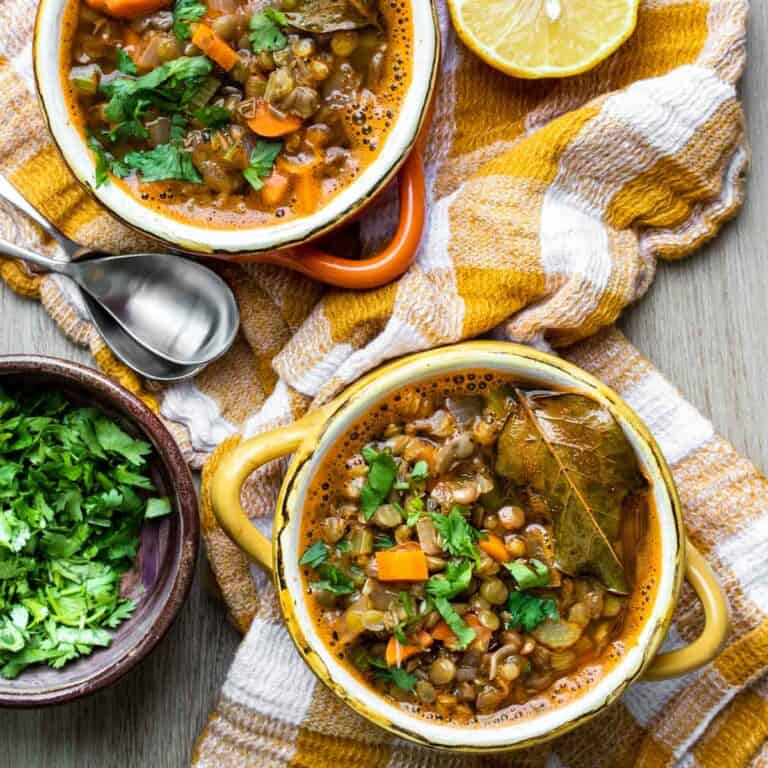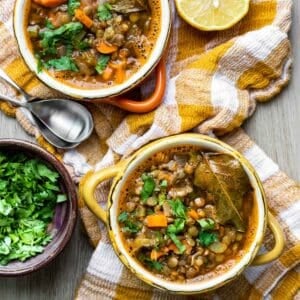 Make sure to doubled this recipe for eating both today and on day #7. This is reflected in the shopping list.
Cut 4 carrots into pieces to use with this dinner, and then cut 2 carrots into pieces and save to use with tomorrow's meal.
Use ½ cup crushed tomatoes instead of sauce (this makes it easier since you are purchasing crushed tomatoes for the sauce from day #2).
Chop 2 medium onions to use with this meal, and then chop 1 small onion and save to use with the dinner on day #6.
Day #5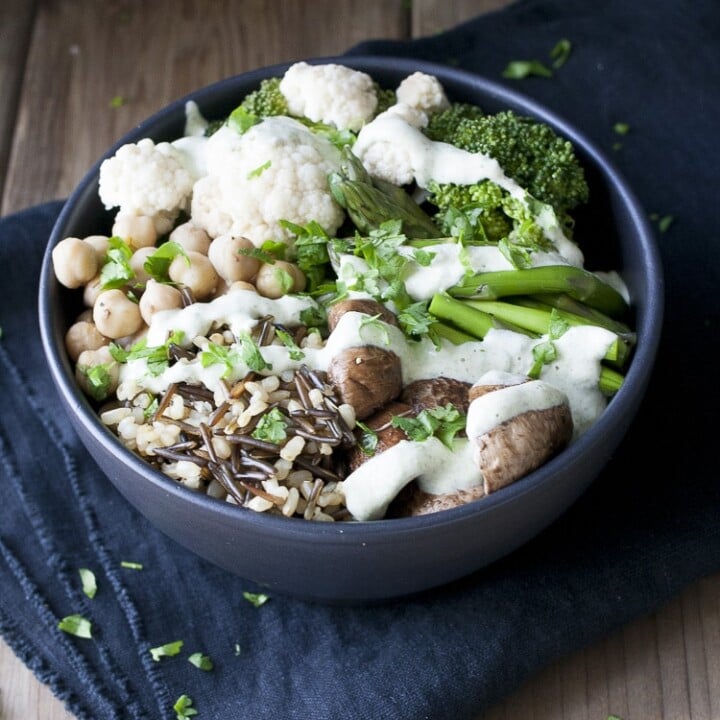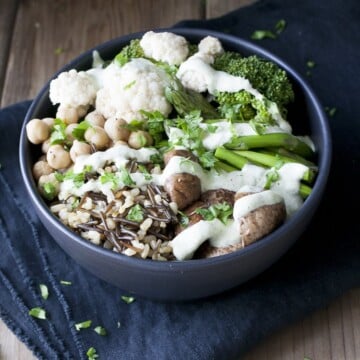 This bowl was originally created to use leftover veggies and beans. I added the following to the shopping list to use with this dinner (in addition to any other leftovers you have that you can add):

carrots
cauliflower
potatoes
green onions

For ease of shopping, use cashew milk to make the sauce.
The original recipe is per bowl, but I multiplied it by 4 (which is accounted for in the shopping list).
I have included enough beans in the shopping list for this meal, but you can also add the extra from the burgers from day #1.
The leftover lemon herb sauce from here is used with tomorrow's recipe.
Start soaking the chickpeas for tomorrow's dinner tonight.
Day #6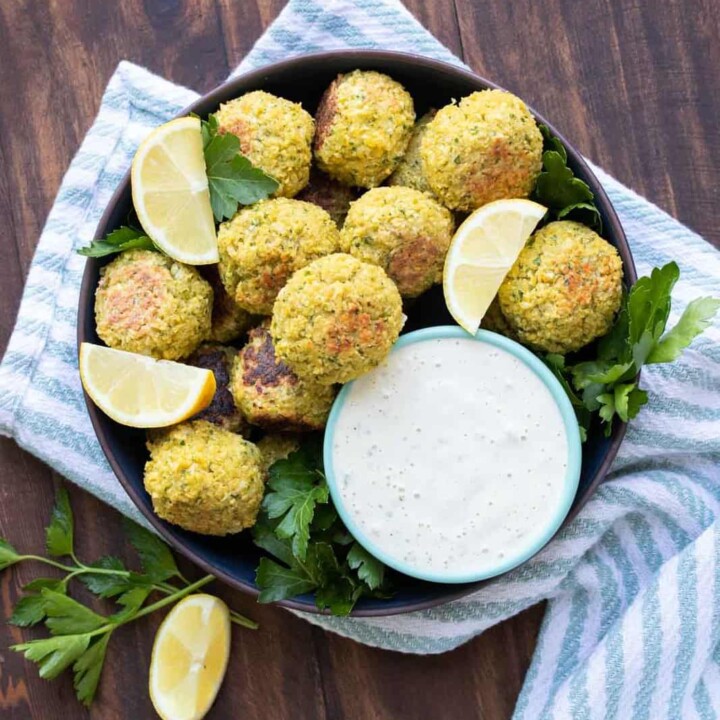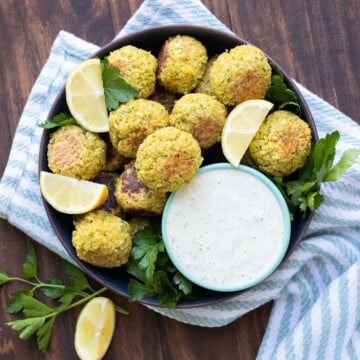 Make sure you soak the chickpeas overnight.
Use the leftover sauce from yesterday for this instead of the sauce that is in the recipe.

If you prefer the sauce that is in the actual recipe, then plan accordingly when you shop as I did not include the ingredients in the shopping list.

The onion was chopped and prepped from the recipe on day #4.
If you do not want to buy coriander just for this recipe, feel free to leave it out.
Day #7 Leftover Greek Lentil Soup
Super easy dinner day as this meal is simply leftovers from day #4!
Pantry Staples
Having a stocked pantry makes shopping for your vegan dinner menu each week easier, as you may already have many ingredients on hand. The following are suggestions for items to always have around:
Pasta, beans, grains:
Dried pasta of choice, gluten-free if needed
Black beans
Pinto Beans
Chickpeas
Brown Rice
Quinoa
Oats
Nuts and seeds:
Cashews
Almonds
Walnuts
Flax seeds
Hemp seeds
Chia seeds
(Non) Dairy:
Non-dairy milk- Silk Cashew Milk, almond milk, coconut milk, etc.
Plain dairy-free yogurt
Coconut cream
Spices and baking essentials:
Onion powder
Garlic powder
Paprika
Chili powder
Cumin
Basil
Oregano
Ginger
Cinnamon
Salt & pepper
Vanilla extract
Vegetable broth
Brown rice flour
Maple strup
Produce:
Potatoes
Onions
Greens
Peppers
Mushrooms
Common Questions
What should a vegan eat in a week?
Breakfast, lunch, dinner, and snacks! Make sure to include fruits, vegetables, grains, nuts & seeds, etc, basically anything plant based! Balance your fat, protein, and carbs so that you stay full and satisfied. I promise, it's possible! Follow this meal plan for an easy vegan meal ideas.
How do vegans meal prep for a week?
The same way any eater does! Note which foods are in season, available, or on sale and make a menu surrounding those items. If you plan a weekly dinner menu ahead of time you can consolidate your groceries, getting the most bang for your buck.
How do you do a vegan meal plan?
Using a guide such as this one can make meal planning for a plant based eater much easier. To make your own, find produce in season or available and build meals around those. Make a menu using similar ingredients so nothing goes to waste. Keep the recommended staples above on hand so that shopping each week is simplified.
More Plant Based Meal Plan Ideas
The above vegan menu is for dinners. But you need to eat during the day too! Check out these suggestions for plant based breakfast, lunch, snacks, and dessert:
Breakfast
Lunch
Snacks
Dessert
More Vegan Resources
Eating plant based can be overwhelming at times. Check out these helpful posts for more support: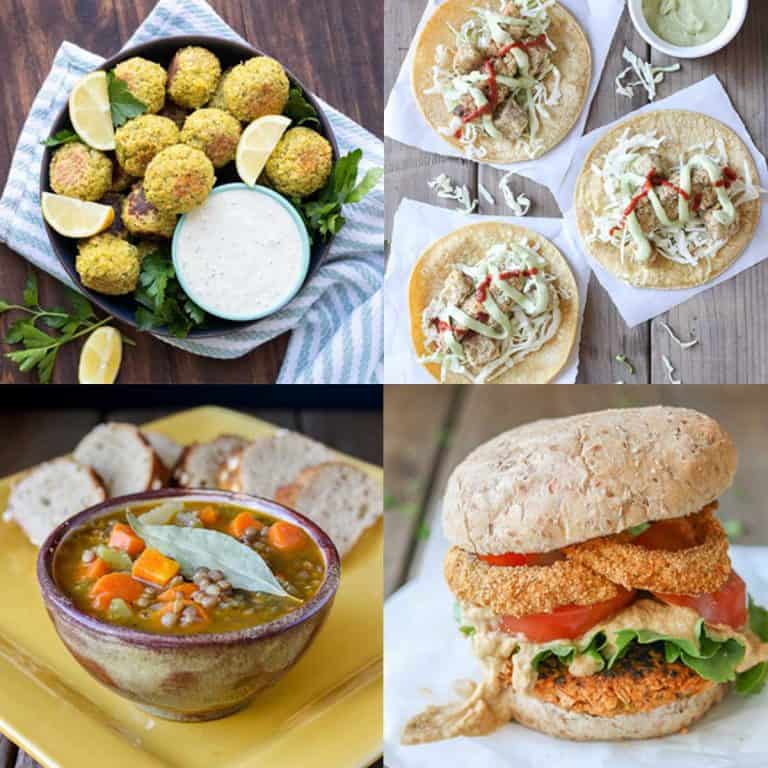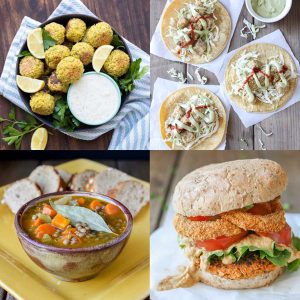 Weekly Vegan Dinner Menu with Grocery List
This vegan dinner menu is going to make your week easy and stress free! A week of meals all planned out for you, plus a grocery list to go with them.
Ingredients
Produce
Canned Goods
4 cans chickpeas , 15 ounce cans
1 can white beans , 15 ounce can
22 ounces crushed tomatoes
Dried Goods
1 ½ cups dried chickpeas
2 cups dried green lentils
Pasta and Grains
½ cup oats , gluten free if needed
16 ounces your favorite pasta , gluten free if needed
4 cups cooked rice of choice
Nuts and Seeds
1 tablespoon ground flaxseed
½ cup unsalted raw pepitas , pumpkin seeds
1 cup cashews
¾ cup raw almonds
1 cup pistachios
1 cup hemp seeds
Optional additions to meals
For burgers:
Lettuce to top 4 burgers
Tomatoes to top 4 burgers
Red onion to top 4 burgers
Hemp Almond Parmesan (to sprinkle on pasta)
Instructions
Follow each individual day and/or recipe for instructions.

Adjust ingredients and servings as needed

Enjoy!
Notes
Nutritional value, cook and prep time is based on an average of all recipes, please see original recipe posts for more accurate information.
This meal plan is for seven days and serves 4 people each day.
Recipe by Veggies Don't Bite, visit our site for more great plant-based recipes.
Nutrition
Calories: 621kcalCarbohydrates: 79gProtein: 22gFat: 25gSaturated Fat: 2gSodium: 237mgPotassium: 847mgFiber: 14gSugar: 8gVitamin A: 4435IUVitamin C: 33.2mgCalcium: 159mgIron: 6.7mg
Nutrition and metric information should be considered an estimate.
Never miss a recipe!
Sign up here and get a FREE quick and easy meal guide!