Learning how to go dairy free in an easy and doable way is an important part of your success! It doesn't have to be hard or stressful!
There are many ways to love your dairy free diet, whether it's by choice or need going dairy free can be just as delicious.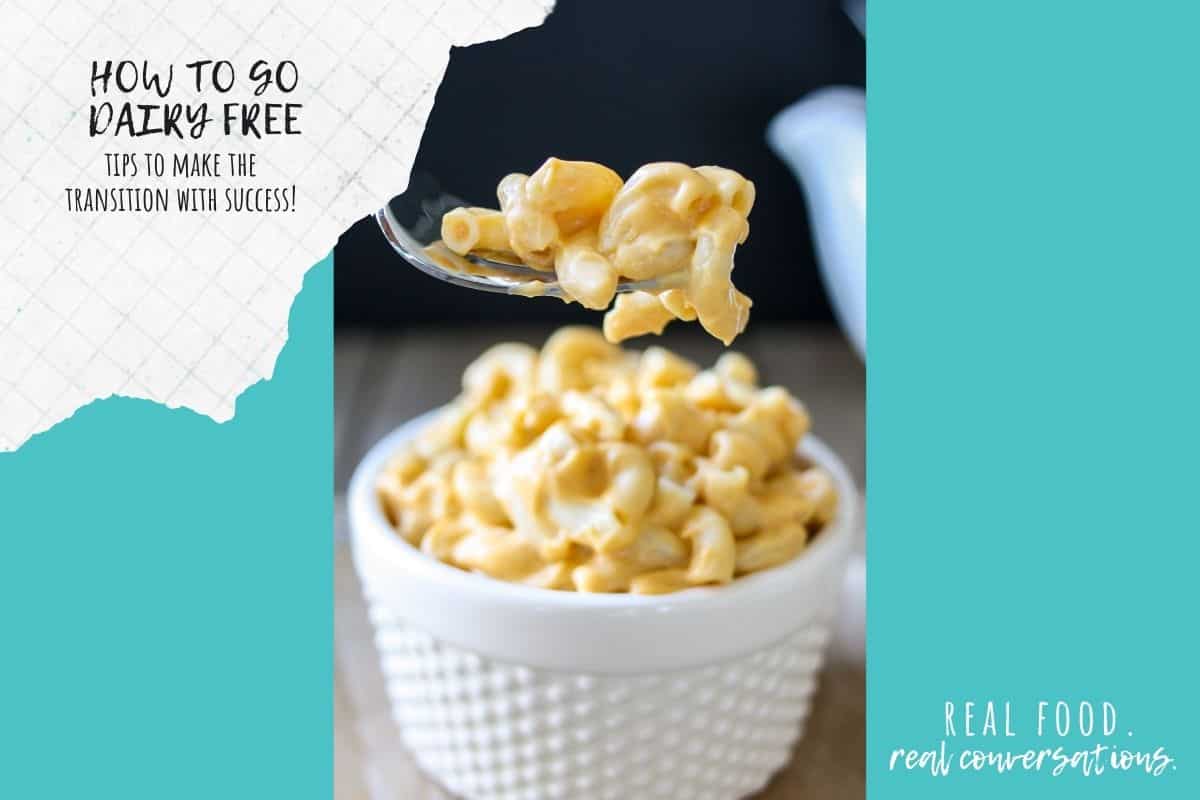 I don't have the best relationship with dairy. While I am not allergic, my body doesn't love dairy. That being said, I am really picky with my dairy free alternatives. So if I don't find something that tastes great, I won't eat it!
Podcast: Play in new window | Download | Embed

Subscribe now! Apple Podcasts | Google Podcasts | iHeartRadio | Stitcher | TuneIn | Deezer | RSS | More
I can't say I am totally dairy free, because if I want something and I don't have a great dairy free version as an option, I will still eat the dairy. But I try and do as dairy free as possible.
If going dairy free is something you're looking to move towards, you can do it! There are lots of options, both store bought and homemade, to make your transition delicious.
What is Dairy?
Dairy is any food that is made of the milk products from an animal. There are many animals that produce milk, cow, sheep, goat are the most common. But there are other countries that use the milk from many other animals.
Foods that have dairy
There are many foods that contain dairy. Milk, yogurt, butter, cream, cheese, kefir and ice cream are some common ones. But milk can be hidden in many other foods so you have to be careful if you cannot eat it.
Knowing the alternative names of dairy is important as there are many you probably wouldn't recognize. Some of the names for ingredients that are considered dairy but don't have the common names listed above are:
caramel color
casein
caseinates
curds
custard
galactose
ghee
half and half
hydrolysates
koumiss
lactalbumin
lactate solids
lactitol monohydrate
lactoglobulin
lactose
lactulose
lactyc yeast
Nisin preparation
nougat
paneer
pudding
quark
recaldent
rennet
sherbet
simplesse
whey
Is Dairy Bad for You?
Some people can tolerate dairy better than others. But just because you can tolerate it, doesn't mean you should be eating it as part of your regular diet.
While I advocate for balance, and I don't think that eating dairy once in a while is a big deal (unless of course you can't tolerate it or have an allergy), it should be something you eat in small amounts.
Dairy is the leading source of saturated fat in foods. Saturated fat contributes to chronic diseases like type 2 diabetes and heart disease and can increase your risk to things like high cholesterol and cancer.
Dairy can also cause side effects for some people, for me especially I see it affect my skin. Whenever I eat dairy, I always have breakouts.
How Long Does It Take To Get Dairy Out of Your System?
Everyone's bodies are different. When trying to transition away from dairy, it takes months for you to see the full effects. But some sources say that after 2-3 weeks you can feel better with the effects of dairy making their way out.
How Do I Transition to a Dairy Free Diet?
Any time you make a change in something you are used to doing it will be difficult. This is because our daily habits are set in our life and we don't have to think hard about them.
So changing those will take some brain power which takes more of our energy. But this doesn't mean that you can't make it easier, and one day the new habits will take over!
Here are my tips for making the transition to a dairy free life easier:
Start slow. This isn't a race and no one gets a trophy.
Begin with foods you love most and find alternatives for those.
Transition one food at a time over. No need to do a huge overhaul all at once.
Look for store bought versions to start to make it easy, then you can start making your own if you prefer.
If something doesn't taste good to you, don't eat it. You won't last with things you don't like.
Have fun with it! Life is too short to be stressed!
Best Dairy Free Brands
I am really picky when it comes to my dairy free products. I often make a lot of things, like my vegan ranch dressing, vegan cheese sauce or my vegan Parmesan, but I do buy things too.
Our go to sliced cheese is by Follow Your Heart and is the Provolone flavor. I like to buy the Miyoko's Kitchen cheese blocks and shred them myself. But I also recently tried the cashew based shredded cheese from Trader Joe's and liked it!
I also absolutely love the dairy free mint chip ice cream by Salt and Straw Ice Cream!
For more dairy free brands check out my dairy free alternatives, milk alternatives and cheese alternatives posts!
Can You Lose Wait Going Dairy Free?
Because dairy is filled with saturated fat, if you reduce the amount of dairy you eat you will also reduce the amount of saturated fat. Eating too much saturated fat can cause weight gain.
That being said, all of our bodies are different. So losing weight by doing one thing is not guaranteed. There are many factors to consider when it comes to losing weight (like are you overeating, do you exercise, etc.) and you should always discuss your weight goals with a qualified professional.
Don't forget to download my FREE dairy free guide!