These vegan stuffed mushrooms are the perfect classic appetizer. Easy to make, so flavorful and even gluten-free!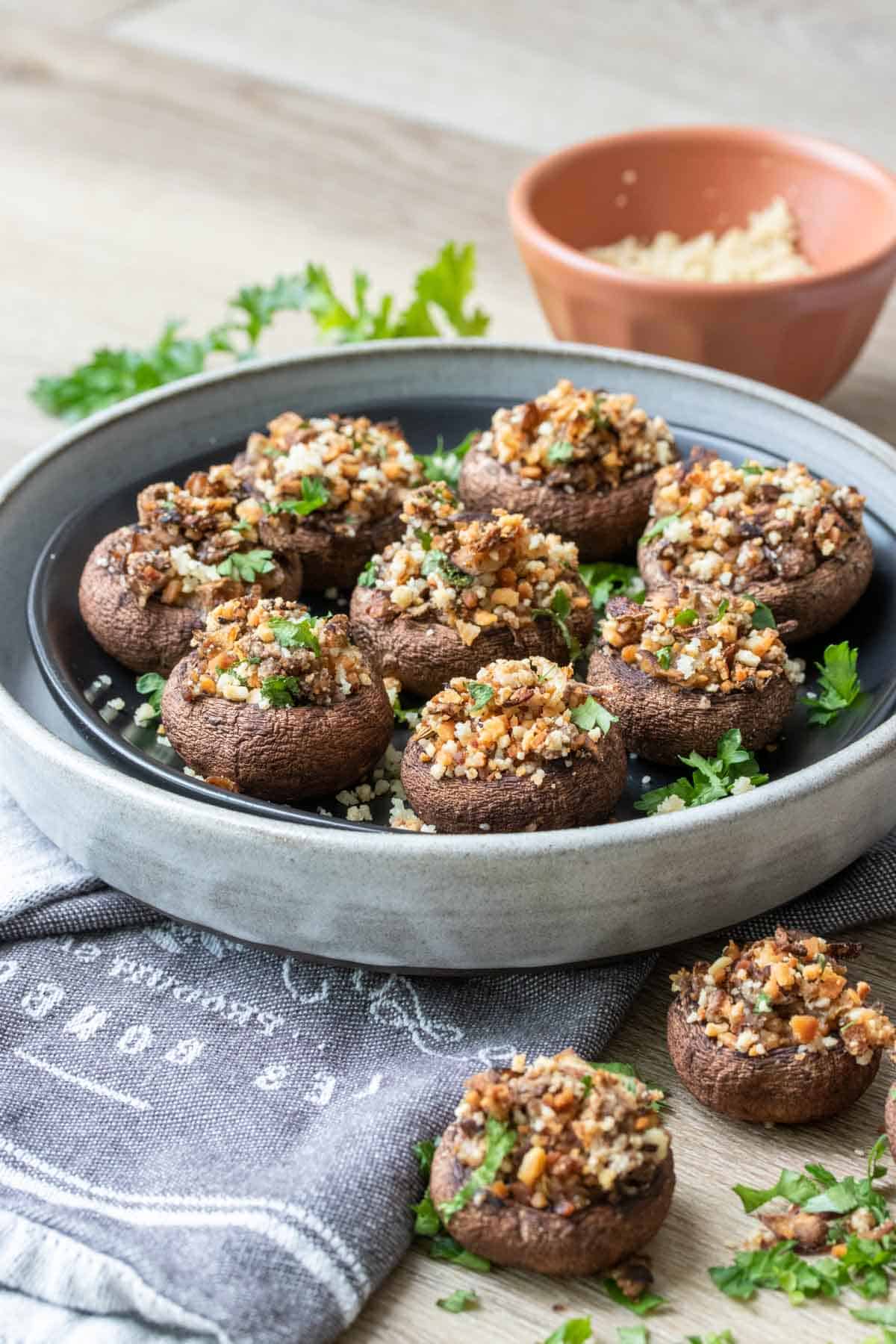 This conversation is sponsored by Earthbound Farm. The opinions and text are all mine.
This post was originally published on June 25, 2015.
These stuffed mushrooms are the perfect thing to wow your guests, or just shove into your mouth all alone. I may have eaten 5 just standing in the kitchen the first time I made them and I'm not even embarrassed about it. I love how versatile they are with the filling, use my ideas or alter to make them your own!
Another reason these are the greatest is because you can prep them in advance. We've all been there hosting and trying to get all the food done at once, problem solved!
Ingredients
These stuffed mushrooms are simple and use easy to find ingredients. There are many ways you can stuff them but this main recipe was a family fave!
Mushrooms
Onion
Garlic
Breadcrumbs
Veggie sausage
Fresh parsley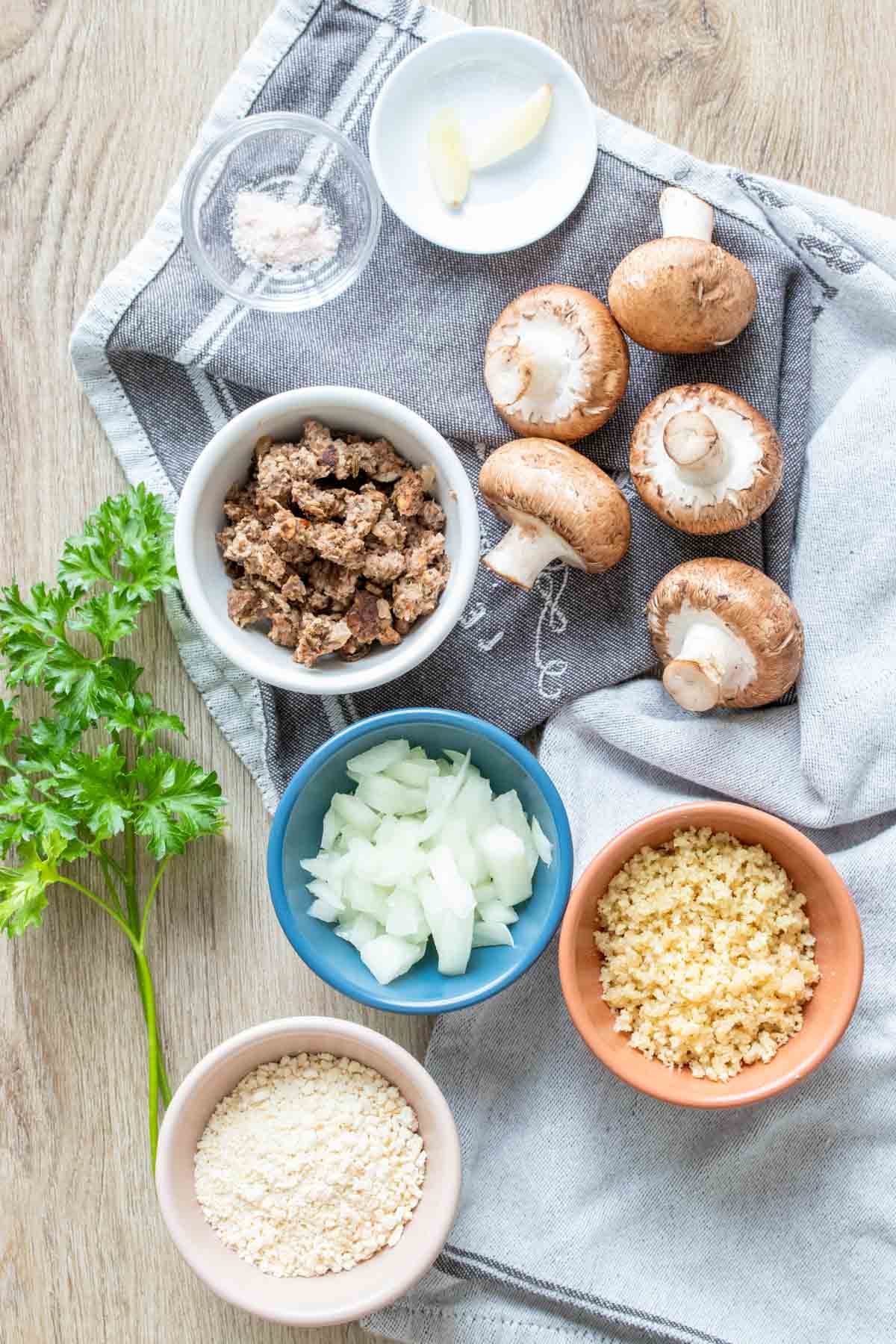 Types of mushrooms to use
This recipe is written to use the typical button sized crimini mushrooms but I also include ideas on using a larger portobello mushroom (see the end of the post). This makes it super easy to serve as an appetizer or a main meal!
But there are loads of mushrooms types out there, all different shapes and size, here are some tips for picking the perfect mushroom for you:
The smaller the mushroom, the more of an appetizer this will be.
Use a mushroom with a rounded base.
Look for a sturdy mushroom, you don't want the filling to falling out!
How to Make Vegan Stuffed Mushrooms
Here are the simple steps you need to follow:
Take them stems out of the mushrooms, chop and sauté them with the other ingredients.
Fill the mushroom caps with the stuffing.
Bake.
Enjoy!
Flavor suggestions
Generally speaking, you can really stuff them with anything you love! I love the simple but flavorful stuffing I used here, but using things like grains, greens and sauces also work great. You can even drizzle sauce over the top!
Try including any of the following to mix up the flavors:
Spinach
Farro
Sun dried tomatoes
Capers
Olives
Jalapeños
Cilantro
Sage
Thyme
Serving suggestions
Make a complete appetizer spread with these stuffed mushrooms and any of these tasty plant-based recipes!
Tips and tricks
Make this an entree by using portobello mushrooms instead! If you like, pre-bake the portobellos cup-side down for 10 minutes, then flip, fill, and bake for 10-15 more minutes until browned.
Either oil or broth can be used to sauté the mushrooms, onions, and garlic.
You can use store bought or homemade veggie sausage.
For gluten-free, make sure that the breadcrumbs and veggie sausage are both gluten-free.
Make the filling mixture ahead of time, and prepare and stuff the mushrooms. Keep them in the fridge for 1-2 days then simply bake when you're ready to serve!
Store the leftovers in an airtight container in the refrigerator for up to 3 days.
Reheat them by popping in a 350°F oven for 10 minutes.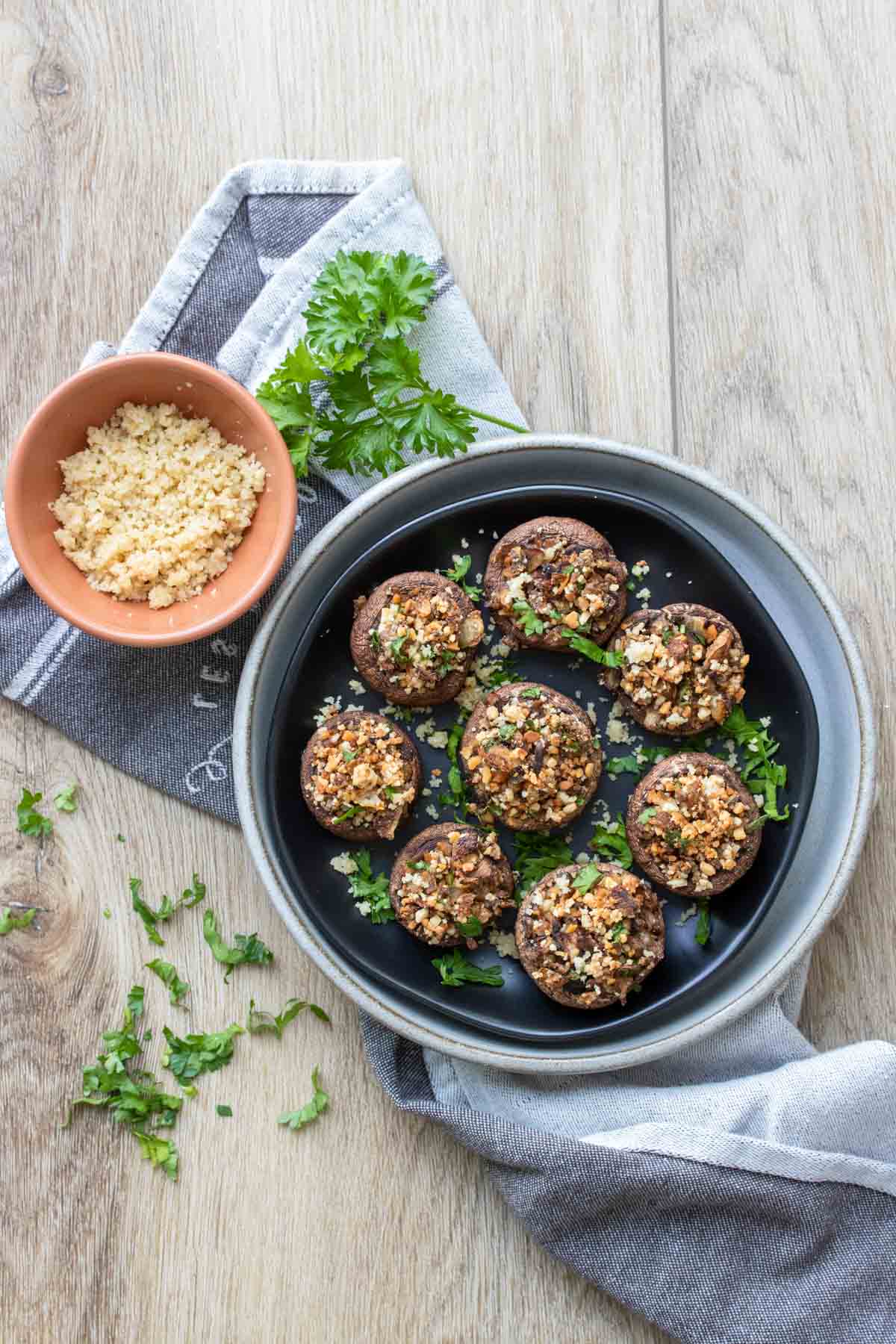 Common Questions
How do you make stuffed mushrooms not watery?
Make sure to not soak the mushrooms too much when washing them. You also want to bake them at a high enough temperature such as 400°F.
What ingredients do you need to prepare stuffed mushrooms?
It depends on what flavor you want to make! At the very least I suggest mushrooms, onions, garlic, breadcrumbs, and cheese. Sausage, herbs, greens, and grains can also be included.
How long do uncooked stuffed mushrooms last in the fridge?
Uncooked stuffed mushrooms can be stored in an airtight container in the refrigerator for up to 1-2 days.
Why are my stuffed mushrooms rubbery?
Mushrooms can become rubbery if too much moisture is in them. This can happen when you wash them. Make sure they are thoroughly dry before stuffing and baking.
Do you wash mushrooms before stuffing them?
Yes! Mushrooms should always be washed. Just try to use minimal water and dry them well so they do not soak up too much moisture.
More Vegan Recipes with Mushrooms
In addition to tasting great and being nutritious, mushrooms are so incredibly versatile! Here are some more plant-based ways to enjoy them: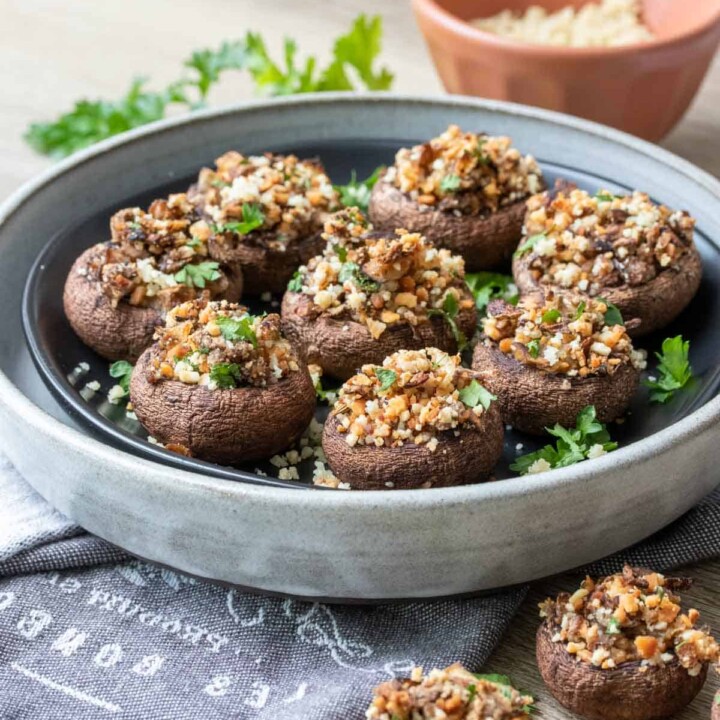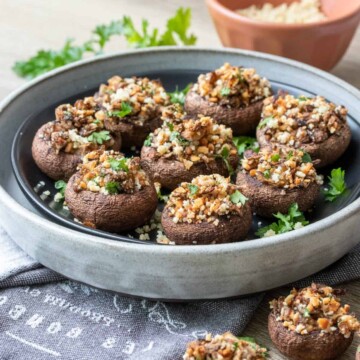 Vegan Gluten-Free Stuffed Mushrooms Recipe
These vegan stuffed mushrooms are the perfect classic appetizer. Easy to make, so flavorful and even gluten-free!
Instructions
Preheat oven to 400°F / 205°C

Remove the mushroom stems and chop them. Add then to a pan with the onions and salt and saute with oil or broth until all the liquid is gone, about 5-7 minutes.

Add the garlic and cook about 1 more minute.

Add the breadcrumbs and saute until toasted, about 2-3 minutes.

Allow to cool while you add the sausage, Parmesan, and parsley into a bowl. Then add the mushroom mixture.

Fill mushroom caps with 1-2 teaspoons of mixture, depending on size. Sprinkle with more Parmesan if preferred.

Bake for 15-20 minutes until golden on top.

Serve! Garnish with more parsley if desired. You can also add extra Parmesan here.
Notes
You can stuff these with other fillings, see post for options.
If you use uncooked sausage, you will need to cook it. You can saute it with the other filling ingredients. Add it before you add the breadcrumbs.
The nutrition facts will vary depending on the sausage you use.
This makes 24 mushrooms, serving size is 4 mushrooms.
Recipe by Veggies Don't Bite, visit our site for more great plant-based recipes.
Nutrition
Calories: 77kcalCarbohydrates: 9gProtein: 5gFat: 2gSaturated Fat: 1gPolyunsaturated Fat: 1gMonounsaturated Fat: 1gCholesterol: 1mgSodium: 187mgPotassium: 440mgFiber: 1gSugar: 2gVitamin A: 114IUVitamin C: 3mgCalcium: 33mgIron: 2mg
Nutrition and metric information should be considered an estimate.
Never miss a recipe!
Sign up here and get a FREE quick and easy meal guide!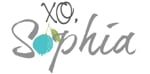 For another version of stuffed mushrooms, you can use a larger portobello mushroom to make it more of a main meal. Here is an idea of what you can do:
4 portobello mushrooms, stem and scales (optional) removed
4 cups greens mix, I used Kale Italia greens blend by Earthbound Farm
3 cups cooked grains, farro, quinoa or even rice work
2 cups chopped onion, any kind
Drizzle of your favorite oil to saute, or use broth if oil free
¼ - ½ teaspoon sea salt, depending on any other sauces used
You can use these sauces to add some oomph of flavor over the top!
To make this option:
Saute chopped onion with salt until it begins to soften. Add greens and sauté until it begins to wilt. Add cooked grains and continue to sauté a few more minutes. Remove from heat.
Place portobello mushrooms on a parchment lined cookie sheet. Top each with saute mix. Then top with 2 spoonfuls of pesto if using.
Bake at 350°F (180°C) for 15-20 minutes, until mushrooms are soft.
Top with any other sauces and enjoy!