This vegan recipe for baked corn dogs is also gluten-free. Because it is baked, and not fried, it's healthy but still tastes amazing!
This is the perfect party app or kid snack. It's great for a crowd because finger foods are so much easier to serve and eat!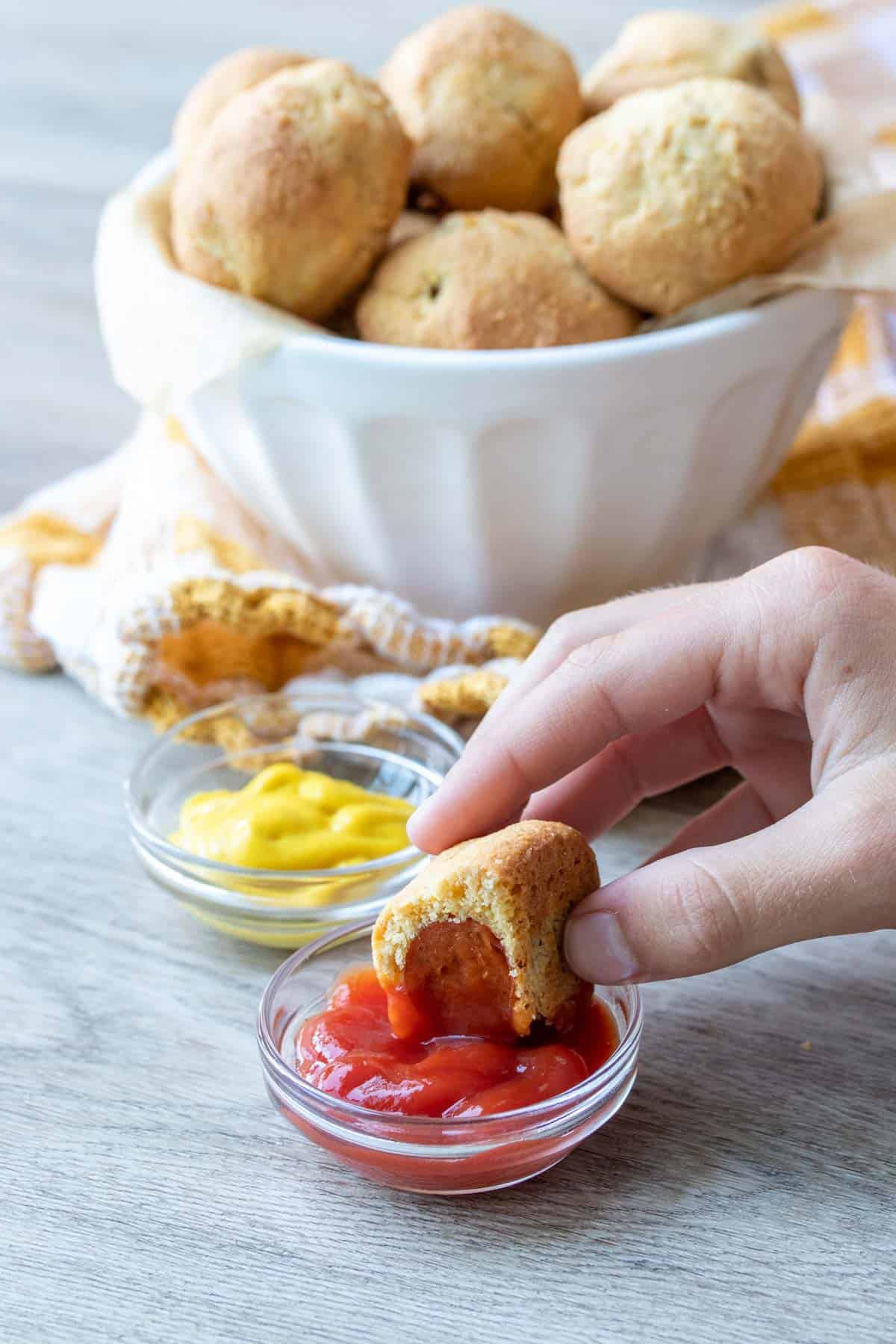 This post was originally published on December 13, 2021.
While I may be an adult, I am a lover of all things kid snacks. These corn dogs are both vegan and gluten-free and we love to serve them with Veggie Mac and Cheese or Onion Rings for a fun dinner that will make everyone happy!
Ingredients
By using simple whole food ingredients you can create both vegan and gluten free corn dogs that feature the classic flavors you know and love. Plus, by baking instead of frying you get more healthy corn dogs, and it's easier to make than dealing with a bunch of hot oil.
Fine grain cornmeal
Fine grain almond flour
Lite coconut milk
Apple cider vinegar
Veggie hot dogs - Store bought or homemade
How to Make Vegan Corn Dogs
This homemade vegan corn dog recipe is easy to make with just a few simple steps:
Whisk the dry ingredients.
Mix in everything else until just combined to create the batter.
Scoop the corn dog batter onto a parchment lined baking sheet, place a hot dog piece on top, then cover with more batter.
Bake the corn dog in the oven and enjoy!
What to Serve With Vegan Corn Dogs
The classics like ketchup and mustard are of course great for dipping homemade corndogs, but try mixing it up with any of these plant based sauces:
Dish the corn dogs up with a few sides for a delicious kid approved meal. Any of the following plant based recipes will go great: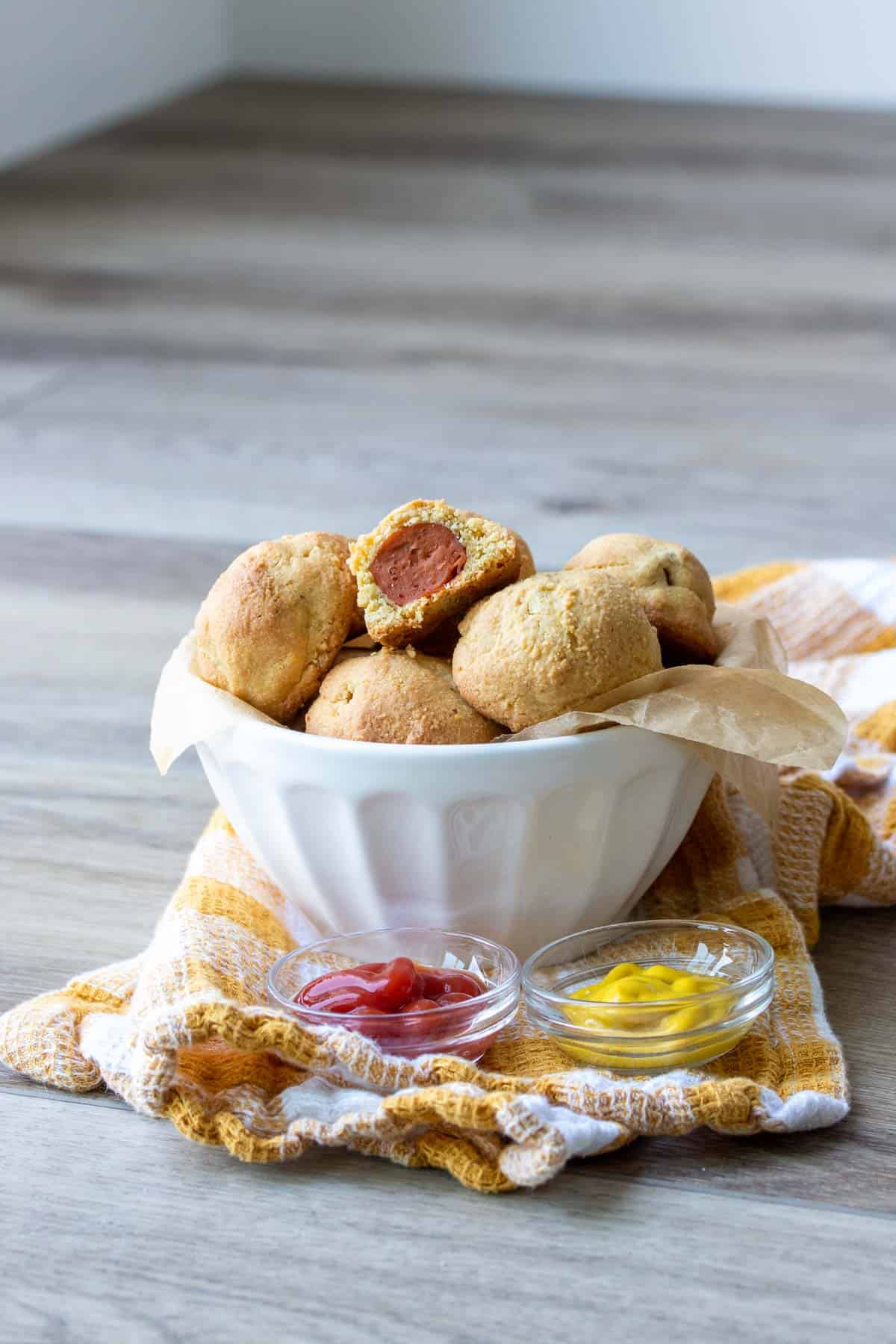 Preparation Tips
Fine grain cornmeal is preferred, medium grain will work but will have a grainer and more moist texture. Just reduce the milk by 1-2 tablespoons.
Keep this corn dog recipe gluten free by making sure to use almond flour instead of all purpose flour.
Coconut milk gives the most rich and moist result, but cashew or almond milk may be used as well.
This will get messy no matter what, but if you dip your fingers in water it will help to prevent the batter from sticking to your fingers.
Feel free to make them full sized on a stick. The mini size is easiest to work with though.
Because these are baked corn dogs instead of fried they wont have that classic shape. You can shape the batter and smooth it out to look like a classic corn dog, but that's simply for looks!
Storing and Reheating Tips
Store leftover vegan corn dogs in an airtight container in the refrigerator for up to 5 days.
Make up extra corn dogs to keep in the freezer for later! Place in a single layer in the freezer for 2 hours, then transfer to a freezer-safe airtight container for up to 3 months.
Reheat in the oven or an air fryer at 350°F for the crispiest results. You can also quickly microwave them.
Common Questions
What are vegan corn dogs made of?
The hot dog can be a store bought veggie dog or homemade carrot dog. A vegan and gluten-free batter can be made with cornmeal, almond and tapioca four, coconut milk, maple syrup, apple cider vinegar, and baking powder.
Are vegan corn dogs healthy?
It depends on what's in them! Some store bought options may not be the healthiest choice, but by making your own you can ensure they contain healthy whole food ingredients.
Are corn dogs vegan?
Standard corn dogs are not vegan as the center contains meat and the batter usually has milk, egg, and honey in it. However, there are many vegan options, both store bought and homemade recipes!
More Vegan Finger Foods
Pair these baked corn dogs with other finger foods for a party or fun family night in. Here are some of our favorites: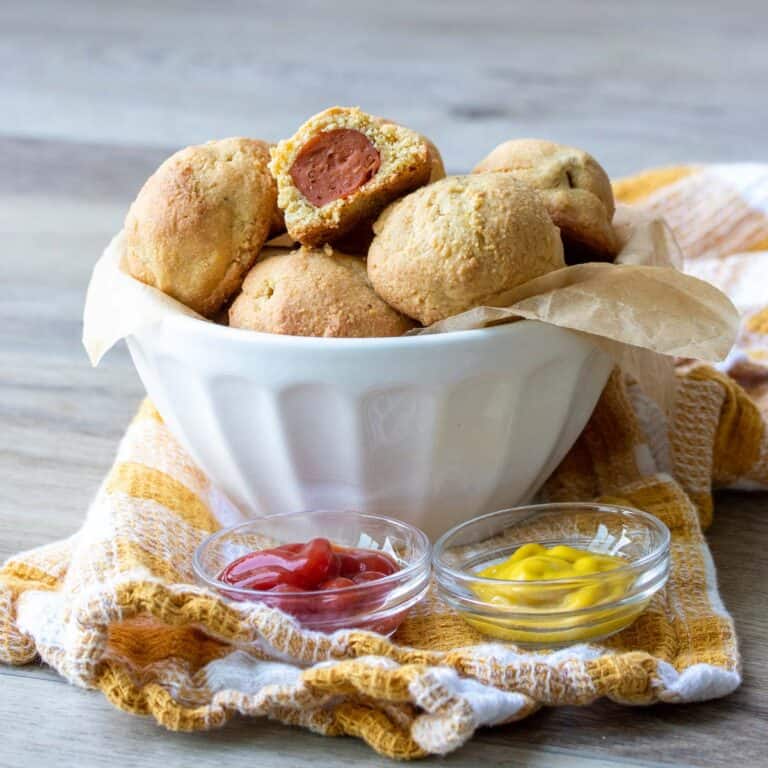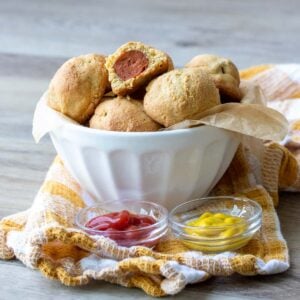 Healthy Baked Vegan Corn Dogs (Gluten Free)
This vegan recipe for baked corn dogs is also gluten-free. Because it is baked, and not fried, it's healthy but still tastes amazing!
Instructions
Preheat the oven to 350 F/ 175 C

Mix the cornmeal, almond flour, tapioca, baking powder and salt together in a bowl and whisk to combine.

Make a little well in the middle and add the maple syrup, milk and vinegar. Mix until everything is just mixed.

Prepare the hot dogs by cutting each into 4 pieces. Get a small bowl of water for your fingers while you work.

Place 12 small scoops of batter across a parchment lined baking sheet, evenly spaced around the sheet.

Using your fingers, pat down the scoop so it's even and shape into an oval. Dip your fingers in water to avoid the batter sticking to them.

Put one piece of hot dog on top of each scoop. Then top with another scoop of batter.

Using your fingers, dipped in water to prevent sticking, form the batter around the hot dog covering it up. You can smooth out the sides for esthetics, but it isn't necessary. See photos in post for examples. There is just enough batter for the 12 pieces so do not overdo it or you won't have enough. If this happens just taking some from a piece that has too much and resmooth that piece out.

Bake for 28-30 Minutes, until browning on top.

Allow to cool and enjoy!
Notes
You can use medium grain cornmeal but you will need to reduce the milk by 1-2 tablespoons. Medium grain cornmeal gives a moister result. I tried it but it was too grainy for a corn dog.
You can use cashew or almond milk but the end result won't be as rich and moist.
I tried many things to get these to work without it being super messy and really hard. This method worked the best because it is hard to get the batter to stick to the hot dogs.
You can also make these as regular sized corndogs on a stick but I found it was easier to make them smaller.
Recipe by Veggies Don't Bite, visit our site for more great plant-based recipes.
Nutrition
Calories: 116kcalCarbohydrates: 16gProtein: 4gFat: 4gSaturated Fat: 1gPolyunsaturated Fat: 1gMonounsaturated Fat: 1gCholesterol: 1mgSodium: 153mgPotassium: 98mgFiber: 2gSugar: 5gCalcium: 44mgIron: 1mg
Nutrition and metric information should be considered an estimate.
Never miss a recipe!
Sign up here and get a FREE quick and easy meal guide!