The search is over! These vegan gluten-free pancakes are so fluffy, so easy to make and so delicious you will never need another recipe again!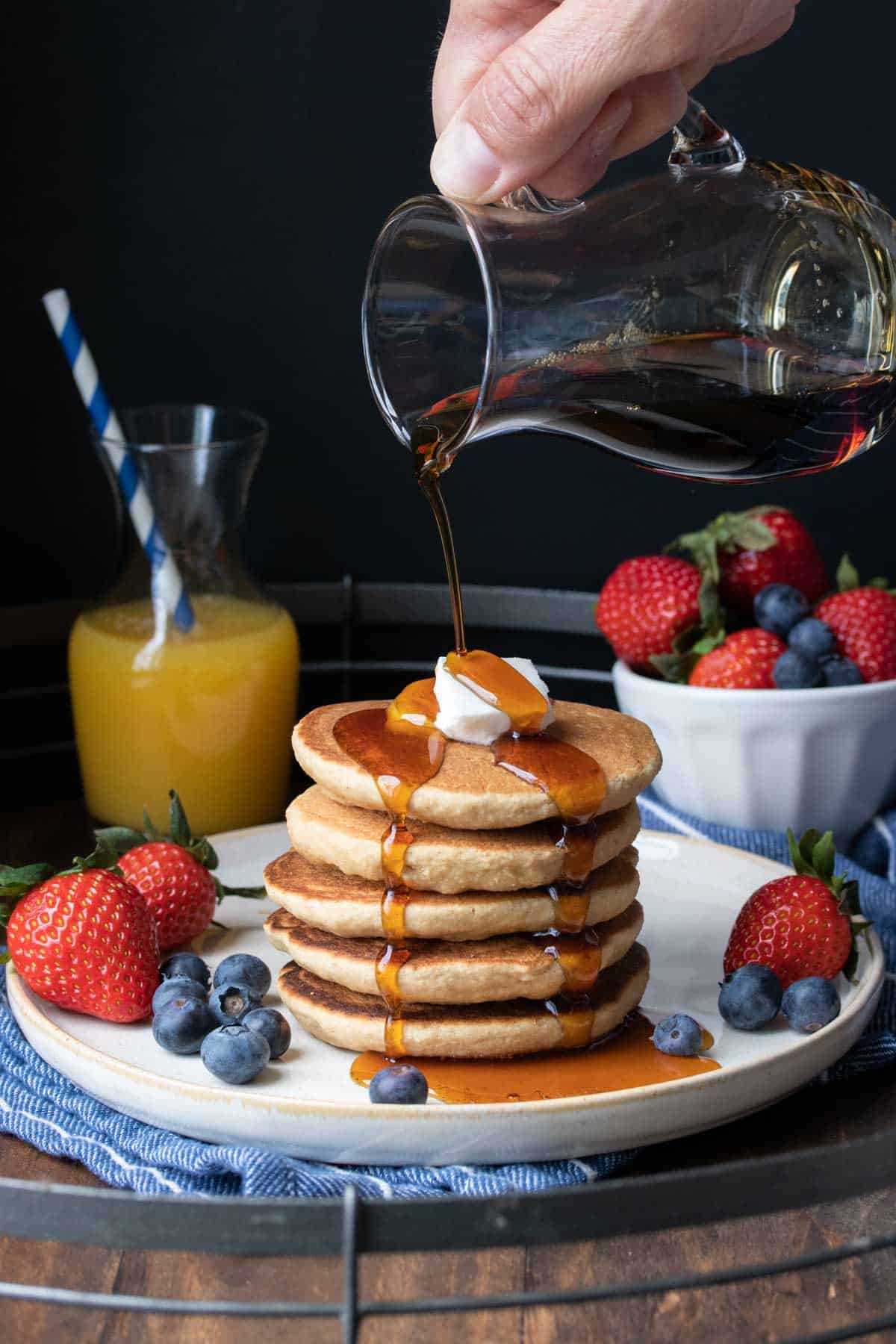 Breakfast at my house can be pure insanity. My kids gobble up pancakes like ravenous animals. I have been experimenting with different types of pancakes lately and this one is the best basic and most incredible one ever! I know these will be a staple for you and your family!
Vegan Pancakes
These pancakes are so fluffy and decadent. Think of your traditional buttermilk pancake recipe, but vegan, gluten free and made with 9 simple whole food ingredients. You will never need another pancake recipe!
The first time I perfected these, I think I saw my husbands eyes roll back in his head. He is a pancake snob, sorry honey, and I think I may have seen him shove a kid to grab the last one.
How to make pancakes fluffy
Traditional pancakes use ingredients like eggs and regular flour with gluten to get the fluffy end result. When it comes to gluten-free vegan pancakes however, we have to get crafty.
I have tried a variety of ways to get a light and fluffy end result, but my favorite and most successful way in both baked goods and pancakes is the combination of vinegar and baking powder (or baking soda). Another options is lemon juice instead of the vinegar.
The acidity in both of those ingredients gives an instant fluffy rise and also creates a soft pillow like texture (i.e helps with the leavening and tenderizing). Examples of this would be in my vegan vanilla cupcakes and my vegan strawberry shortcake.
There are definitely other ingredients that can help with the acidity, but these two are my favorite, most versatile and easy to find!
Another thing you can do is to let the batter sit for about 5 minutes to allow these ingredients to mix and create the science magic. I use this time to heat up the pan (you want a nice warmed up pan for even cooking) and quickly clean up and put away ingredients.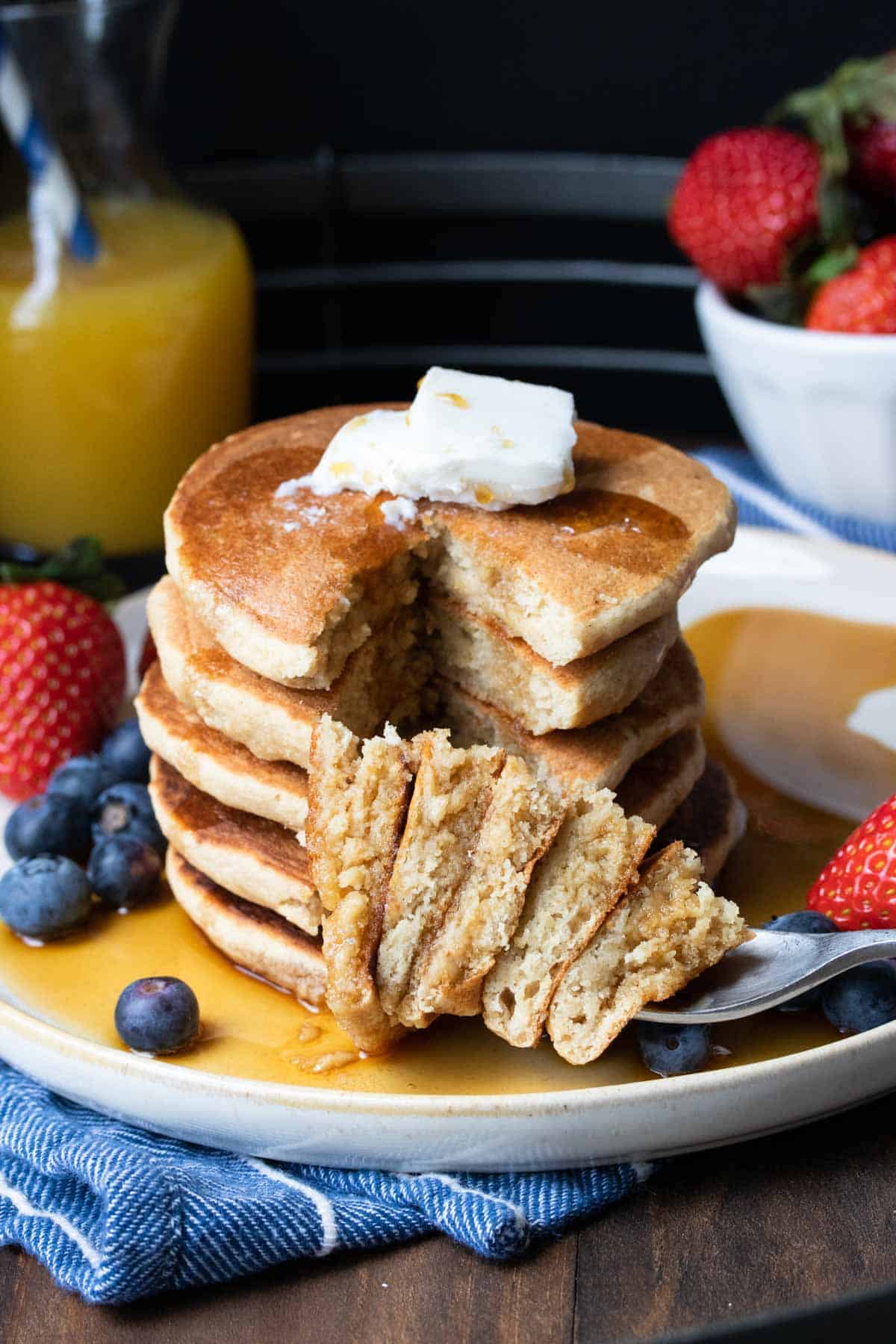 Can I use water instead of milk for pancakes?
You can definitely use water but your end result, both flavor and texture, will be a bit different. Milk plays a critical role in this vegan buttermilk pancake recipe. It reacts with the apple cider vinegar to create that richer buttermilk type flavor.
If you use water, you will be missing out on that. Also, since water has more, water lol, you can get a more wet texture.
Can I make these in bulk and freeze them?
You sure can! In order to freeze them so you can keep the best texture, follow these steps:
Make a whole bunch of these vegan pancakes.
Let them cool down completely.
Stack with pieces of parchment in between each, then wrap in foil.
Put them in an airtight container or freezer bag and pop them in the freezer.
They will keep for up to 3 months, but closer to 1-2 for best flavor! Just grab them out when you need them and reheat. I like to let them defrost on the counter a bit then pop them in the toaster oven. But a microwave works too!
Is all-purpose flour vegan?
Yes! There used to be a rumor that white flour was bleached with bone char, but this has been disproven. So have at any recipe that uses it. If you are gluten-free, there are a lot of all purpose blends out there. Here are a few:
How To Make Vegan Pancakes
These are SO easy to make! My son can even do it. I highly suggest weighing the dry ingredients so that you get the most accurate fluffiness. Here is a scale similar to the one I use.
Mix the dry ingredients.
Add in the wet ingredients and mix well.
Cook on a pan.
Serve!
How do I know vegan pancakes are cooked and ready?
First, you want to make sure that your pan is nice and hot before you start cooking pancakes. This allows for even cooking. Place a large spoonful of batter on the pan and cook for about 3-5 minutes, depending on your pan and stove.
You will know it's ready to flip when you see little bubbles forming on the top and/or when you use the spatula to flip it, it comes off easily. If it sticks at all, the pancake is not ready to flip. You want each side to be a golden brown.
Toppings and Fillings
These pancakes have a simple plain buttermilk flavor, which means you can easily add some really great toppings. Some of my favorite things to add to these pancakes are:
You can also add in all kinds of things into the batter. Do your kids want chocolate chip pancakes? EASY PEASY. Here are some great add ins:
More vegan and gluten free pancake recipes
Other breakfast ideas to serve with vegan pancakes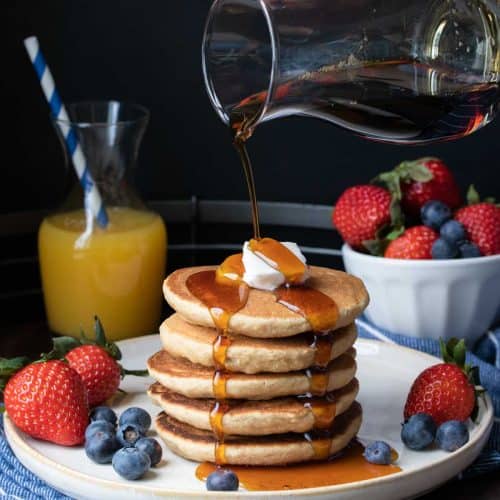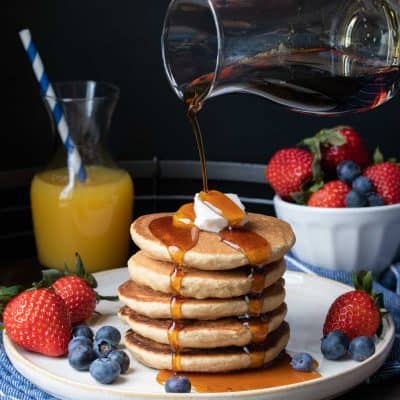 Healthy Vegan Gluten-Free Buttermilk Pancakes
These vegan gluten-free pancakes are literally the best ever! So fluffy, easy to make, taste like traditional pancakes and loved by everyone!
Instructions
Turn up the heat on your pan/griddle, you want it nice and hot for cooking the pancakes. You know it's ready when you spray some water on it and you hear it sizzle. Also if it is not non-stick you should use a spray oil to avoid the pancakes sticking.

Mix the milk and vinegar and set aside to create a vegan buttermilk.

Mix the flours, baking powder and salt together in a bowl and whisk to combine.

Make a little well in the middle and add the apple sauce, vanilla, maple syrup and milk/vinegar mixture. Mix until everything is just mixed. Allow to sit about 5 or so minutes while you put things away and clean up.

Drop large spoonfuls onto the pan/griddle. Cook about 4-5 minutes on each side. They should be slightly brown and flip easily when ready. You may also see little bubbles forming on the tops with raw batter.

Top with whatever you choose and enjoy!
Notes
You can skip allowing the milk and vinegar to set but it will have less of a true buttermilk type flavor.
I like to mix the dry ingredients the night before and have it ready to add wet in the morning for a quick and easy breakfast.
Recipe by Veggies Don't Bite, visit our site for more great plant-based recipes.
Nutrition
Calories:
138
kcal
Carbohydrates:
24
g
Protein:
3
g
Fat:
3
g
Saturated Fat:
1
g
Sodium:
81
mg
Potassium:
252
mg
Fiber:
1
g
Sugar:
12
g
Calcium:
100
mg
Iron:
1
mg
Nutrition and metric information should be considered an estimate.