This vegan stuffing recipe is not only perfectly textured without the mush, but packed with flavor. Option to make it gluten-free too!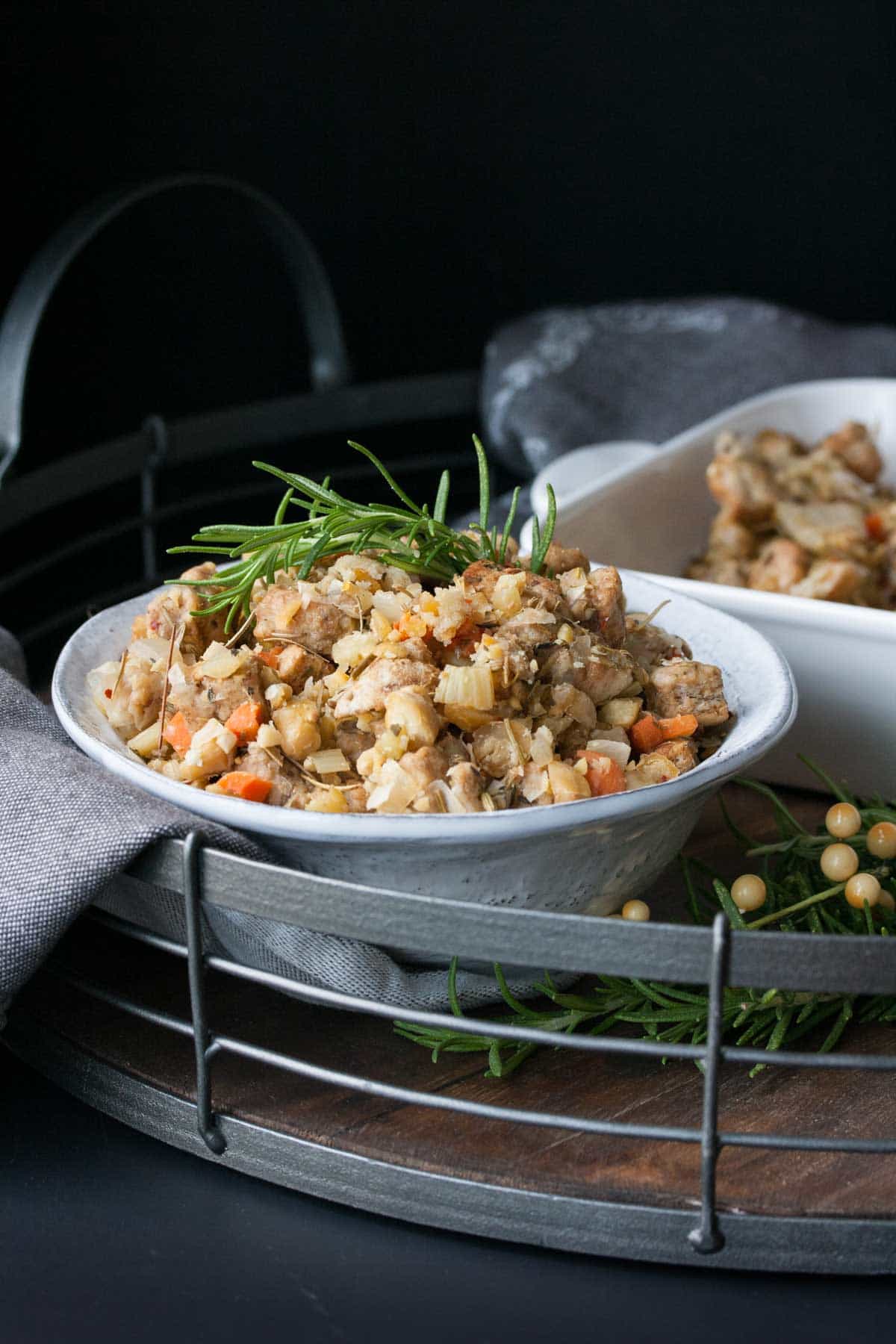 This is a sponsored conversation written by me on behalf of Ozery Bakery. The opinions and text are all mine.
This post was originally published on November 13, 2017.
I hate mushy things, especially bread. There is nothing grosser to me than soft, wet, mushy bread. Just looking at it gives me the heebie jeebies. So I needed a stuffing that gave the touch of crisp!
There are so many options when it comes to stuffing, and many I love like this quinoa stuffing and this rice stuffing, but the bread variety is the hardest to nail. Mostly because they are often soft and mushy. But not this one. It's perfect.
Ingredients
To make this vegan stuffing recipe, you'll need:
Bread
Chickpeas
Veggies
Seasonings
For this recipe I used the One Buns by Ozery Bakery. They have a variety of baked goods, one of which are these awesome thin pre-sliced sandwich buns called One Buns. They come in a variety of types.
These are no wimpy sandwich bun, they are substantial, dense yet chewy, hold a great bite and full of flavor. The great thing about their products is that they are made with real ingredients. Yep. Actual stuff you have heard of! And you can taste the flavor.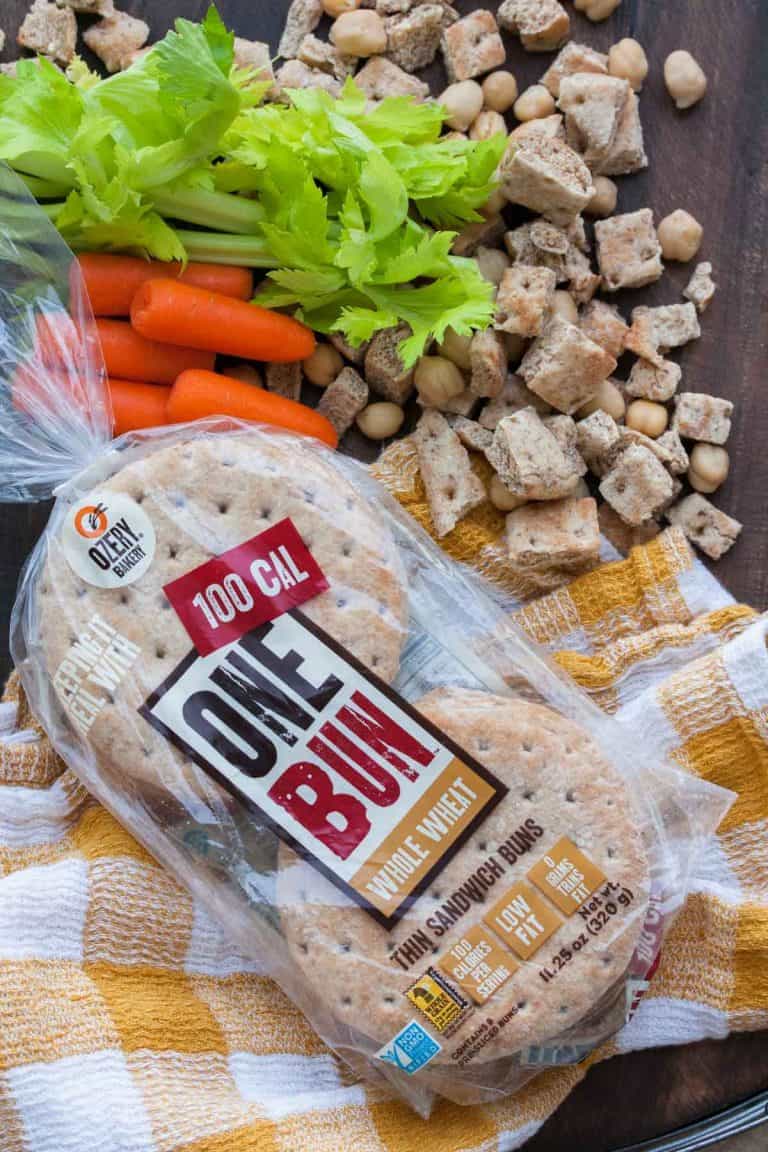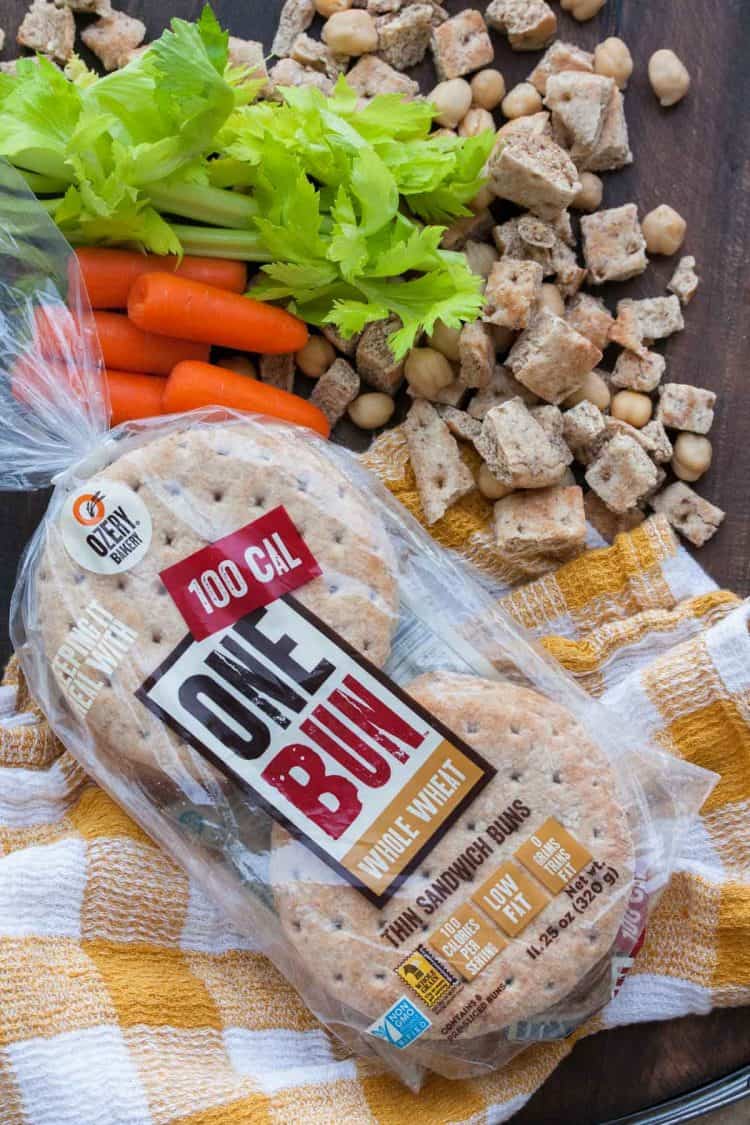 How to Make Vegan Stuffing
This is a pretty simple recipe, easy to prep ahead and make fresh in no time!
Chop the chickpeas and sauté the veggies.
Mix everything together and pour into a pan.
Bake & serve!
Other flavor ideas:
If you love this as much as I do, and want to mix up the flavors from time to time, you can! Here are some ideas for making a variation to this vegan stuffing:
use white beans instead of chickpeas
use sage instead of or in addition to the other spices
get a little more kick to this with a little cayenne or chipotle seasoning
add apples
add nuts like pecans or pistachios
use leeks instead of onions
use fresh fennel
add chestnuts
add mushrooms
include your favorite vegan sausage
Tips and tricks
In order to make the BEST vegan stuffing, make sure to keep the following in mind:
Using dry bread is key to having moist but not soggy stuffing. This is because the dry bread sucks up just enough moisture to regain its moistness. In order to dry out your bread, either leave it on the counter overnight, or bake it in the oven at 350 F/ 175 C for about 30 minutes.
Hearty bread is best for this recipe. One with dense, flavorful, and wholesome ingredients. When you use dense bread, the stuffing comes out less soggy and with a firmer texture. Try bagels, pita, naan, or dense dinner rolls.
Make this recipe gluten-free by subbing in gluten-free bread.
Traditionally stuffing is baked in the turkey, but since there is no turkey on my thanksgiving table, I bake mine separately. I like to use either a glass or ceramic baking dish because those distribute heat the best.
Prep this stuffing ahead of time by leaving the bread out to dry overnight. Prepare the chickpeas and veggie mixture and store in an airtight container in the fridge. Day of, take them out and let them come to room temperature before putting the stuffing together. You may need to add a bit more broth as the veggies will dry out a little overnight.
Common Questions
Can vegans eat stuffing?
Absolutely! Stuffing can be even better when baked in a pan instead of inside a turkey. Vegetables and bread are the basis of traditional stuffing anyway, so no need for the meat!

I like to add flavor without butter or meat based products, instead spices and seasoning create the mouthwatering flavor in this vegan stuffing.
How do you make dry stuffing moist?
In order to get this moist, but not mushy, I used the perfect amount of liquid to bread. While sautéing the veggies, I let the broth and wine cook down enough so that it wouldn't oversaturate the bread when it's mixed together.

Your bread needs to be dry before you use it, so when you are mixing in the wet ingredients, you need to give the bread some time to absorb the liquid. Many people judge too soon and add more liquid thinking it will be too dry.

If your bread is crumbly after a few minutes of sitting with the liquid mixture, add a touch more liquid and let it sit again. You want it moist but not overly wet.
How do you reheat stuffing without drying it out?
First off, bring your stuffing to room temperature, this helps to heat it up evenly. The best way to reheat something without drying it out or burning the top is to heat it covered. I cover my pan with tin foil, it keeps the moisture in, and then bake for about 30 minutes at 350 F/ 175 C.

Remove the tin foil and bake the last 10 or so minutes without a cover so you get the crisp top. If it seems too dry, add a touch of veggie broth to the stuffing.
How do you store stuffing overnight?
First, you want to make sure the stuffing is completely cool before storing. Once cooled, either cover it with plastic wrap or foil if it's in a baking dish, or transfer to an airtight container, and put it in the fridge.
Make It A Meal!
Serve this vegan stuffing with these dishes to make a complete feast:
You can also check out this vegan Thanksgiving recipe collection and this Vegan Thanksgiving Day Meal Plan. Both include shopping lists!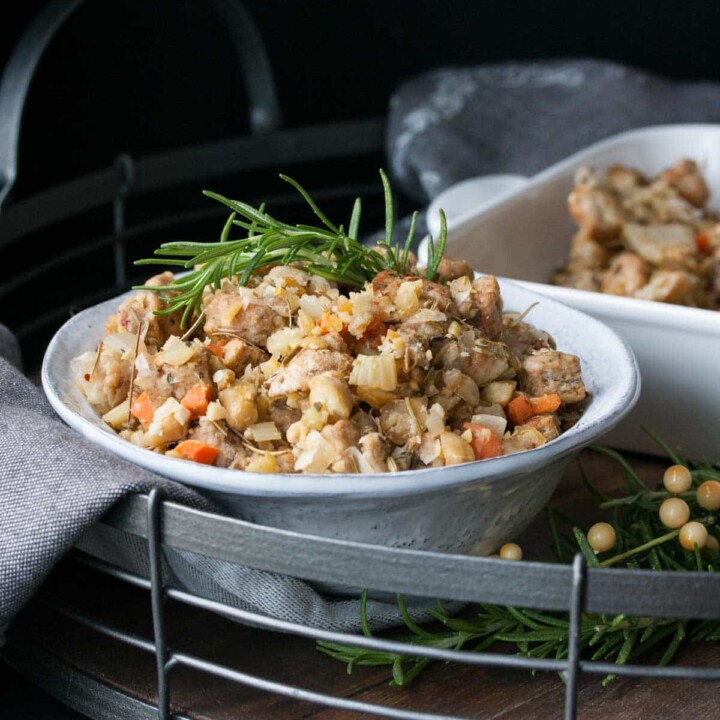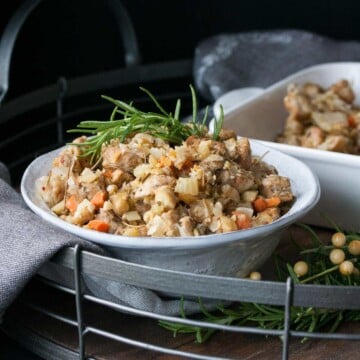 Gluten-Free Vegan Stuffing Recipe
This vegan stuffing recipe is not only perfectly textured without the mush, but packed with flavor. Option to make it gluten-free too!
Ingredients
6 cups cubed dense bread , gluten-free if needed (dried out, see instructions)
3 cups cooked chickpeas (about 1 ½ cans)
¼ cup reserved juice from can of chickpeas
1 cup sweet or yellow onion , chopped
1 cup carrots , chopped
1 cup celery , chopped
2 tablespoons garlic , finely chopped
2 teaspoons sea salt , divided (see note)
2 - 3 cups veggie broth , use more broth for a more moist and soft stuffing
Drizzle of olive oil to saute , or use broth if oil free
¼ cup white wine (optional for added flavor)
2 tablespoons dried rosemary
1 tablespoon dried thyme
1 tablespoon fennel seed , chopped or crushed
2 teaspoons crushed red pepper
½ cup grated vegan parmesan (optional for added flavor)
Instructions
Preheat oven to 375F (190C).

Dry your bread out by putting it on the countertop overnight or bake it in the oven (I do 350 F/ 175 C for about 30 minutes, or until toasted)

Pulse chickpeas in a food processor until chopped into large pieces. If you don't have a food processor you can also chop them with a knife (although it will take longer and you'll have to chase the runaway beans).

Once chopped, place in the bowl with the dried bread.

Saute the onion, celery, carrots, garlic and 1 teaspoon of salt with a drizzle of olive oil (or if not using oil use about ¼ cup of the veggie broth) and white wine, if using, until they begin to soften.

Add the broth, rosemary, thyme, fennel seed and crushed red pepper. Let the mixture simmer for about 5 minutes. Taste and add more of the salt if preferred. Keep in mind if you are using Parmesan this will add salt too.

Slowly add the mixture to the bowl with the dried bread and chopped chickpeas, mixing as you add.

Add the reserved liquid from the can of chickpeas to the bowl and mix well.

Place stuffing into a 9 x 13 baking dish. If using parmesan sprinkle it over the top.

Bake for 20-30 minutes until nice and crisp on the top. If you use more broth you will need to cook longer.
Notes
If you want the more traditional soft stuffing use a softer bread. If you want a crisper less moist result use a dense chewy bread like a bagel or a heavy dinner roll. 
Make sure to cube and leave your bread out over night for easy drying. Simply place in a bowl or dish on the counter the day before you make this. You can spread it out on a cookie sheet and slowly toast if you forget, but the texture is best if left out overnight or even for a few days.
The amount of salt you need will change depending on if you are using the Parmesan. Start with the 1 teaspoon when cooking the veggies, then add more later if needed.
Keep in mind this can be adjusted to your texture preference, we don't love a very wet stuffing but like more of an outer crisp. Add more broth if you prefer your stuffing more moist and like the traditional texture.
Recipe by Veggies Don't Bite, visit our site for more great plant-based recipes.
Nutrition
Calories: 274kcalCarbohydrates: 46gProtein: 10gFat: 3gSaturated Fat: 0gPolyunsaturated Fat: 0gMonounsaturated Fat: 0gTrans Fat: 0gCholesterol: 0mgSodium: 571mgPotassium: 293mgFiber: 5gSugar: 1gVitamin A: 2385IUVitamin C: 3.1mgCalcium: 67mgIron: 2.8mg
Nutrition and metric information should be considered an estimate.
Never miss a recipe!
Sign up here and get a FREE quick and easy meal guide!