All the vegan Thanksgiving ideas to host your best holiday dinner in one place! This is the guide you need with appetizers, sides, main dishes and dessert. We have it all!
All of that, plus tips and tricks to make your vegan Thanksgiving smooth and stress free. Learn how to make a meal plan and prep ahead so that you aren't left with hours and hours of work the day of!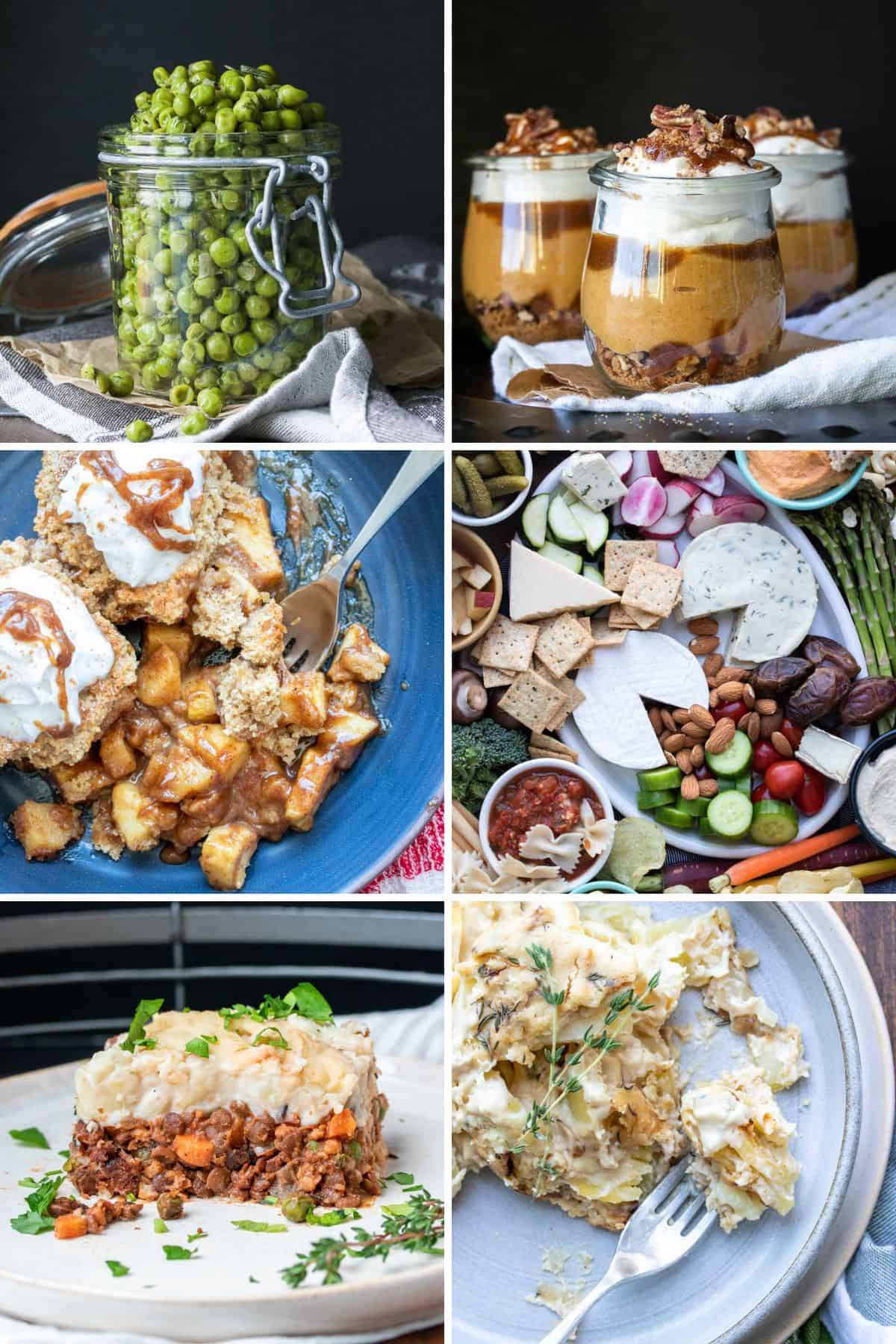 This is a sponsored conversation written by me on behalf of Silk. The opinions and text are all mine.
This post was originally published on November 7, 2016.
This list of vegan thanksgiving ideas is going to blow your mind, so many traditional recipes made vegan! However, I also have a planned vegan thanksgiving menu for those that want zero thinking involved!
When it comes to hosting a vegan thanksgiving dinner, I need planning and prepping. I love going through all of my vegan thanksgiving recipes and seeing what I think will go together best and what my guests will love most. This guide will help you do the same!
There is no rule with how many of each you need, you can serve all sides if you want! But I like to choose a few from each category to have options for everyone that will be eating.
Make sure you have or can get the ingredients used because you don't want to scramble at the last minute. I use a lot of easy to find options, but depending on where you live, it may or may not be easy to get.
Having quality ingredients is something I strive for, as well as having things that can be used in multiple recipes to reduce waste. We love our Silk plant-based milks for all the creamy goodness in many of my recipes!
Vegan Thanksgiving Appetizers
A great way to start your Thanksgiving dinner is with appetizers! Have them prepped and ready to go so people can snack as they arrive and wait for the main event.
Vegan Thanksgiving Side Dishes
This collection of recipe ideas could honestly make up the entire meal. You can stick solely to the more classic items, serve something a little more unique, or offer a mix of both.
Vegan Thanksgiving Salads
It's so nice to serve a little freshness along with all of the other Thanksgiving dishes. These vegan salads are anything but boring and will be a wonderful addition to your dinner.
Vegan Thanksgiving Main Dishes
Classic Thanksgiving meals usually are based around turkey or another meat. So what do vegans eat on Thanksgiving instead of turkey? Anything they want! Tofurky may have had its time, but these recipes are way better!
Vegan Thanksgiving Desserts
What would Thanksgiving be without pumpkin pie? Don't stop there! Choose a couple of these vegan desserts to include in your menu.
Tips and Tricks for Hosting a Vegan Thanksgiving
Write a menu out at least 1 week in advance. This gives you time to grocery shop and prep as much food ahead of time as you can.
Consider the number of people on your guest list to make sure you have enough food. You may need to double or triple the recipes.

If you are serving a wide variety of dishes you can assume people will eat less than a serving of each.
However, if you only serve a couple options you will want to make enough for one serving per person.

Review all of your recipes for the list of ingredients and how much of each item you will need (taking into consideration your number of guests) and check your kitchen before heading to the store. It's a bummer when you're halfway through a recipe and realize you're out of something.
Try to choose a mix of dishes. For example, you want veggies, potatoes, stuffing, salad, etc. instead of four potato dishes.
Don't try a recipe for the first time the day of your party. It's stressful enough hosting Thanksgiving dinner, do at least one trial run ahead of time, or at least prep ahead.
Set the table the day before the party, or even sooner if you know no one will mess it up. This way it's checked off the to do list and no one has to run around as the food is almost ready.
How to Prep Vegan Thanksgiving Dishes
Much of your Thanksgiving dinner can be made ahead of time, or at the very least partially prepared.
Wash and cut any vegetables up to 2 days in advance.
Cut and dry the bread for stuffing ahead of time.
The majority of the appetizers on this list can be made entirely in advance. The components of the stuffed mushrooms, pinwheels, and polenta rounds can be prepped so they can quickly be assembled the day of.
Make any sauces, dressings, or toppings up to 3 days ahead of time. Some can even be frozen for longer!
Most casseroles can be assembled the day before baking, just let the dish come to room temp for about 20 minutes before baking.
The vegan desserts also keep really well and can be made beforehand.