Thanksgiving can be an overwhelming time, especially if you're the host. Then add the extra layer of being in the plant-based eater category and the stress can rise quickly. In my house, when I host, I'm all about the plants. But I want to make sure my meat eating family and friends leave satisfied. Just because you are hosting a vegan dinner this holiday season, does not mean your guests will suffer. Fear not! I have you covered with a Thanksgiving meal plan, start to finish, full of delicious fulfilling plant-based recipes that will leave your guests rolling out of there! Turkey who? When it comes to hosting, I like to mix things up with traditional dishes and twists of the norm. What you will see below is a combination of some of my old favorites and new hits, but all have been tested successfully on both vegan and non vegan friends. Pay close attention to the details under each recipe as there will be information on how I adapted the recipe to fit a Thanksgiving meal plan for a party of 8 guests. Make sure to double, triple, etc the ingredient list to accommodate your party size! I also give my suggestions on how to prep and make this entire meal using the least amount of effort under "Instructions" in the shopping list. The main thing to remember this holiday season is that tradition can change. I grew up in a meat eating house, holiday dinners centered around a meat of some sort. But now, after years of hosting, I have successfully thrown a full dinner all around plants! Not only are my guest full and happy, but they ask for recipes, talk about how good the food is and not once do I see anyone that is less than overly stuffed and ready to put on those stretchy pants 😉 This is why I love the #doplants initiative by one of my favorite brands, Silk. You can indulge on delicious food but still stay healthy this holiday season! I challenge you to make this Thanksgiving meal plan below and wow your guests with amazing food that just happens to be plant-based, vegan and filling!
APPETIZERS
This recipe makes 16 pieces, which accounts for two pieces each for your party of eight. This seems sufficient but feel free to double if you want more. Adjust the ingredient list accordingly. Also don't forget to click for the drizzle instructions within the recipe.
This recipe makes three cups, a perfect appetizer sharing size for you pre meal. For ease of use, use the same plant milk for this as you do in the other recipes that require it.
SIDES
You will be quadrupling this recipe. The original is for six large carrots, and by making four times that, each of the eight people will be able to have three carrots. However, you will only make one serving of the sauce as it is sufficient in amount.
This recipe makes a little over six cups. As a side this gives your party of eight a sufficient amount with all the other food available.
This side makes plenty for eight people. You can pick spinach, kale or chard for this so that you can use the same green you use in the casserole below.
MAIN EVENT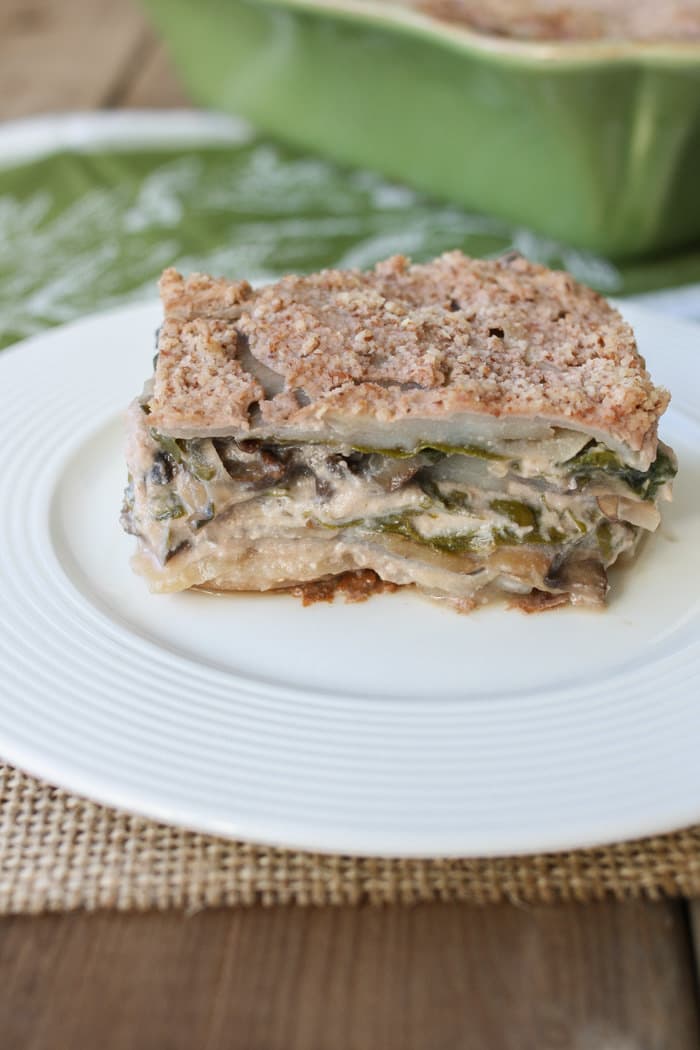 This makes a full 9×12 pan, which is plenty for eight people. I used the option for both veggie broth and Silk plant milk for this meal plan to make it even creamier. For ease of use, use the same plant milk for this as you do in the other recipes that require it. Also, I am using the hemp almond parmesan option to sprinkle over the top, I have cut the recipe for it in half for this purpose. You can pick spinach, kale or chard for this so that you can use the same green that you use in the stuffing above. If you use spinach or kale, shoot for about 5-6 cups uncooked.
DESSERT
One pie makes enough for eight people to have one piece each. Since there are two desserts, I am leaving this one as is. You could make this easier by not making the homemade crust and using a store bought crust instead. Make sure to adjust the shopping list if you do this. This recipe calls for coconut butter, this can be bought or made. See pie recipe on how to make it. I have included both options in the shopping list. This can be served with optional coconut whip, see hot pumpkin drink for recipe (used there as well).
This recipe makes eight scones, one for each person. If you feel you need extra, double the recipe but don't forget to adjust the shopping list. For ease of use, use the same plant milk for this as you do in the other recipes that require it.
AFTER DINNER DRINKS
Many people serve coffee with dessert over the holidays. This added bonus drink is for those non coffee drinkers, or anyone trying to reduce their caffeine intake.
The recipe is for two servings, therefore I am quadrupling this recipe to accommodate eight people. If you prefer less, then adjust your shopping list. However, this is delicious and can be enjoyed by even your coffee drinkers! You can even use the leftover creamer from this for serving with coffee. There is optional coconut whip cream and pumpkin caramel sauce included in the optional section on the shopping list. You could also use the extra pumpkin caramel as a drizzle on the pie to really wow your guests! The coconut whip cream here can also be used on the pie. You can buy it ready made instead of making it if you prefer, just make sure to accommodate for that in your shopping list. For ease of use, use the same plant milk for this as you do in the other recipes that require it. So let's spread the word to #doplants this holiday season! I guarantee this Thanksgiving meal plan will satisfy even the biggest meat eater. Don't forget to sign up with the Silk campaign and score a few coupons that'll come in handy when you're picking up the Silk dairy free milk you'll need here!
Vegan Thanksgiving Meal Plan with Shopping List
---
Sophia DeSantis | Veggies Dont Bite
Yields One full Thanksgiving day meal for 8 people
Let all your holiday worries slip away. I have you covered with my vegan Thanksgiving meal plan with shopping list! Your guests will never miss the turkey!
Ingredients
Produce

4 tomatoes
1 medium butternut squash
1 cup Brussels sprouts
1 1/2 heads cauliflower
7 medium potatoes (I use red, but russet work too)
24 large carrots
9 cups chopped spinach/kale/swiss chard (your pick)
2 cups arugula
1 pound crimini mushrooms (or white)
1/2 a medium sweet onion (or yellow)
1 medium bulb shallots
2 bunches green onions
9 cloves garlic
1/4 cup + 1 tablespoon thyme
1/2 cup dill
5 sprigs rosemary
3/4 cup basil
2 lemons
1 large apple
5 medjool dates


Canned and Jarred Goods

1 can Cannelini beans (15 ounces, white beans)
1 can chopped mild chiles (4 ounces)
1 jar mild pickled jalapeños
2 cans pumpkin puree
3 cans full fat coconut milk (13.66 ounces)
1/4 cup + 2 tablespoons coconut butter (or make your own with 1 bag unsweetened shredded coconut)
1/4 cup + 2 tablespoons raw almond butter


Condiments

2 tablespoons chickpea miso (can sub white)
6 tablespoons balsamic vinegar
1 3/4 teaspoons apple cider vinegar
your favorite oil for sautéing and roasting (optional instead of broth)


Grains, etc.

2 cups uncooked quinoa
1 sleeve polenta (18 ounces)


Nuts, Seeds, Dried Goods

1 1/2 cups raw cashews
1/2 cup raw almonds
8 ounces shelled roasted unsalted pistachios
3/4 cups walnuts
2 cups pecans
1/2 cup hemp seeds
8 ounces dried cranberries


Baking and Spices

8 cups veggie broth
2 tablespoons plus to taste pink/sea salt
to taste ground black pepper
1 teaspoon cumin
1/2 teaspoon garlic powder
2 teaspoons smoked paprika
2 teaspoons + 1/2 teaspoon cinnamon
4 1/2 teaspoons pumpkin pie spice
1/2 cup almond meal
2 cups oat flour
1 tablespoon coconut flour
1/2 cup maple syrup
2 cups coconut sugar
1 tablespoon molasses
2 tablespoons arrowroot powder
1 teaspoon vanilla extract
1 tablespoon baking powder
1 tablespoon nutritional yeast (optional)


Frozen Goods

2 pounds frozen peas


(Non)Dairy

10 cups unsweetened Silk plant-based milk (Almond, Soy, Cashew) (to make it easy I have combined all the plant milk needed into one. You can use different kinds in each recipe that requires it if you prefer, just make sure to check the individual recipes for how much of each.)
4-6 tablespoons So Delicious French Vanilla Coconut Milk Creamer


Optional Homemade Cocowhip (for both pie and drink)

3 cans full fat coconut milk (13.66 ounces)
1/2 cup coconut sugar


Optional Pumpkin Caramel

2 cans full fat coconut milk (13.66 ounces)
1 cup coconut sugar
1/2 teaspoon vanilla extract
1/2 teaspoon pumpkin pie spice
Instructions
Things you can prep multiple days before:

Make the Miso Balsamic Dressing.
Make Lemon Thyme Sauce.
Make Peas with Scallions and Dill.
Make sauce and Hemp Almond Parmesan from Potato and Veggie Casserole recipe.
Make cinnamon glaze for scones, simply warm slowly to drizzle on fresh scones.
Make pumpkin caramel if using.

Things you can prep the day before:

Make the bruschetta mix.
Make Fall Quinoa Stuffing.
Clean and slice veggies from Potato and Veggie Casserole recipe. Keep in mind that this should be done as the last thing the day before so the veggies don't wilt too much before you use them. Store in an airtight container or plastic bag sealed well.
Make Pumpkin Pie.

Things left to do day of:

Bake polenta slices and put together bruschetta.
Make queso dip (this could technically be done the day before but best fresh).
Roast Smoky Maple Carrots.
Put together Potato and Veggie Casserole and bake.
Bake Apple Cinnamon Scones.
Make cocowhip and store in back of the fridge where it's most cold until ready to use.
Prepare Hot Pumpkin Drink do have ready to warm after dinner.
7.6.4
97
https://www.veggiesdontbite.com/vegan-thanksgiving-meal-plan-shopping-list/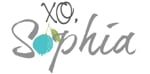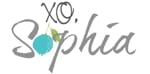 This is a sponsored conversation written by me on behalf of Silk. The opinions and text are all mine.