A hand holding, easy to follow step by step vegan Thanksgiving dinner menu like you've never seen before! Prep tips, shopping list, you're all set!
Do you get easily overwhelmed? Need guidance when planning a big meal? I am here to save the day. A little like superman. I can even put a cape on while I type this if it makes you feel better. Bottom line, I will make your
Thanksgiving dinner the best one yet!
The important thing here is that you must follow the directions. I have tips and tricks, things I did to make this easier so that planning, cooking and delivering an out of this world vegan Thanksgiving dinner happens in your house this year. Follow the directions in the recipe card below to plan, prep and serve all the delicious goodies on the big day!
You always need an appetizer to keep them busy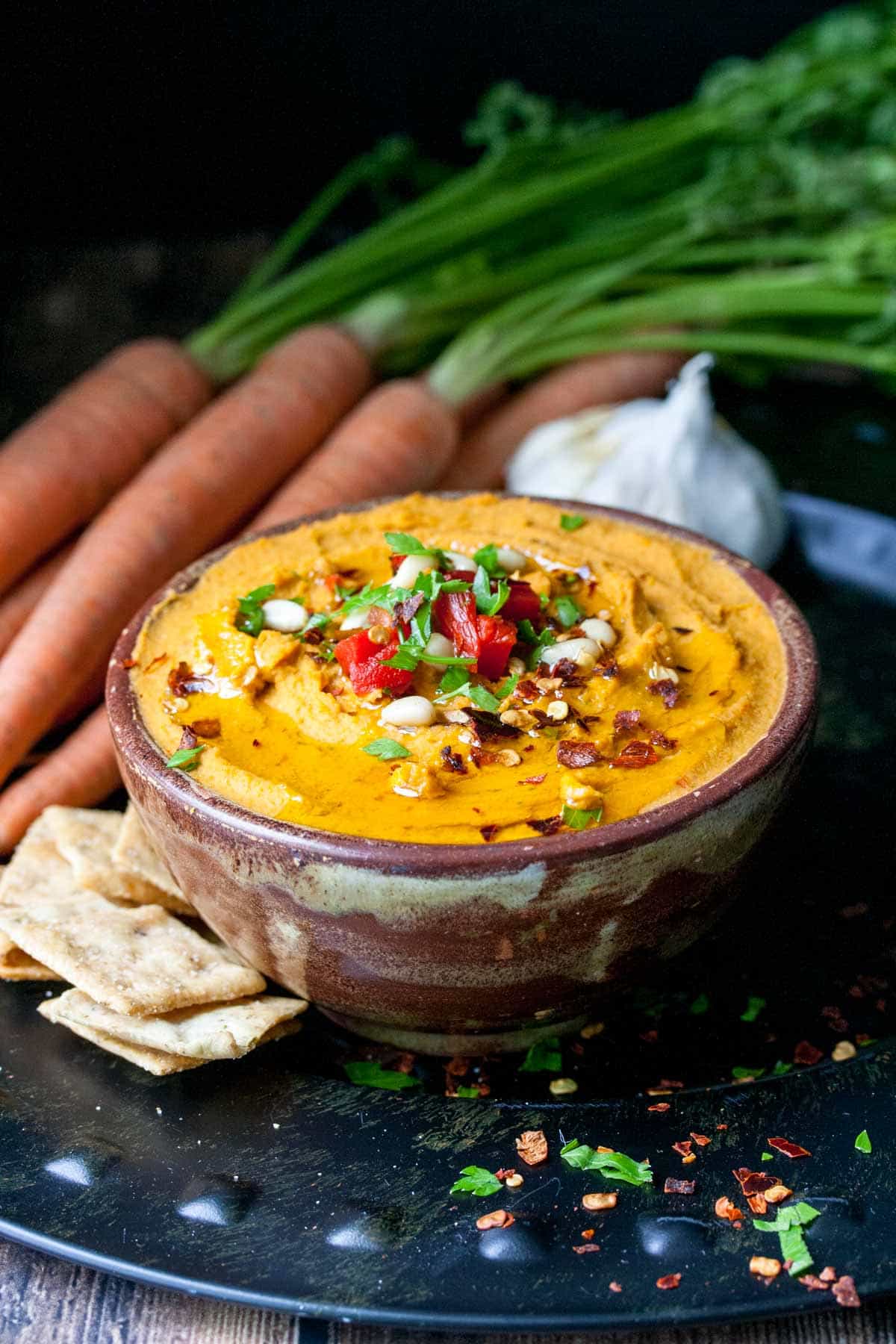 Roasted Carrot White Bean Hummus
Easy to make but with a fancy feel, this roasted carrot hummus is the perfect party appetizer! The flavor is unreal! Serve this with your favorite crackers and the masses won't be bugging you about the main meal.
The vegan Thanksgiving sides are life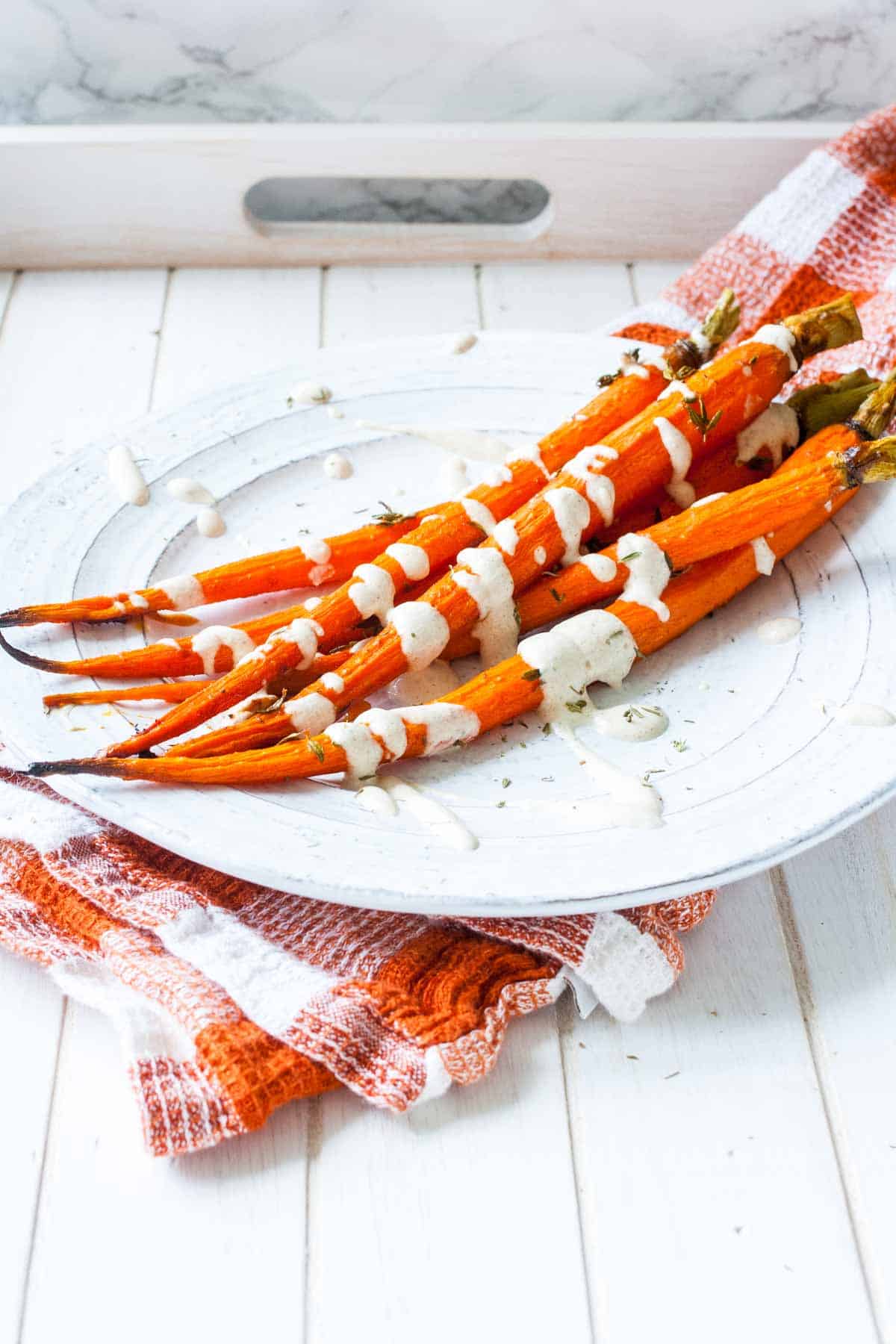 Smokey Maple Roasted Carrots with Lemon Thyme Drizzle 
The perfect easy to throw together side dish that will help bring some calm to the craziness of the season! It's healthy, packed with flavor and drizzled with a sauce that will make you lick your plate clean. This is an easy add on since you're already buying carrots for your appetizer.
A creamy, filling low carb recipe without all the added saturated fat and bloated feeling! This vegan scalloped cauliflower needs to be on your holiday list! I love potatoes and all, but this allows you to gorge on the pasta main course all that much more.
Protein Packed Vegan Thanksgiving Stuffing
Crispy on the outside, soft yet not mushy on the inside, perfectly flavored and full of protein! This vegan Thanksgiving stuffing is a flavor bomb like no other! You will never make another stuffing again. Use my favorite bread, or another dense and hearty bread of choice, either way, this is filed with incredible flavors.
A comforting main course is the icing on the cake (but leave room for dessert!)
Sharp White Mac and Cheese Bake
A normally unhealthy dish gets a whole food based makeover. This vegan sharp white mac and cheese bake is as creamy and delicious as it's dairy counterpart!
I have a dessert compartment in my stomach, do you?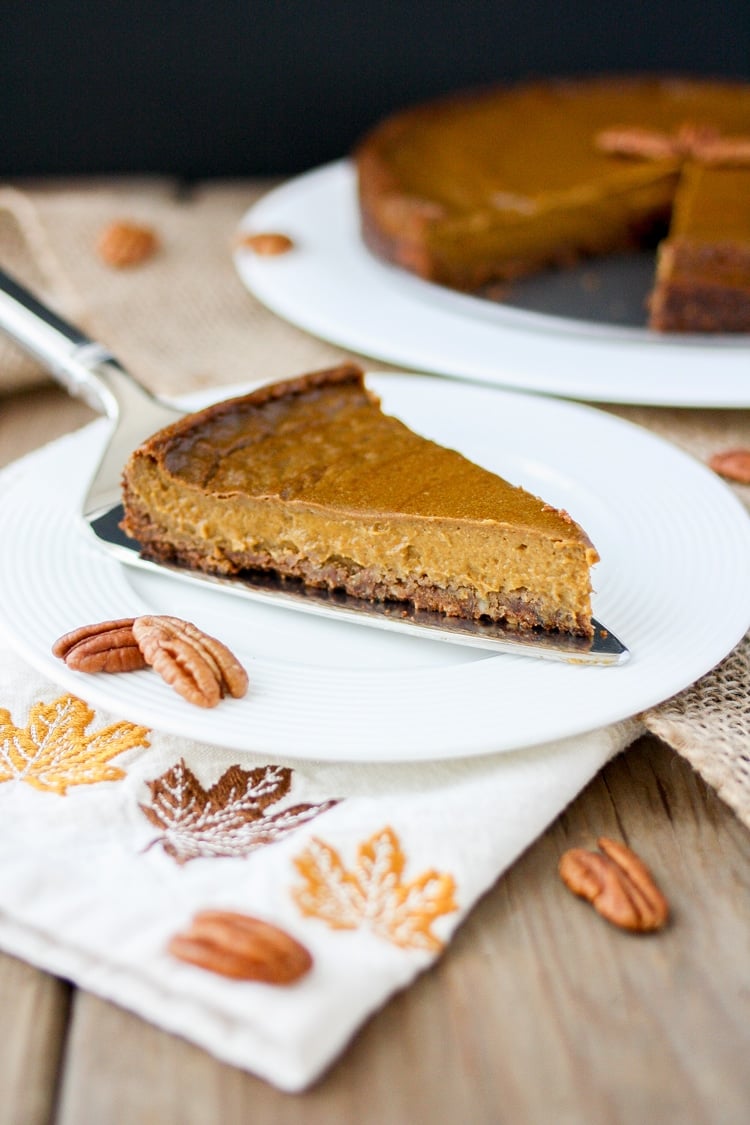 Simple Vegan Pumpkin Pie with Pecan Crust
An easy to make super creamy and smooth vegan pumpkin pie all wrapped up in a pecan crust. Plant-based, vegan and refined sugar free. A dream come true! Serve with or without whipped topping. It's insane!
Drooling yet? The best isn't over. See below for my complete shopping list, plus instructions on when and how to prepare everything so that you don't end up throwing the pie against the wall in frustration (there really are better ways to let off steam).
Step by Step Vegan Thanksgiving Dinner with Shopping List
A hand holding, easy to follow step by step vegan Thanksgiving dinner menu like you've never seen before! Prep tips, shopping list, you're all set!
Course:
Appetizer, Dessert, Main Course, Side Dish
Keyword:
Easy Thanksgiving meals, Vegan Thanksgiving
Ingredients
Produce:
1

head cauliflower

4

medium/large potatoes

33

large orange carrots

2

medium yellow carrots

(you can use all orange carrots or sub 5 baby carrots for the yellow but your cheese sauce won't be white)

2

stalks celery

1/3

of a medium yellow pepper

2

tablespoons

shallots

, chopped

1

small sweet onion

1

medium sweet onion

5

dates

19

teaspoons

lemon juice

(6 tablespoons plus 1 teaspoon)

16

cloves

fresh garlic

1

tablespoon

fresh parsley

, chopped (Italian, flat leaf)

6

tablespoons

fresh thyme
Canned Goods:
1

can cooked white beans

(great northern)

2

cans cooked chickpeas

1

can pumpkin puree

(15 ounces)

1

can full fat coconut milk

(plus optional 2 cans for coco whip)
Baking and Spices:
4

tablespoons

sea salt

3

teaspoons

crushed red pepper

1

teaspoon

dried oregano

2 3/4

teaspoons

smoked paprika

3 1/4

teaspoons

ground mustard seed

2

tablespoons

dried rosemary

1

tablespoon

dried thyme

1/2

teaspoon

garlic powder

1

tablespoon

fennel seed

3

teaspoons

pumpkin pie spice

1

teaspoon

vanilla extract

2

tablespoons

arrowroot powder

1/2

cup

oat flour

1

tablespoon

molasses

6

tablespoons

coconut butter

(1/4 cup plus 2 tablespoons, or 1 bag shredded unsweetened coconut to make your own)

14

tablespoons

coconut palm sugar

(3/4 cup plus 2 tablespoons, plus optional 1/4 cup for coco whip)

9

tablespoons

maple syrup

(1/2 cup plus 1 tablespoon)
Condiments
3

cups

veggie broth

, low sodium if needed

5 3/4

teaspoons

apple cider vinegar

2 1/2

teaspoons

distilled white vinegar

2

teaspoons

chickpea miso

(see notes in pasta recipe on omitting)
Nuts & Seeds:
1

cup

raw pecans

3 1/4

cups

raw cashews

1/2

cup

raw almonds

5

tablespoons

pine nuts

(can sub with walnuts)

11

tablespoons

hemp seeds

(1/2 cup plus 3 tablespoons)
Breads & Grains:
6

pieces

dense dinner rolls/bagels/buns

(gluten free if needed, I use Ozery Bakery One Buns)

10

tablespoons

breadcrumbs

(gluten free if needed, or 5 slices toasted bread to make your own)

24

ounces

your favorite pasta

(gluten free if needed, not spaghetti style)

You favorite crackers for hummus appetizer

(gluten free if needed)
(Non) Dairy:
1/2

cup

unsweetened cashew or almond milk
Optional:
6

tablespoons

olive oil

(to saute plus for hummus)

4

tablespoons

chopped roasted red pepper

(optional garnish for hummus)

1/4

cup

white wine

(for stuffing)

Store bought coco whip if not making your own
Instructions
Day before Thanksgiving (you can also break this up into two days):
Make hummus. While you are chopping the veggies for the hummus, chop the veggies for the stuffing and slice the cauliflower for the Scalloped Cauliflower.

Cut bread into pieces for stuffing and set it on the counter to dry out.

Make vegan Parmesan. Store in freezer.

Make Lemon Thyme Sauce.

Make crispy topping for both the cauliflower and pasta bake. Store in a glass container on the counter.

Make pie. Cool completely then cover with foil and store on the counter.
Thanksgiving morning:
Finish the stuffing.

Make the Smoky Maple Carrots.

Make the Scalloped Cauliflower. Reuse the dirty blender to make the cheese sauce for the pasta.

Make the pasta bake.

Have a glass of wine and enjoy!
Recipe Notes
You can adjust this for however many guests you have.
Nutrition info is calculated using general items and will change based on the brand and type of each item you use.
Nutrition Facts
Step by Step Vegan Thanksgiving Dinner with Shopping List
Amount Per Serving
Calories 1301
Calories from Fat 522
% Daily Value*
Total Fat 58g 89%
Sodium 3583mg 149%
Potassium 2018mg 58%
Total Carbohydrates 168g 56%
Protein 35g 70%
* Percent Daily Values are based on a 2000 calorie diet.