I've been asked for a post like this for a LONG time, so when PlanetBox asked me if I was interested in reviewing their products, I jumped at the opportunity. Even though I am not one for plain reviews on my blog anymore (I think most of you awesome readers come for recipes not simply a product review), I knew that I could easily work in a great list of vegan school lunch ideas for all of you with littles like me. On a side note, can we discuss the cuteness of the hands in this intro picture? This was NOT planned in the least. I was actually ready to pull my hair out at this moment, this little guy had just started crawling and my photo session consisted of something like this: Put baby over by his toys, set up shot, put baby back over by his toys, snap a few pics, put baby back over by his toys…I think you get the idea. But when going through all the photos I took, I saw this one and just knew it had to make the cover. I mean, if an 8 month old about to devour food in a PlanetBox lunch box isn't a ringing endorsement, I don't know what is!
I used the PlanetBox setup for two weeks to see what I loved, didn't love, and got feedback from the boys on what they thought. First off, their water bottle, the BottleRocket, is top notch. Seriously. Don't even get me started on most water bottles out there. This one is uber easy to clean, the boys can open and close it without a tantrum (key), and they are sturdy (made of stainless steel like the lunch box). For the lunchbox, we used the Rover, it comes with two cute containers as well. It is also easy to open/close, and best part of all is that it is easy to clean! The one we were using before had deep containers and it was so hard to get in there with a dish brush (I hate sponges but that's a post for another time). But this one has deep enough containers to hold food but shallow enough to clean easily. Perfect happy medium. Yay! An added bonus is the adorable customizable magnets the kids can use to decorate the top. My boys really love picking theirs out each day and I feel it makes them own their lunch a little more. So overall, I would totally recommend the PlantBox. We love them and am so happy to have made the switch. I see these lasting for a very very long time, especially with the addition of customizable magnets!
So the question still remains, what in the world do my kids eat for lunch? Well, here are my go-to vegan school lunch ideas separated into categories. Everything is whole food and plant based with the exception of a few things like a vegan cheese or small treat. And remember, this is what works for us, if I haven't included something then it's because my kids don't prefer it or haven't tried it yet.
Fruit & Veggies:
Fruit of any kind, we do whatever fruit is in season
carrots
celery
peas
zucchini & yellow squash, cut into sticks or rounds
broccoli (both raw and roasted)
cauliflower (both raw and roasted)
cucumbers
green beans
Asparagus spears (slightly blanched)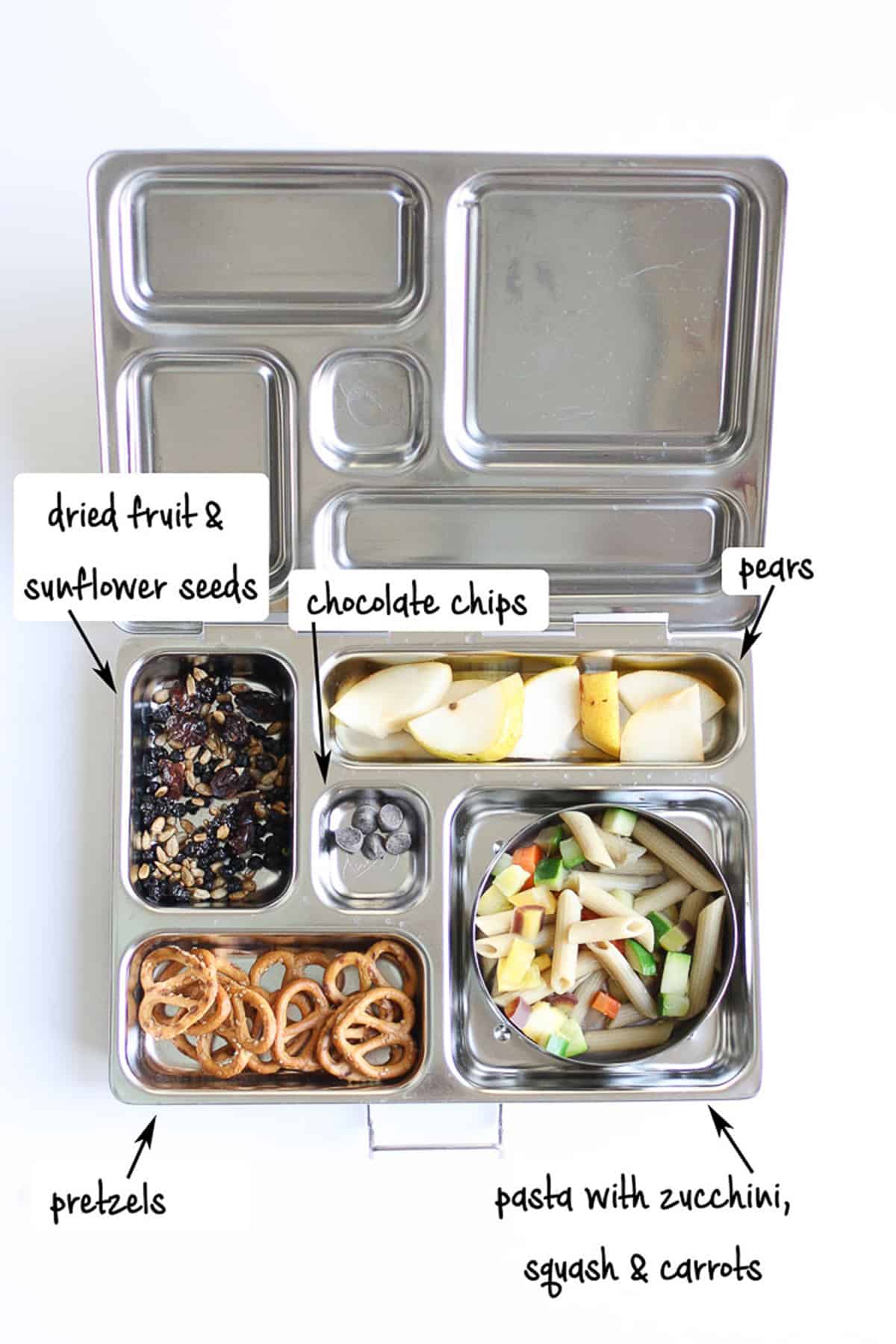 Main Course:
avocado sandwich (avocado, bread, and a touch of lemon pepper if your kids are adventurous)
nut/sun butter banana rolls (spread butter on tortilla, top with thinly sliced bananas, roll & cut)
pasta with chopped veggies (a simple kid type pasta salad)
nut/sun butter & jelly sandwich or burrito (put on bread or in a pita or tortilla)
hummus & cucumber sandwich (spread hummus and top with thinly sliced cucumber)
vegan spinach grilled cheese sandwich or quesadilla (fresh spinach and vegan cheese slice grilled into a sandwich or a quesadilla)
bean (& optional vegan cheese) burrito
vegan quesadilla with beans
rice salad (favorite rice mixed with veggies)
veggie burger nuggets (I use my veggie burger recipes but bake them into nuggets)
mashed chickpea sandwich (see my recipe for the one we make)
Grilled Burritos (these have become a huge favorite!)
any leftovers from food they actually ate (dream big my friends, dream big)
Bagel sandwich (fits perfectly in the big container area)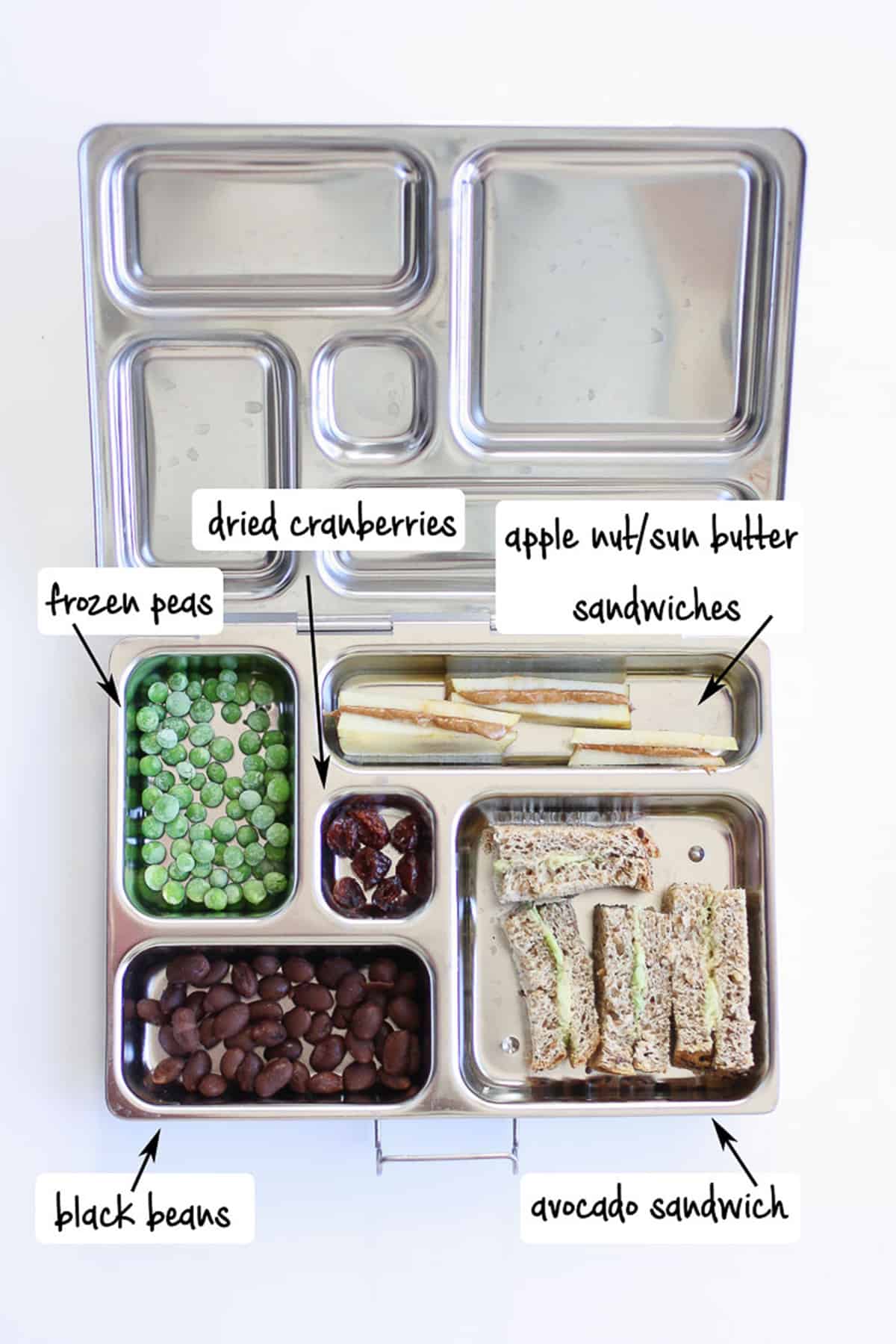 Snacks & Extras:
beans (simply freshly made or rinsed canned beans on the side)
pretzels
dried fruit
dried fruit and sunflower seed mix (or nuts if they can have them)
homemade trail mix (dried fruit, seeds and/or nuts, oh's cereal, other favorite dry cereal, coconut flakes, etc. all mixed together)
dry cereal
granola
granola bar or Larabar (if not nut free)
apple butter sandwiches (nut/sun butter in sliced apples)
hummus (see my recipe for our favorite kind)
crispy tofu (I bake tofu pieces that I have marinated until crispy)
ants on a log (spread nut/sun butter in a celery stick and top with raisins or dried cranberries for red ants)
muffin or healthy breakfast type cookie (see my recipe for a delicious healthful packed cookie, and my recipe for an easy and quick muffin type treat)
waffle sticks (waffles cut into sticks)
raw treats like bars or balls (see my recipe for a quick and easy one)
chocolate avocado pudding (see my recipe, take out caramel layer for a super easy treat)
freeze dried fruit
Side note: I don't cutesy up my kids lunches with fun shapes or food art 90% of the time. I'm not against it or don't think it's amazing, I just don't have the time. I like to keep it real here, so I'm sharing what we do, in our crazy but fun real life. But if you love food art, as I do for those times that I do have time to put in a little extra, check out my amazing friend Cara at Fork and Beans. She is AWESOME!
I hope this list sparks a few extra ideas! I'll add to it as I find more things my kids eat with success. Until then, I send you happy eating vibes and hope your lunch boxes come back empty!